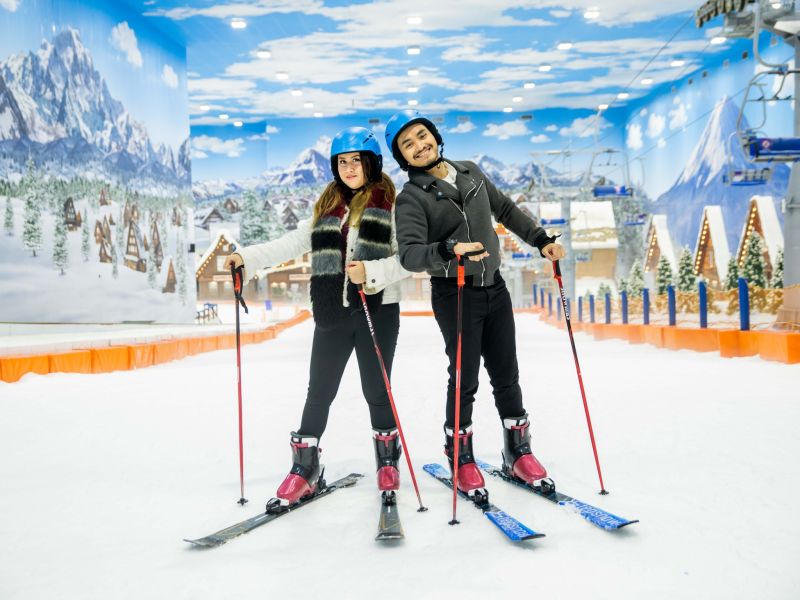 The closure of most glacier ski areas in Europe and the rise of China as a skiing superpower, building dozens of indoor snow halls over the past decade, has created an interesting list of countries with the most ski areas currently open – if we include indoor snow ski centres.
There are currently about 200 snow destinations open, about half of them conventional ski areas in the southern hemisphere and most of the rest indoor snow centres predominantly in Askia and Europe, as well as just a couple of surviving glacier summer ski centres.
Looking at countries with the most snow destinations open indoors or out, after China it's the four main southern hemisphere ski nations, which of course offer full ski areas with dozens of kilometres of pistes each compared to the limited areas indoors. However the rest of the top 12 includes some unexpected countries like India, the Netherlands, the UK and Indonesia thanks to their indoor snow facilities.
Indonesia's third indoor snow centre (pictured top) opened last week.
Major alpine nations which used to have 5-10 glacier summer ski areas each in the 1980s and 90s no longer feature.
The nations with the most ski centres open in August are.
(1) China (35+ all indoors).
(2) New Zealand (24+ regular ski areas and one indoor snow centre)
(3) Argentina (18 regular ski areas_
(4) Chile (16 regular ski areas)
(5) Australia (12 regular ski areas)
(6) Netherlands (7 – indoors)
(7) UK (6 – indoors)
(8) Indonesia (3 – indoors)
(9) Norway (2 – outdoors, 1 indoors)
(10) Germany (2 – indoors)
(11) India (2 indoors)
(12) USA (2 – 1 indoor, 1 outdoor)
Another dozen or so countries have one ski area open – most of them like Brazil, Dubai, Egypt, Lithuania and Spain, indoor ski centre although Austria has the sole glacier area left one in the Alps (
Hintertux
) and southern Africa's Lesotho has the only outdoor ski area open on the continent, Afriski.
France also has one centre open indoors, but Les 2 Alpes, which had hoped to open in August has had to close.
Major ski nations with nowhere open to the public include Switzerland (although
Zermatt
says it'll re-open as soon as conditions allow and Saas Fee is open to teams booked for training) and Italy (where Passo Stelvio says it will also reopen as soon as conditions allow).