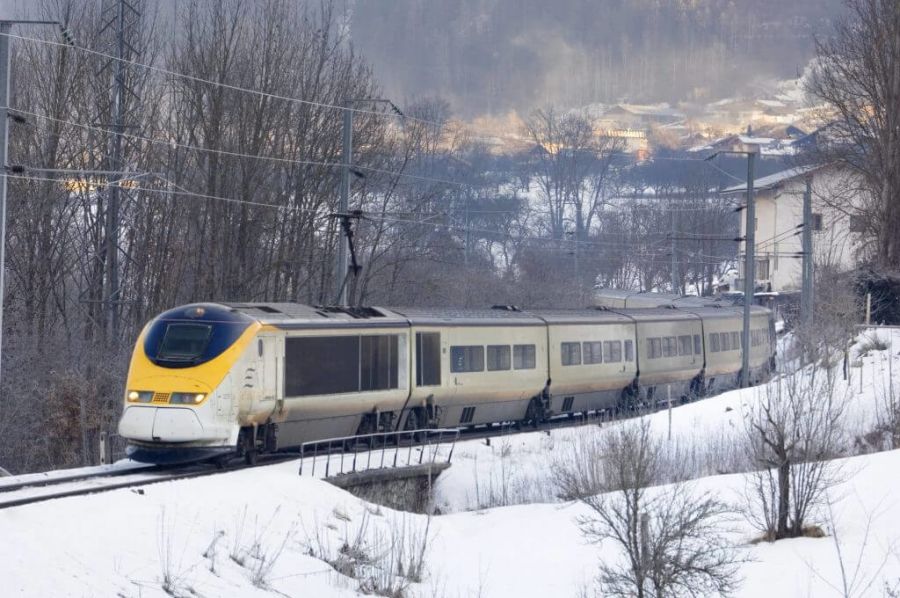 The company that started running ski holidays to a number of French ski resorts by rail last winter has just sent us a press release announcing the service is go again for the coming winter 22-23 and that holidays are on sale from today.
Here's a quick reminder of the key facts then the press release they've sent is below.
• Eurostar had cancelled the direct rail service to the French Alps from St Pancras in the pandemic then said they wouldn't re-start it. This replacement offers the same service nut you can't just buy a train ticket, you have to buy a package with transfer, accommodation and lift pass to one of seven leading French resorts.
• …That's because the company that runs it, Travelski Express, is owned by the Compagnie des Alpes group which also runs the resorts involved.
• They are tweaking travel times a bit on last winter and are hinting more destination choices may/will be added.
• They carried over 5000 people in the first winter despite having to postpone the launch for over a month through the busier weeks of Xmas/New year due to French pandemic border closures.
• …Upsides are…
1. Packages actually seem high value for what you're getting.
2. CO2 emissions are less than a quarter of travelling by air.
3. Rail travel can be less stressful than air travel, although that depends to some extent on whether you get lucky in the current game of "will my plane/train trip go smoothly or not?" we all have to play.
Anyway here is the press release…
Travelski Express returns for 22/23 season, with an enhanced offering based on customer feedback.
The tour operator Travelski Express (
https://www.uk.travelski.com/travelski-express
; 0800 260 5082) will again be exclusively offering the direct Eurostar train service from London to the Alps. Available solely as part of a Travelski Express package, the service will be running each week for the 2022/23 ski season. The first train is due to depart on 17th December 2022 with the final return on the 15th April 2023. Packages go on sale today, 8th June.
Following feedback from many of the 5000 plus UK skiers carried last season, and drawing on Eurostar's operational experience, the train will now run outbound from London on Saturday morning, arriving in the heart of the Alps (Moutiers and Bourg St Maurice) on Saturday afternoon. A refining of the included transfers means that skiers will now be taken from the station to their accommodation (or as close as is possible under local access laws) in plenty of time to get checked in and their kit sorted for the following day. The return train will leave on Saturday evening, giving guests an almost full day of skiing on Saturday. This will arrive into London St Pancras early on Sunday morning (exact time to be finalised).
Travelski Express packages, which include return direct train, accommodation, transfers and local area lift pass, will be on sale from today, 8th June. For the season launch resorts featured are unchanged at Val d'Isere,
Tignes
, Meribel,
Les Arcs
, Brides Les Bains,
Les Menuires
and
La Plagne
. Further announcements on the portfolio of resorts on offer will follow.
CEO of Travelski, Guillaume de Marcillac, comments "we were really happy with the reaction of British skiers to our new direct train packages. Despite a challenging start to the season, we carried over 5100 skiers. We have listened to their feedback and have decided to switch the train timings to a daytime service at the start of the holiday, rather than at the end. In addition, transfers will now deliver guests as close as we are allowed to their chosen accommodation. They will, however, still have the longer ski period that is one of the many advantages of taking the direct train. We are also working on further enhancements, but these will be announced once confirmed."
Francois Le Doze, Chief Commercial Officer at Eurostar, said: "We are pleased to extend our partnership with Travelski this year, which will enable passengers to travel direct between the UK and the Alps by high-speed rail. Following the challenges of the pandemic, our collaboration last season was shortened significantly, and so this will be the first time Eurostar will be offered as part of a package across the whole ski season. We are confident that British skiers will welcome the return of the service and the choice of a more sustainable travel option for their ski holiday."
The environmentally advantageous nature of the direct train is unchanged. Each passenger journey on the direct Travelski Express emits less than a quarter of the carbon of a passenger opting to fly to
Geneva
and transfer to the resort from there *
Ends
Notes for editors

Package price example: w/c 17th December (return 24th December) 5* Residence Chalets Altitude & Ours in Arc 2000. £720 pp including return direct train travel, transfers to/from accommodation and local area lift pass. Based on six sharing a three room apartment.

Travelski Express is a tour operator, bonded with ABTA (number Y6751). All Travelski Express packages include return direct train travel from London, transfers, accommodation and local area lift pass.

* In research commissioned for the ski website Snowcarbon.co.uk, carbon offset experts at The Anthesis Group (www.anthesisgroup.com) calculated 18.47 Kg of CO2 per passenger for the direct rail from London and transfer option, yet packages that include a flight from London Gatwick to Geneva and then a transfer to resort generated four and a quarter times more CO2 emissions at 78.44 kg per passenger.

The train element of the Travelski Express packages is operated by our partner Eurostar.