J2Ski Snow Report 6th January 2022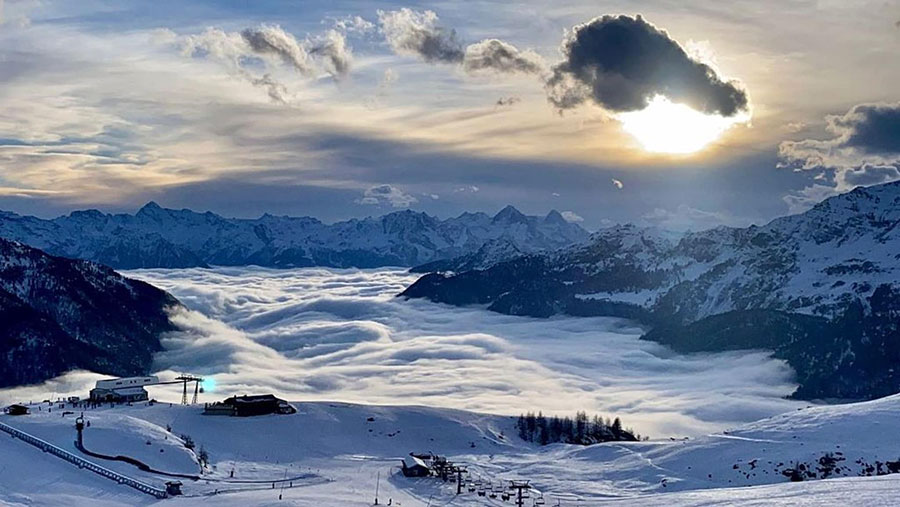 Sunset at Cervinia, Italy today...
Good snowfall reported from the US and Japan, top-ups coming for Europe...
The Snow Headlines - 6th January
- Warm temperatures at New Year, in The Alps, before cold this week.
- Resorts in the Rockies fully open after up to 7 feet (2.1m) of snowfall in 7 days.
- 7 Day snowfall totals in Japan reach 2.4m (8 feet).
- Snowfall returns to Scottish slopes after a warm end to 2021.
- Travel restrictions ease (a bit) for UK skiers.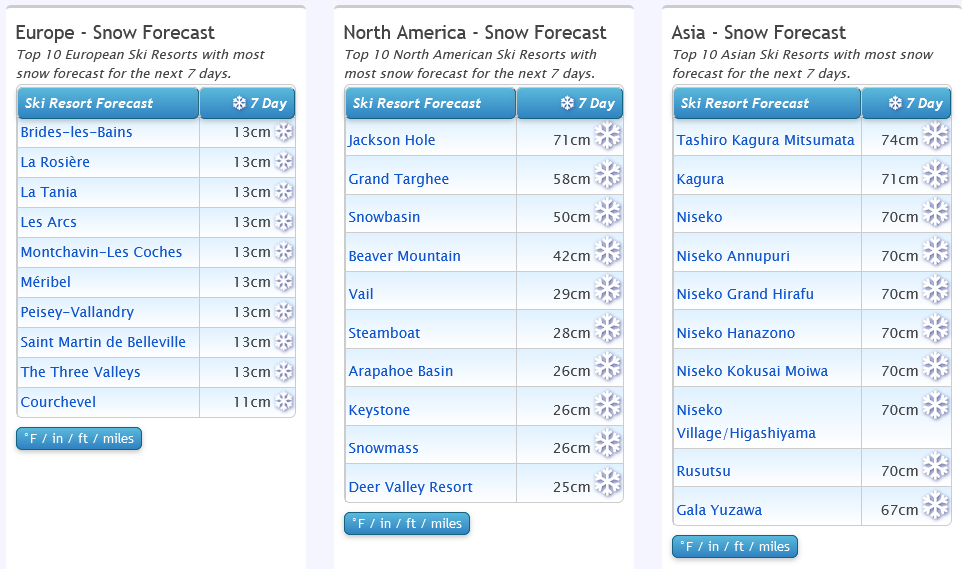 See where it's going to snow this week...
Re-publication :- our Snow Report Summary, being the text above this line, is free to re-publish, but must be clearly credited to www.J2ski.com with text including "J2Ski Snow Report" linked to this page - thank you.
World Overview
Europe
Something of a weather rollercoaster for the Alps over the past seven days with a very warm end to 2021 bringing rain to some low-lying areas at the end of last week before temperatures started to drop away this week. Fresh snowfall was reported for many in the past 48 hours.
The warm weather also impacted the Dolomites, Pyrenees and Scotland and World Cup races in Croatia saw temperatures reach +10C there.
On the upside though, at the time of writing at least, pretty much all ski areas are open and most have almost all their terrain open to spread out bumper numbers reported over the festive period. Early season snowfall in the first half of December is forming the bulk of the base which isn't yet spectacular and hasn't been added to much for three weeks now, but is still good enough in most areas for them to be able to open almost all of their terrain.
North America

The Western US is in great shape after the huge snowstorms that ended December.
Resorts quickly forgot about the warm and dry November and the first half of December as they excitedly talked about a 'legendary month' and focussed on 50-60inch (4-5 feet/1.2-1.5m) snowfalls in the last week of 2021 in the US Rockies. And why not? Most were able to fully open all their terrain for the first time this season for the peak New Year week.
Further west along the Pacific coast the snowstorms have been heavier still, so the big effort this past week has been digging everything out in order to open, in many cases as the snow keeps falling.
The picture is improving in the East and Midwest but remains more mixed and in places problematic, particularly at more southerly latitudes. On the one hand, some resorts have seen 1-2 feet (30-60cm) of snow in the past week, on the other some have been forced to close for lack of snow still and too warm temperatures for snowmaking.
North of the border it has warmed up to more bearable levels in the West where last week conditions were described as 'dangerously cold' and some centres had to close temporarily because of it. In Eastern Canada, there had been similar issues to the eastern US but here the more northerly latitude has kept things consistently cold and it's a fast-improving picture.
Across the Pacific, it is worth mentioning Japan is seeing snowfalls of similar intensity to California, with
Nozawa Onsen
posting an eight-foot (2.4m) accumulation over New Year.
Europe
Austria
Austria was one of the countrys most impacted by the warmer temperatures at the weekend with a lot of centres seeing rain to quite high elevations. However, the new week has seen temperatures drop back down to be largely sub-zero right down to the valley floor and there's been fresh snowfall in many areas over the past few days.
In fact, we've gone so far the other way where it was +15C in some valleys at New Year we're now seeing -20C on some glaciers. Overall, therefore, the picture moving forward is pretty good. More snow would be welcome as depth-building has rather stalled since mid-December, but all resorts are open and most have almost all their terrain open too.
Thanks to those early December accumulations, although depths are not spectacular, they're mostly adequate.
France
France suffered from the warm weekend temperatures as well, although at higher elevations this wasn't so noticeable and most skiers and boarders just enjoyed the hundreds of kilometres of slopes open at the big areas.
The early December snow totals meant that (unless heading off-piste) it was hard to notice any snowfall issues.
Temperatures have plummeted here since Monday and most resorts are now enjoying sub-zero numbers day and night right down to the valley. It's also turned snowy and the most fortunate areas may see as much as two feet (60cm) of fresh snow by the end of the weekend, turning things around completely.
Les Menuires
was one of the first to post fresh snowfall totals, reporting 20cm on Wednesday afternoon.
Italy
There's been fresh snow falling in Italy over the past few days too with more snow forecast this weekend.
Conditions otherwise have also been much the same as elsewhere in Europe with a warm weekend over New Year followed by a temperature drop.
Most of the country's ski areas are fully open but some are posting the thinnest bases for major resorts in Europe, particularly around the milky Way/Via Lattea with Sestriere reporting only a 20-40cm base and half of its terrain yet to open. It's cold with sunshine and light snow showers there at present but a heavier fall is expected at the weekend.
Switzerland
Swiss areas suffered the warm spell like the rest of Europe but as elsewhere December snow accumulations saw ski areas through.
The 4 Valleys, including
Verbier
, report the largest area open in the country with most of the 410km or so of runs open, although you can ski a larger area from the Swiss side of the
Portes du Soleil
.
Andermatt has the deepest base at 2.4 metres (8 feet) on its upper slopes but the whole country could do with a fresh snow boost.
There is some snow forecast but not so much here, perhaps 10-20cm at the weekend in Valais, less, alas, further east.
Scandinavia
Consistently cold across Scandinavia but with varied weather patterns, snowfall most recently in Norway and up in Finnish Lapland but looking heavier for Sweden over the next few days, but with north/south divisions too.
It's not been an epic start to the season but the leading resort of Are, Sweden now has about 80% of its runs open and most other ski areas in the region are at a similar point. There have not really been the big powder dumps we're used to in western Norway so far though.
Pyrenees
The Pyrenees have clung on to their title of having the deepest bases in Europe, but here too temperatures have been very warm with no fresh snowfall to talk of.
That said the early December snow accumulations mean that most areas are able to maintain full operations, more or less.
As with elsewhere in Europe it's now much colder and snowing with light to moderate accumulations expected over the next few days and hopefully, heavier falls at the weekend.
Scotland
Scotland's five ski centres had a battle to keep terrain open as temperatures soared towards record highs over the New year weekend, reaching 10C+. All the natural snow cover had already gone during a warm Christmas week but the snow made by all-weathers snowmaking was still there and being topped up.
Most managed to keep operating and
Glenshee
, in particular, maintained a white ribbon a hundred metres or so long. Most sold out of the limited availability tickets. Things have improved a lot since the start of this week however with colder temperatures and snow showers, indeed full-scale blizzard conditions to start the week.
Glencoe announced that the season start was now officially 'pending'.
Eastern Europe
A mixed bag of weather for Eastern Europe with some powder pockets reported through the weekend in Bulgaria but overall the region has been suffering, if anything, warmer weather than further East.
The leading Czech Republic area of Spindleruv Mlyn reported only about a third of its 30km of slopes could open and Croatia, hosting the Snow Queen and
Snow King
FIS slalom races this week looked rather sad with +10C temperatures and brown snow for racers to try to battle down on.
But it has got colder in recent days and larger resorts like
Bansko
have most of their terrain open still, the snow more than a metre deep on the upper mountain.
North America
Canada
Whistler Blackcomb
has taken the top spot in Canada over New Year for the most terrain open in the country and in North America and the deepest base in the country too, at 2.6 metres. It's a big turnaround from the issues it faced pre-Christmas with warm, weather impacting the opening of lower slopes.
That comes as temperatures that had got below -30C at times in Alberta and BC rose again to closer to freezing making for much more tolerable conditions.
On the Eastern side of the country, warm temperatures before Christmas are also passing into memory, hopefully, and ski areas are opening more runs here too. Fresh snowfalls have been reported right across Canada.
USA
A largely excellent picture for much of the US with lots more snowfall in the West and some snow in the Midwest and Northeast after several areas in California set December snowfall records at the end of last week, almost all the snow arriving in the final fortnight of the month.
Mammoth, with over 14 feet (4.2 metres) of snow lying on its upper mountain, is posting the country's, continent's and world's deepest base at present and is the only ski area with more than a 4m/13-foot base. It's also fully open.
The stormy weather that ended last year has continued for the first week of 2022 with several resorts in Oregon and Washington State reporting power outages and blocked roads due to fresh snow volumes.
There have also been lift closures across the west due to strong winds and the avalanche danger is high.
In the East, ski areas in states like Maine and Vermont have reported some decent snowfalls but bases remain modest and the battle to open more terrain is ongoing. Some ski areas further south have greater issues and centres in states like Connecticut, West Virginia and Ohio are having difficulty opening due to warm, dry conditions dominating there still.