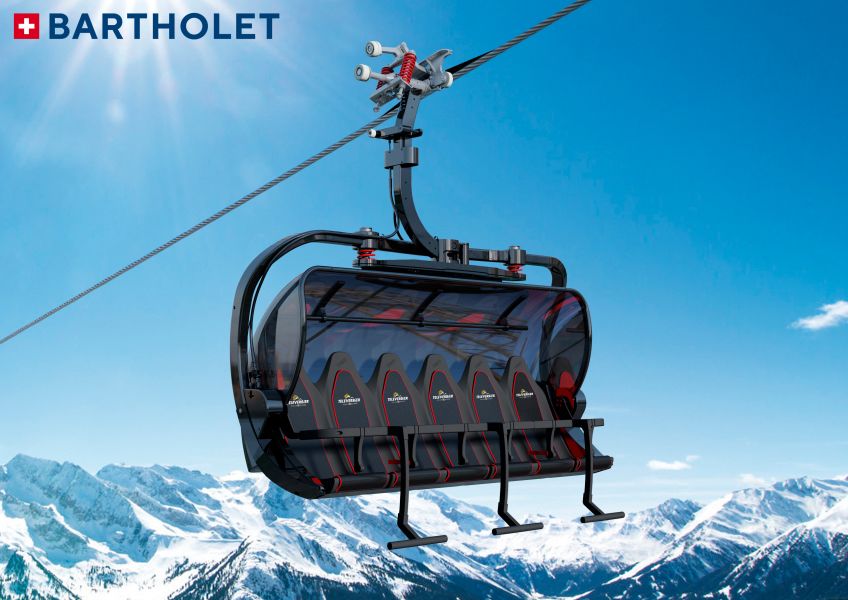 Swiss lift manufacturer Bartholet Maschinenbau AG has announced its signed a deal with Téléverbier SA and Télé-Thyon SA to work on three lifts to improve flow around the e4v Valleys from the winter of 2022-23 onward.
First up the fixed chairlift in La Pasay will be upgraded to a detachable 6-seater chairlift with a hood, shortening the travel time from 11 to 5 minutes And increasing capacity on the route to 1,600 skiers per hour.
In addition a second new detachable 6-seater chairlift will be installed connecting la Pisse-Vache with the Col de Chargerat. The new lift will take six minutes to travel about a mile and have a capacity also of 1,600 skiers per hour.
Both lifts will be the latest to be designed by the Porsche Design Studio enabling skiers and boarders guests to travel in maximum comfort.
Finally, above Thyon, in La Matze, a major new lift will replace the two over 50-year-old lifts currently in operation. The new lift will be as combination type, carrying 6-seater detachable chairs and 10-seater gondola cabins on the same line.
The new lift will have a carrying capacity of 2,000 people per hour and enable pedestrian transport between Les Collons 1900 and Thyon 2000 for the first time, while the main function, the transport of skiers and especially beginners, is retained.
In addition, the "Les Collons" ski lift will be replaced by a new ski lift. In parallel to the new construction of the new combination lift the redevelopment of the surrounding leisure activities is being planned with, among other things, a brand-new winter toboggan run is planned.