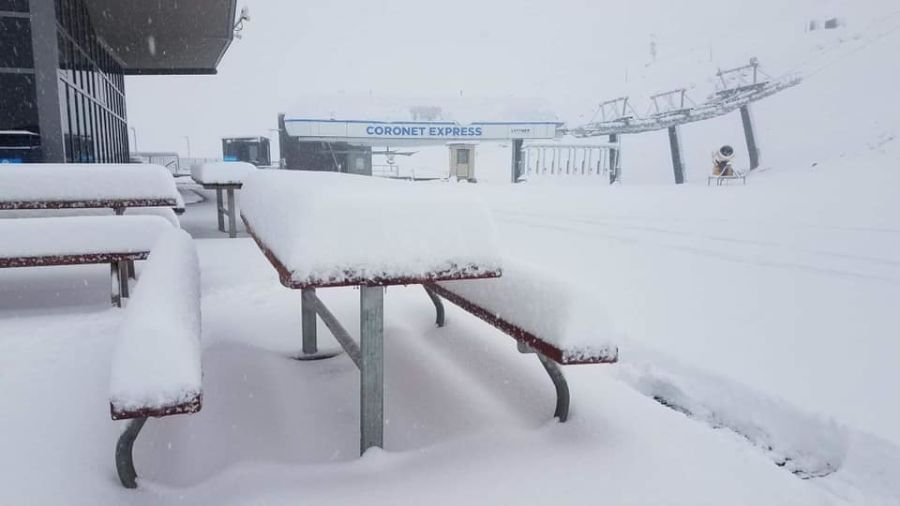 '
Ski areas in New Zealand have reported up to 25cm (10") of snowfall Ahead of the start of the 20231 season, due to kick off partially in less than a week's time and fully in less than a fortnight's time.

Coronet Peak, pictured, reported one of the bigger accumulations from the recent storms. However after the snow there has unfortunately been some warmer, wetter weather.
"Overnight we saw the freezing level rise to about 1900m and received heavy rain and sleet at the base lodge level. Thankfully the 40cm base we had yesterday is holding out pretty well - albeit pretty saturated. Once our snow safety team are able to get out we expect to find increasing levels of accumulation above 1700m. Just after noon today (Sunday) the freezing level has dropped as forecast and it has begun snowing again in the base area. There is over 150mm of precipitation in the Mt Hutt forecast between noon Sunday and noon Monday so plenty of chances for more substantial snowfalls!" a Mt Hutt resort spokesperson posted on social media.
The resort is expected to be the first to fully open in New Zealand, on June 11th, with
Cardrona
opening the following day.
The "partial opening" is due at Mt Ruapehu's
Whakapapa
ski area next weekend which will open its Happy Valley beginner and snow fun area next weekend, which has the back up of an all-weather snowmaking system.
Mt Hutt and several other leading New Zealand ski areas are due to open with full runs the following weekend.
New Zealand is hoping for a busier season with its recently introduced quarantine-free travel bubble with Australia. It is also on the short 'green list' of destinations for travel from the UK but not for travel into and from New Zealand at present, at the New Zealand end.