J2Ski Snow Report 25th February 2021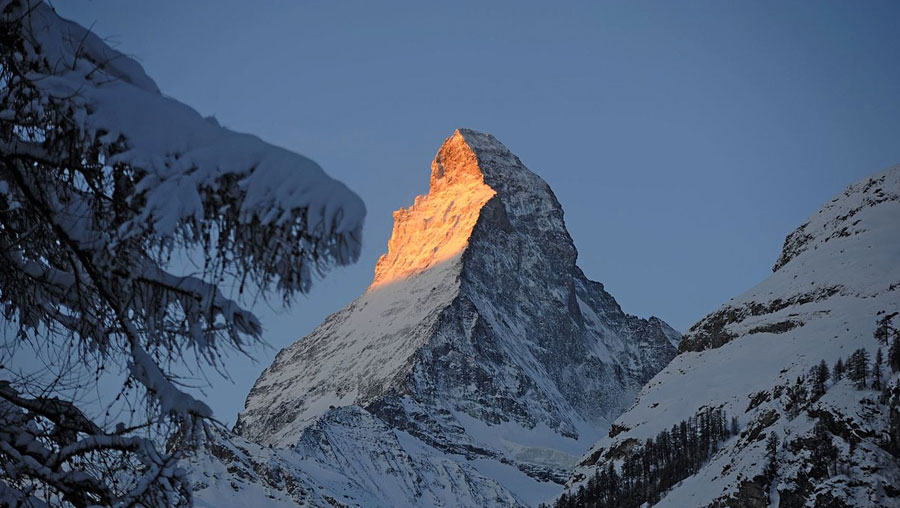 Dawn light on the Matterhorn, Zermatt...
Snow and cold in America and Japan, sunshine in Europe.
The mountains are waiting for us... be patient, stay safe and follow your local advice and rules on travel.
The Snow Headlines - 25th February
- Sweden's
Riksgränsen
to open for 2021, this Friday, 26th February.
- Huge snowstorm in Utah dumps over a metre of snow in 60 hours.
- Sunshine and warm temps in the Alps, Balkans, Dolomites, Scotland and Pyrenees.
- Ski area in Washington state first this season to claim 20 feet/6 metres of snow lying.
-
Verbier
announces terrain closures in March to reduce losses in pandemic.
The big news in Europe this week is - after the very low temperature and heavy snowfalls earlier this month - warm, sunny weather. Of course spring does start on Monday, by the meteorological measure of the seasons, but if you stick to the more traditional astronomical version with it starting around March 21st, it feels like it has kicked in a month early.
The result is that, although there's very little fresh snow to report, the open ski resorts in the alps are posting social media pics of fabulous empty, sunny, snowy slopes that few people can actually get to.
Of course, there is a downside, as those who watched the final days of racing at the Cortina Alpine Skiing World Championships last weekend will have seen - lower slopes getting wet and sticky by late morning. They're not posting pictures of that!
The snow is holding up well, but there's no clear end to the warm weather in most areas at present, so the thawing might become an issue if it carries on into March.
The really big snowfalls in the past week have been happening in Japan and on the Western side of the US. Japanese resorts have reported up to 2 metres of snowfall in the last seven days (and much of that concentrated into three days at the end of last week!) whilst in the US Northwest resorts have repeatedly had to close reporting up to a metre of snowfall in 72 hours and one resort base passing the 6 metres (20 feet) mark, the first in the world to do so this season.
There's little fresh virus news to report. France, Germany and Italy are due to review their slope closures once more over the next week or so though few have the mental willpower left to remain optimistic. For Brits, it has been made clear that there'll be no international leisure travel this season if any had still held a faint glimmer of hope. Switzerland appears to be becoming a little smugger that they have, they believe, been proved to have made the right move in opening slopes this season.
In the Alpine Forecast
Mild and sunny weather for a few more days yet, before cooling toward seasonal averages as move into March.

Snow for Canada and the USA this week...
Re-publication :- our Snow Report Summary, being the text above this line, is free to re-publish, but must be clearly credited to www.J2ski.com with text including "J2Ski Snow Report" linked to this page - thank you.
Europe
Austria
Austria - as is the case across most of Europe - is enjoying some lovely, sunny weather at present.
Open ski areas, open to locals only that is, are reporting great conditions but with most of the country's slopes below 2000m and thus seeing temperatures well above freezing, it will be getting sticky by lunchtime at many.
The deepest snow and the best conditions are mostly up on the glaciers at present, where depths of around 3 metres (10 feet) are reported. The onerous operating restrictions and news that hotels won't re-open before the end of the season have led about 40% of Austrian resorts to close; St Anton and Solden among the latest to do so.
France
The ski lifts at French resorts remain closed of course, although the resorts themselves are open.
Cross-country skiing and ski touring are booming and after reports of people being towed up the slopes behind snowmobiles or ponies, there's now an option to take a taxi to the top of a 2km long groomed run at
Courchevel
.
Here too there's no fresh snowfall to report and instead wall-to-wall sunshine and warm temperatures - very warm down in traditional valley resorts. The French government had said no ski areas opening lifts in February, which of course ends on Sunday, so the question is now, what about March?
Italy
Italy as well has its ski slopes closed, after the shock last-minute cancellation of re-opening plans a little over a week ago.
Here the next hope of opening comes after the first weekend in March, the next date when a decision is due. In the meantime, there has been lots of sunshine here as well. There is quite a lot of variation however; Cortina, which hosted the Alpine Skiing World Championships, of course, is seeing daytime highs of +10C in resort this week but nighttime lows of -10C on their higher slopes.
Switzerland
It has been a warm week in Switzerland too with above freezing temperatures as high as 2000 metres, in some places even higher, here as well.
Resorts have reported glorious, sunny conditions and therefore, here too, there's no fresh snowfall to report. Nonetheless, Europe's deepest snow is lying 485cm deep on the Titlis glacier above
Engelberg
.
The 4 Valleys has the most terrain open in the country - 375km - but does say the
Bruson
sector will close in a cost-cutting exercise, as Verbier's lift company tries to stem pandemic operating loses, from March 7th.
Scandinavia
If you are looking for some fresh snow in the past week in Europe it has to be Scandinavia.
Coastal
Voss
says it has had 48cm (17 inches) accumulate since the weekend although here too that's the exception with generally warmer temps and some areas even reporting periods of rain. But, overall, most areas have decent depths and everything open.
The northerly Riksgransen Centre, 250km within the Arctic Circle in Sweden, opens for its 2021 season on Friday. Its unusual season runs through spring (too cold and dark in winter), with the culmination of skiing under the midnight sun offered several days a week from mid-May when 24-hour daylight reaches its northerly latitude.
Pyrenees
Freeze-thaw conditions in the Pyrenees too, with daytime highs of +10, overnight subzero at most ski areas. Centres in Andorra and half-a-dozen Spanish resorts remain the only areas open, and with only limited terrain skiable at each, due to only local people being able to visit. Ski slopes on the French side of the border closed still.
Scotland
The eight-week freeze and heavy snow period that lasted from Christmas to mid-February is definitely over for now in the Scottish Highlands where temperatures in the valleys have been hitting afternoon-highs of 10 degrees above freezing.
Fortunately, it's cooler than that on the ski slopes but there are still some thawing temperatures. From the webcams, so far it continues to look good if (and it remains unknown at present) ski centres are allowed to open in April. The forecast is for largely dry weather, similar temperatures, occasional rain.
Eastern Europe
Unusually it was actually colder (with a little more snowfall) in Bulgaria and Southeastern Europe than further north in the Alps at the end of last week. But that has now changed and the warmth has reached here too.
Bansko
is hitting 15C down at the base resort and the 40cm thickness of the home run last week is now 30cm. Plenty of snow lying on the main slopes though.
Bulgaria has announced restaurants can re-open from March 1st, clubs and bars from 1st April, so does that mean the end of the ski season could see all resort businesses functioning here?
North America
Canada
Very good conditions reported on Canada's Western and eastern sides. Alberta and BC ski areas have been seeing some good snowfall again, after a brief lull, with
Lake Louise
reporting 48cm of snow in 48 hours at the start of the week. So lots of perfect powder pics posted by resorts in the region. Less snow in the east, as is the norm, but conditions remain amongst the best they've been this season in Quebec which most areas fully open and some fresh snow - if only 10cm or so - in recent days.
USA
The snowy weather has certainly been making the headlines in the US over the past week, with the deep freeze in Texas mainstream news.
For skiers, it's a little further north and west where the big news has been occurring. First, the biggest snowstorm in 20 years was claimed by resorts including
Alta
and
Snowbird
in Utah, which were closed by the intense snowfall until the weekend then re-opened to powder heaven (along with avalanche and tree well danger of course).
Next, the focus switched to the Northwest corner and Oregon and Washington states where, in the former,
Timberline
ski centre has been closed this week after an ice storm knocked out utilities whilst in Washington state more huge snowfalls closed ski areas there.
Alpental ski area is now reporting a 6.1 metre base (that's over 20 feet of snow lying) after another metre of snowfall since the weekend.
Less dramatic weather but some fresh snow in most other US ski regions so on the whole the picture is good and what snow problems there are right now are because of too much rather than too little snow.