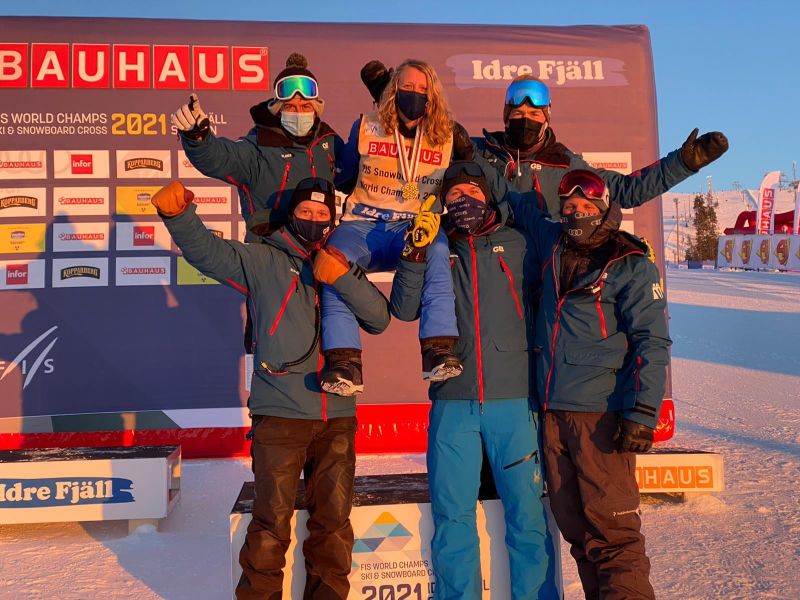 GB Snowsport athlete Charlotte Bankes has been crowned the 2021 Snowboard Cross world champion at the International Ski Federation Freestyle Ski and Snowboarding World Championships in Idre Fjall, Sweden.
25-year-old Charlotte was first in yesterday's qualifying and followed that up with a dominant performance in today's action. In a close final she beat current Olympic champion, Michaela Moioli, who took the silver and the current world champion, Eva Samkova who took bronze.
Charlotte, who clinched silver at the 2019 World Championships, said: "I am extremely proud to win gold at the World Championships and to be the first GB Snowsport athlete to win a Snowboard Cross World Championship. It feels like the hard work is paying off and everything is coming together.I've had a great week on this track, it's been really fast, and I am really pleased I managed to hold it together in the final and stay on my feet. I had fun racing with the girls, Michela and Eva pushed me all the way and I'm really sorry for Belle (Brockoff), it was a really tight race and unfortunately, she crashed out because of me. I want to say a massive thanks to the GB Snowsport coaches and wider team, but also the GB Snowsport Ski Cross team as well. We've worked as one team all preseason and it is great that they were there to watch and to be able to share this with them means a lot. This win means even more after the really difficult year we have all had. This medal is for all of GB."
Vicky Gosling, GB Snowsport CEO commented: "We have said that we will change perception, break boundaries and take Britain to heights way behind expectation and we are doing just that. It has been a particularly tough period because of cancelled events due to COVID-19, but despite this, Charlotte's resilience, spirit, dedication, and hard work has clearly paid off. It is an incredible result for Charlotte, and I want to give credit to the wider GB Snowsport team who are working hard behind the scenes to help make sure our athletes can compete at the highest level."