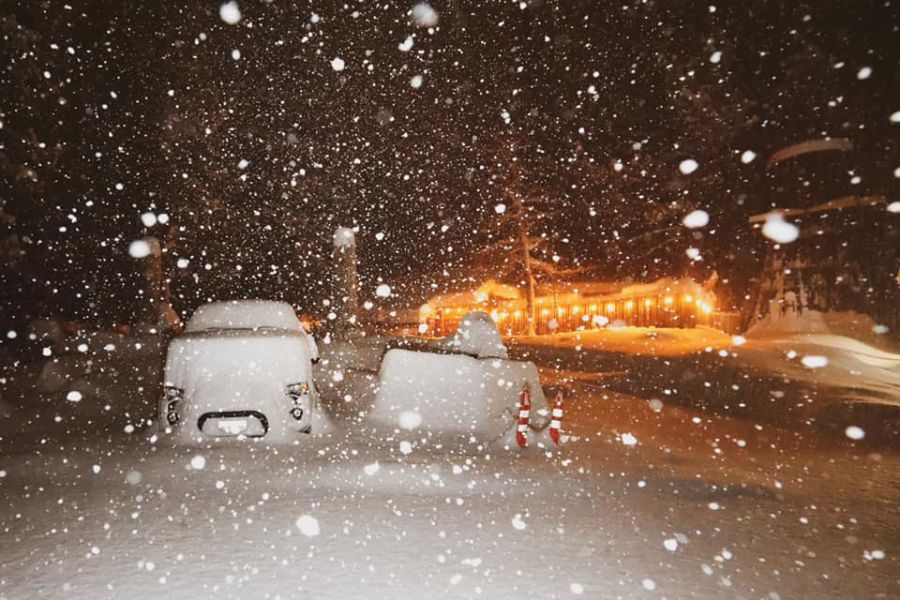 It has not been an "epic" start to winter 20-21 in the Western USA, ski resorts in California and Colorado are both well-down on their snowfall averages to date. Breckenridge just hit the 100 inches of snowfall this season mark more than a month later than it did last season and Mammoth has had only 11 inches (27cm) of snowfall so far this month. As a result many resorts have only limited terrain open …although with far fewer people allowed on the slopes anyway due to pandemic operating conditions, that's perhaps not being noticed as much as it might be.
But the shortage of snow in California is coming to an end. Storms have brought some fresh snowfall to start this week and now a huge blizzard is forecast to bring up to 10 feet (three metres) of snowfall by the weekend to the Tahoe region.
A blizzard warning is in effect through to Friday and there's a little irony in that because skiers are being advised not to travel just as California's regional pandemic "Stay Home" order has been lifted allowing people to stay in ski resorts in the region again.
Southern California and ski areas closest to LA are also seeing plenty of snowfall.
Big Bear Mountain
reported a 17-20" (45-50cm) storm total earlier this week and there's much more on the way.
Mammoth Mountain
continues to operate for skiing and riding and lodging and short-term rentals are now available with restrictions. They reported they'd had 42 inches (over a metre) of snowfall by Wednesday lunchtime.
The area where the resort is located is now in the Californian state mandated Purple Tier with a "widespread" risk level under California's Blueprint for a Safer Economy framework.
"We anticipate limited mountain operations the next two days, please check back for detailed operational updates tomorrow morning. Lodge access is also limited at this time and there will likely be wait times to access lodges throughout the week – plan to spend the majority of your time outdoors. Anyone traveling to the area this week should expect heavy snowfall, dangerous road conditions and the potential for road closures," a resort spokesperson said, adding, "While we are stoked to see Mother Nature's return to Mammoth, it is important to remember the following; Closures and weather holds are in place for everyone's safety. Do not jeopardize your safety, the safety of our employees, and the safety of our guests by cutting closures – at a minimum, you will lose your pass. Snow immersion suffocation (SIS) danger is very real, always ski and ride with a buddy and keep your partner in sight. Use extra caution where deep, loose snow exists, especially near trees. If you are going to fall, attempt to do so feet first."