J2Ski Snow Report 21st January 2021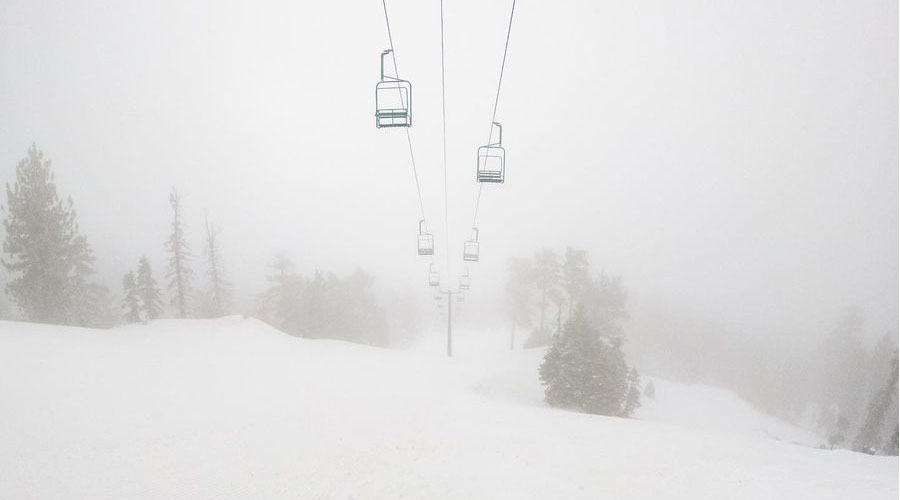 Big Bear Mountain, California. Snow's coming...
Loads more snow, and more in the forecast...
The mountains are waiting for us, and it's snowing... but be patient, stay safe and follow your local advice and rules on travel.
The Snow Headlines - 21st January
- Huge snowstorm drops up to two metres of snowfall on the Alps.
- Austria extends ban on ski tourism to Feb 8th, hotels unlikely to open until March.
- Heavy snowfall reported at ski areas in North Africa and Middle East.
- A little summer snow in Australia lets one skier claim first turns of 2021!
- Italy's government says ski areas can't open until at least February 15th.
-
Engelberg
posts deepest base in the Alps (over 4 metres) after a metre of snowfall.
- High avalanche danger in the Alps follows the heavy snowfall.
There have been huge snowfalls in the Alps this past week, with some Austrian and Swiss ski areas posting accumulations of more than two metres. Totals of 30-90cm (1-3 feet) have been widespread.
Although this has created powder conditions, the Avalanche Risk off-piste is very high (Level 4 and 5 - the highest) in many areas and, tragically, there have been several fatalities this week - please take care!
Elsewhere in the world, there was also considerable snowfall, again, in the Pacific Northwest of North America as well as in Japan, across the Pacific. The deepest reported snow depths are now up to 4 metres in all three of these snowy areas.
In less-welcome virus-related news, Austria and Italy have announced that ski areas will not be re-opening for ski tourism until well into February (in Austria the slopes are open to locals but not tourists, in Italy, they're closed completely), joining France in that position. As we write this, it's confirmed that French lifts will not open on the 1st February, although resorts and some slopes are open for ski touring.
The more unusual snow news of the past seven days includes heavy snowfalls in Turkey and Morocco, the latter leading to complaints from locals that ski lifts aren't open as officials have not had them safety tested in the summer as they should have done.
Australia has also seen a few centimetres of snow, even though it's mid-winter there, leading one skier at the resort of Mt Buller to walk up a slope in the middle of the night at the weekend to claim first turns of 2021 in the country, and probably the entire southern hemisphere, six months before the season is due to begin.
In the Alpine Forecast
Generally cold, crisp and clear for the next week or so in the Alps!

Lots more snow heading for the Alps and Pyrenees this week...
Re-publication :- our Snow Report Summary, being the text above this line, is free to re-publish, but must be clearly credited to www.J2ski.com with text including "J2Ski Snow Report" linked to this page - thank you.
Europe
Austria
It has been a big week for Austrian ski areas – both in terms of snowfall and virus-related developments.
The snow has hardly stopped, with the end of last week and the weekend especially snowy. Most areas reported at least 50cm of snowfall, some as much as a metre, and some even 1.5 metres (five feet) or more. The biggest reported tally was at little
Bichlbach
in the Tirol posted 2.1 metres – seven feet of snow in the past seven days.
The virus-related news is first that on Sunday the Austrian government announced hotels and restaurants would stay closed until at least February 8th, and probably at least the end of February, although ski centres can stay open for locals to enjoy. On the same day, the FIS announced that despite a spike in virus cases in the region, the biggest event in the world's annual winter sports competition calendar, the Hahnenkamm downhill at Kitzbuhel, can go ahead this weekend. The cancelled Lauberhorn from
Wengen
is also due to be staged there on successive days.
France
French ski areas have had their snowiest week of the season so far with many reporting 30-60cm of snowfall to end last week, then more snowfall on Monday/Tuesday this week. Here too resorts are warning ski tourers of the high avalanche danger. Most resorts remain open but unable to operate their ski lifts, other than in nursery slope areas for children, due to the country's lockdown, which keeps getting extended.
Italy
Italy, like Austria, announced an extension of its lockdown until February in the past week, in its case the 15th. Ski resorts are, like in France, trying to do some low-key winter sports activities other than downhill skiing.
Snow conditions remain good if the slopes were open.
Bardonecchia
has had national team members training this week, commenting on the excellent conditions after the weekend's snow. The
Presena
glacier above
Passo Tonale
is reporting a six-metre (20 foot) base depth which would be the world's deepest if it were open.
Switzerland
Switzerland remains the largest ski nation in Europe to have kept its ski areas open and some ski tourism too. The headlines on that front have not been good over the past few weeks though with virus infection spikes in St Moritz and Wengen leading to hotel lockdowns, although the ski slopes are so far staying open.
The English and South African variants have both been identified in these and an outbreak in Belgium has been linked to a Belgian skier taking a Christmas ski break to Switzerland.
Swiss areas report great ski conditions following the recent snowfalls, which here too were very substantial last week and at times over the weekend too. There's now been predominantly cold, sunny weather in recent days and
Andermatt
and Engelberg have both reached 4-metre base depths.
Scandinavia
Ski areas in much of Scandinavia are reporting cold temperatures and fresh snow deliveries pretty much daily of late, so it's a pretty good picture there.
Ski centres in Finland, Norway and Sweden all continue to operate at present, to largely domestic ski tourism. Norway's leading area
Hemsedal
is posting one of the best snowfall stats in the region with a 1.2 metre (four foot) base, fresh cover and all lifts and runs operating/open.
Pyrenees and Spain
Some fresh snowfall in the past week in the Pyrenees if not as much as in the alps, but there is a big snowstorm just moving in likely to bring much more.
Only a fraction of the region's ski areas are currently open with French centres still closed and some Spanish areas not open yet still either, due to local pandemic related restrictions. Those that are open are only welcoming locally based skiers and typically have 10-30% of their potential terrain open for these limited numbers in order to minimise operating losses.
New restrictions in Andalucia led
Sierra Nevada
to fear it would have to shut its lifts at the end of last week but so far the region's government have stopped short of that.
Scotland
Scottish slopes appear to be in superb condition after heavy weekend snow. Unfortunately, all centres remain closed due to the country's lockdown. Temperatures did briefly rise over the weekend to a few degrees above freezing but it's a very different January to 2020 when frequent strong winds and temperatures reaching double-digits above freezing often forced centres to close due to lack of snow or stormy weather. This year looks like it would have been great...
Eastern Europe
Eastern Europe, like western Europe, remains divided on the coronavirus-closure, yes or no? question.
Slovenia, the Czech and the Slovak Republics, as well as Poland, currently have their centres closed; Bulgaria, Romania and several of the other former Yugoslav republics have their's open.
The main news from Bulgaria in the past week has been very low temperatures, reaching -20C at
Bansko
at the weekend in fact.
North America
Canada
A steady week in Canada with low temperatures from coast to coast and some fresh snow in Alberta, BC and Quebec too. The snowiest weather came at the weekend with resorts reporting 20-40cm of snowfall on both sides of the country. That meant more powder in Alberta and BC but was particularly welcome in the east where snowfall averages are below normal.
In the East ski areas in
Ontario
remain closed by government order, in Quebec restrictions have been tightened once more but centres remain open.
USA
US ski areas on both the Northeast and Northwest side of the continent have had a snowy week and there's been some snow in California and the Rocky Mountains in Colorado and Utah too but here snow levels remain well down on the seasonal average still.
The Northwest corner including Washington State and Alaska has the deepest snow in North America (some areas approaching 13 feet/4 metres deep) and this past week has seen some in these two states (
Alyeska
, Mt Baker) report another seven feet (2 metres) more snowfall. But there have also been strong winds and rain at times, bringing power outages and spoiling the snow cover.
The northeast has gone in the other direction from an often lacklustre December to colder, snowier conditions in recent weeks. Ski areas in Vermont reported up to two feet of snowfall to start this week.