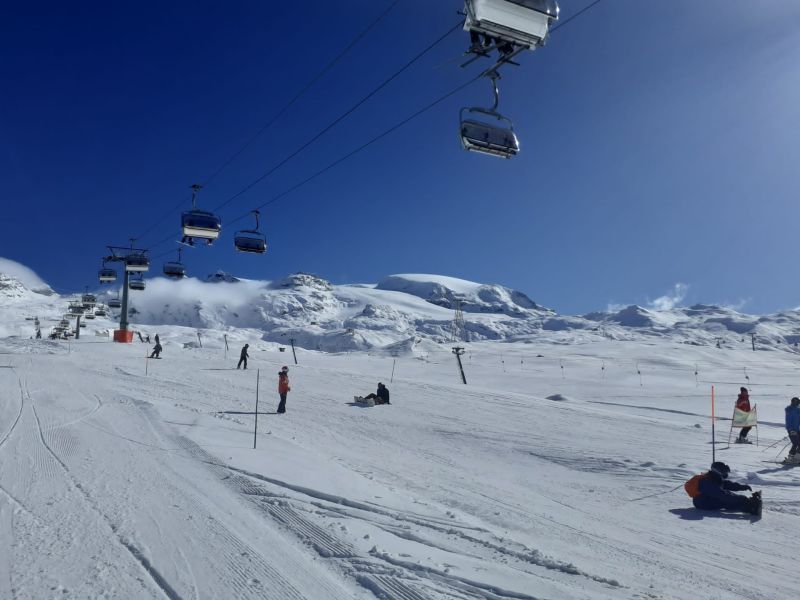 France, Germany and Italy have all now announced some form of 'mini lockdown' which each mean ski areas will be closed in November, with the hope that this will lead to currently fast-rising virus cases dropping and that resorts will be able to open, under 'new normal' conditions of course, for Christmas and the main season in December.
Currently only one ski area,
Tignes
, would have been open in France at the start of November, none in German and three in Italy so the impact is not huge, and in fact the three Italian areas have said they are staying open to some degree. For
Val Senales
they're arguing they're operating under strict safety protocols and that they believe the mental and physical health mountain sports provide is greater than the virus danger.
Cervinia (pictured above on Saturday), which opened at the weekend, then closed on Monday, is re-opening for team-training only, it is believed, so far.
In each of the three countries it is not certain if resorts will re-open at the end of next month or start of November though, decisions are due to be reviewed and lockdowns potentially extended if results in quelling the pandemic don't stack up.
Austria currently has the most ski areas open – nine – and is also reported to be considering a similar short lockdown although nothing confirmed as yet.
Switzerland is due to have at least seven areas open by this weekend with
Davos
opening last weekend and
Andermatt
and
Verbier
opening in the next few days and
Laax
hinting at doing the same.
Both countries are both now reporting virus cases nearing the levels they were at back in the early spring and there's talk of a second lockdown for Switzerland too.
Ironically of course autumn conditions are superb after cold weather and abundant October snowfall on European slopes – glaciers reported up to 80cm (30 inches) more snow just at the start of this week in the latest of multiple snowstorm, interspersed by beautiful blue sky weather.
Most of the world's leading ski areas don't open anyway until the end of November or early December, and don't start to be busy enough to be profitable until at least mid-December. The worry will be the impact on skier confidence of the current lockdowns and of course that they have to be extended in to the main season.
Elsewhere there are six areas already open in Scandinavia, two each for Finland, Norway and Sweden. Cases are rising here too but currently national lockdowns do not appear to on the cards.
Similarly the North American ski season got underway a week ago with three centres already open and two more opening in the next few days. There is some talk here of possible announcements in individual states and provinces of ski areas closing as cases rise but as yet that's just speculation and there's no clear evidence that is a liklihood.