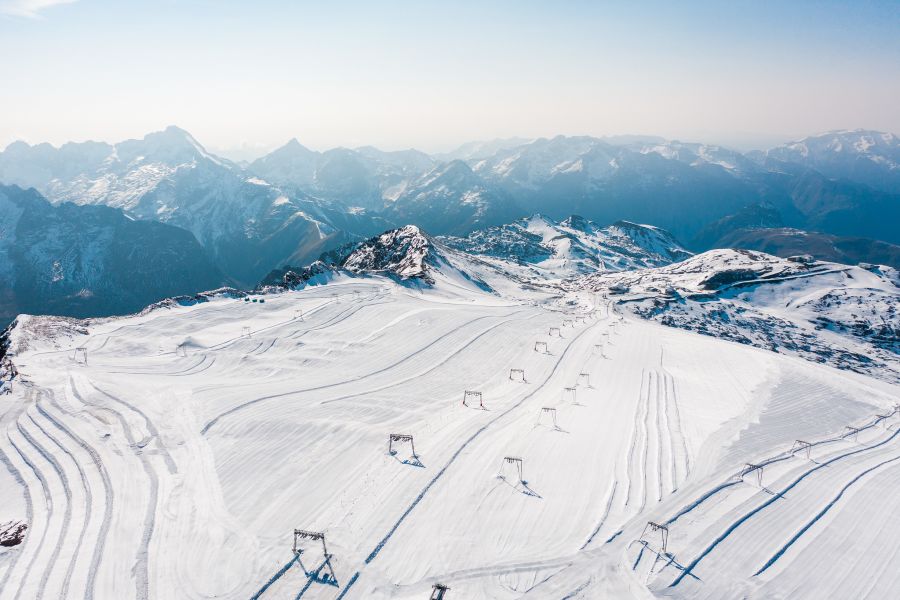 Les 2 Alpes and Tignes are both reporting excellent conditions awaiting on their glaciers after several September and October snowfalls in the Alps over the past few weeks.
It is believed to be the first time this century that two French areas will start the season together.
Tignes
, once open 365 days a year, then for at least one day every month of the year, used to open in late September and Les 2 Alpes a month later, just for nine days over the October school holidays. However climate change has meant Tignes has missed its September opening for some years now so set the date back to mid-October. This year Les 2 Alpes is opening a week earlier than usual, and is staying open for a fortnight to November 1st, so the two opening dates have met.
Les 2 Alpes (pictured top earlier this month), which has seen record business since re-opening after the spring lockdown, say their decision is to make their October opening less busy and allow more space. It will be closed again for the first four weeks of November though whilst Tignes should stay open.
The two areas will join more than a dozen glaciers already open in Austria, Italy and Switzerland.
The openings come as virus cases surge and restrictions increase again in parts of France, which remains on the 'must self isolate for 14 days on return to UK' list for British skiers.
Up in Scandinavia the first Swedish centre to open for 20-21 will also open a run on Saturday – Idre Fjall (pictured below), in its case using snow farming – recycled snow saved from last season – to open. It joins other snow-farmed-open areas and a glacier resort still open from last summer in Norway and Finland.
The first World Cup Alpine ski races of the 20-21 season is also due to take place - a week earlier than usual and without spectators - at Solden in Austria this weekend.