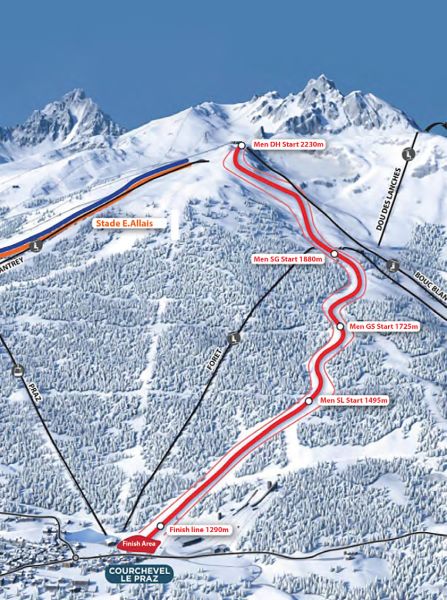 Courchevel say they have finished building their new downhill race-course ahead of the 2023 Alpine World Ski Championships which they are due to stage with Meribel, and that the run will also be open for anyone to ski from this winter onwards.
Keen to come up with a name for the run so that it can have the reputation to match the Streif at Kitzbuhel and other famous downhill race pistes they've also just announced a name for the new run: The Eclipse.
"The Eclipse has already been recognised as one of the most challenging runs in the world. According to the first champions to have studied its layout and had the privilege of descending, The Eclipse will undoubtedly become one of the top three most demanding slopes on the world circuit," an enthusiastic Courchevel spokesperson enthused.
The new black is nearly 3.2km (two miles) long and descends 866 vertical metres wih an average pitch of 30% from the summit of the Col de la Loze (2,234m) down to the finish line in the heart of the picturesque village of Praz (1,300m).