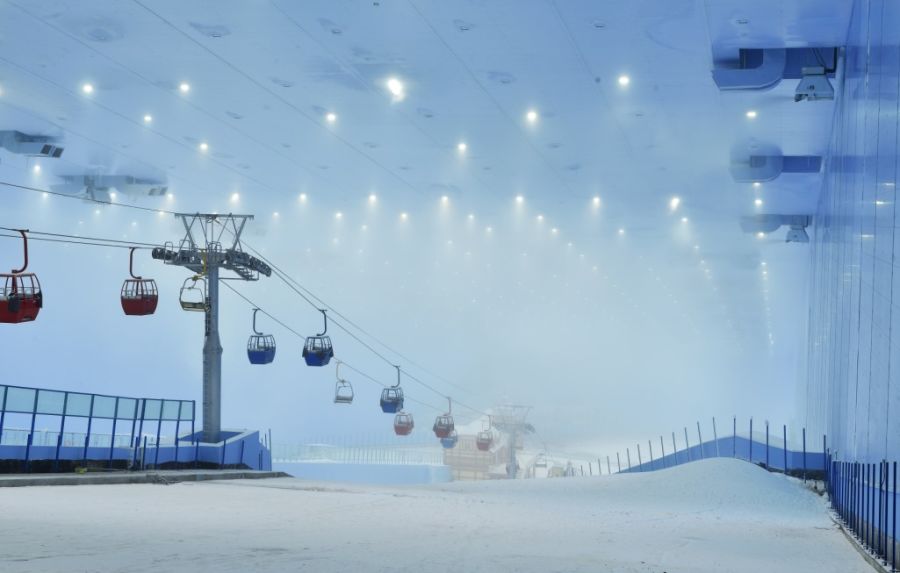 Three of the world's seven largest indoor snow centres have opened in China in just the past year and two of these feature indoor gondola lifts.
These centres have indoor snow areas of over 50,000 square metres - about five times the size of most of the British centres.
The lifts, at Guangdong Sunac Snow World which opened last summer and at Xiangjiang Joy City Snow World are slow moving and were designed mostly for sight-seers rather than skiers and snowboarders, but they do run from the bottom of slopes to the top.
But one of the two centres is reported to have already re-thought the need for an indoor gondola, deciding it was more important to get skiers and boarders to the top of the slopes quickly then serve sightseers.
Guangdong Sunac Snow World has four separate runs of 328m, 230m, 243m and 78 metres in length.
"In the end I realised it was not practical to have a lift designed for sightseers used by skiers and boarders, so we already replaced the gondola cabins with chairs," a manager at Guangdong Sunac Snow World told ski industry consultant Laurent Vanat, the author of the annual International Report on Snow and Mountain Tourism.
The lift that has now been replaced is pictured here.
So now the only indoor ski centre gondola lift is at Xiangjiang Joy City Snow World which is less ski-focused and more of a combined snow and water theme park.