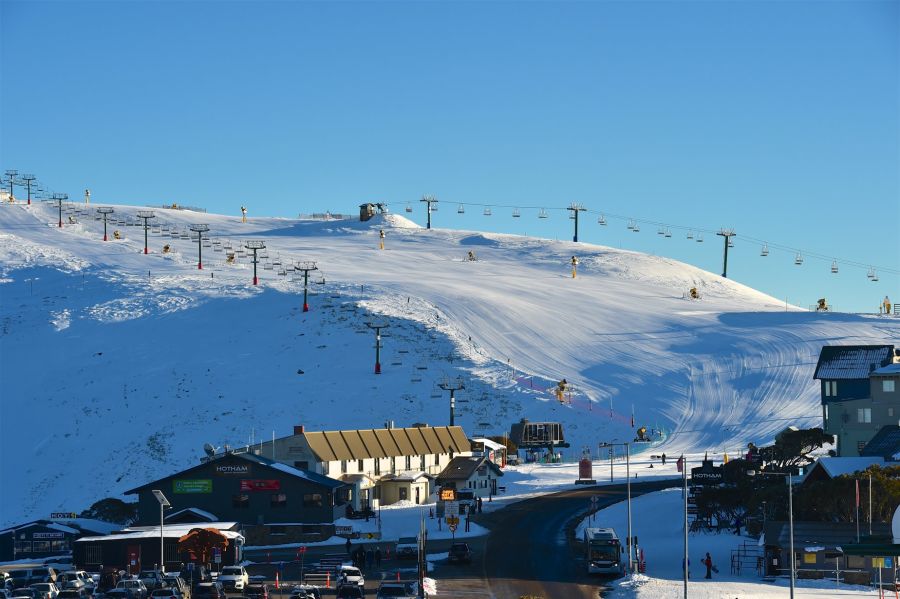 All of the main ski areas in Australia that can open are now open for winter 2020 – a month after the pre-pandemic planned season start date which would have been June 6th.
Mt
Hotham
and
Falls Creek
were the last to open. They were due to open on June 24th but delayed doing so twice due to limited snow cover. They finally opened on July 6th, yesterday, following fresh snowfall.
After a very snowy May, when some areas got a metre of autumn snowfall, June was drier and warmer meaning that lack of snow cover has been as big a problem as pandemic prevention measures for Australian centres.
When Mt Baw Baw, Mt Buller,
Perisher
and
Thredbo
were permitted to open as the pandemic eased on June 22nd and 24th they had very little terrain open.
This caused issues for skiers and boarders hoping to get on the slopes but finding very limited ticket availability with centres operating at around 50% capacity due to pandemic restrictions, and additional problems finding snow space for social-distanced skiing with the limited cover.
Things have improved over the weekend though with moist areas reporting 15-25cm of fresh snowfall.
Most of Australia's ski areas are located in the provinces of New South Wales or
Victoria
, the latter having seen a surge in virus cases over the weekend leading to closed provincial borders and local lockdowns, but so far the province's ski areas remain open.
Selwyn Snowfields will no open this winter as is base buildings and lists were destroyed by bush fires before the pandemic arrived.