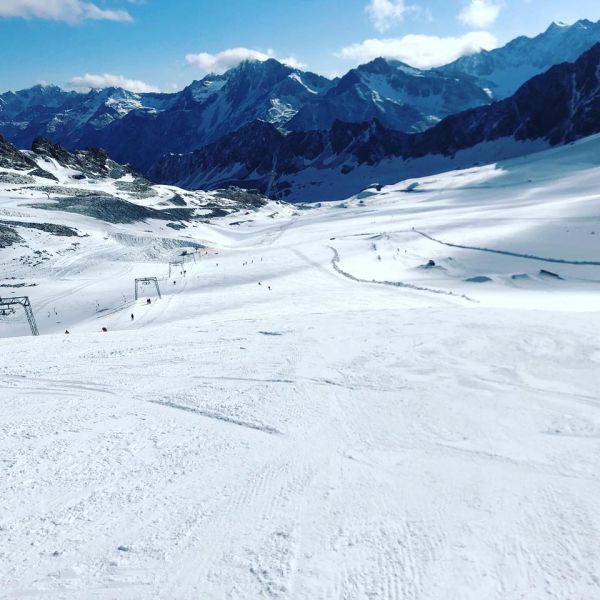 Skiers are back on the slopes in Austria today as the Hintertux, Kaunertal and Kitzsteinhorn glaciers re-open. The Kitzsteinhorn announced it has created a small terrain park.
All have social distancing and other virus-spread-prevention measures in place.
They're the first of around a dozen glacier ski areas in Austria, France, Norway and Switzerland opening over the next few weeks – more of less the same total as normal.
In fact the Austrian glaciers are no the first to re-open in the Alps, Kanin in Slovenia re-opened its upper slopes, overlooking the Adriatic sea, a fortnight ago and staged the Slovenian Big Air Snowboarding National championships at the weekend. Although not FIS sanctioned this is believed to have been the first national championships staged since the mass cancellation of events in early March. It will close for the season again this coming Sunday.
Yesterday Crans Montana announced it would join
Zermatt
in re-starting the Swiss ski season on June 6th, when a fourth Austrian area Molltal, is due to re-open, as well as Val d'Isere and Les 2 Alpes in the French Alps.
Three glacier ski areas will also be open in Norway from the start of June and Italian skiers are hoping Passo Stelvio will be able to open – it is currently booked out by the Italian Ski Federation for race training through June.
Riksgransen in Sweden has also announced in plans to reopen for midsummer skiing, including skiing between 10pm and 1am under the midnight sun, from 18th to 21st June.
Across the Atlantic four US ski areas have announced they'll be open from the start of next week. Arapahoe basin in Colorado and
Timberline
in Oregon are already open, they'll be joined by Crystal Mountain in Washington state and the Beartooth Basin summerski area in Wyoming from Monday.
In Japan the Gassan summerski area is also due to reopen from Monday.
The southern hemispere's2020 ski season is due to get started on June 12th at Mt Hutt in New Zealand with ski areas in Australia and new Zealand opening through the latter half of next month, as will Afriski in Lesotho.
So far there's no news on opening dates for Argentina, Chile and South Africa.
With most borders still closed and travel impossible, difficult and generally no advised for non-essential reasons, centres are mostly open for locally based skiers and boarders as well as national team training.
Some ski areas like
Hintertux
, Molltal and Zermatt are aiming to stay open daily right through the summer and autumn in to 2021, others including Crans Montana and Crystal Mountain are re-opening for short periods of just a week or so partly, they say, to cheer up local skiers, after the lockdown.