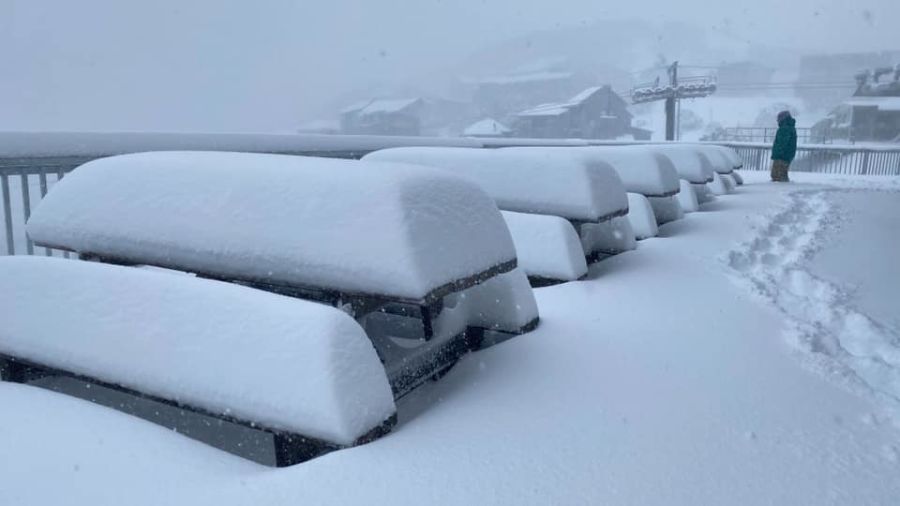 Australian ski areas have reported heavy snowfall over the past 48 hours – six weeks before the ski season there is due to kick off, as is traditional, over the Queen's Birthday holiday weekend at the start of June.
The falls of up to 60cm (two feet) are by far the biggest in the southern hemisphere's autumn 2020 so far.
"Mid-winter conditions on the first day of May today at Hotham! An unbelievable dump of 50cm+ in the last 24 hours has seen the snow pillows on the table-o-metre growing by the hour," a resort spokesperson said, "With blizzard conditions today, the flakes continue to fall heavily and we could be in for another 15-20cm from this incredible Autumn snowstorm."
As with most of the rest of the world Australia remains in lockdown and it is unclear as yet whether centres will be able to open partially, or at all, next month.
Victoria
province where
Hotham
is located is due to review their lockdown on May 11th.
Generally Australian ski areas are preparing to open, in case they are allowed to, but last month local medical centres where they are located warned their limited facilities might be unable to cope if opening led to COVID-19 cases in resorts.
Over in New Zealand resorts are more optimistic of opening if there is no change to the current trajectory of gradual re-opening facilities. Several areas have already re-opened for summer activities like biking and hiking and stated they will be open for the 2020 ski season, in terms of actual skiing, whilst noting that they might not be able to open facilities like restaurants and accommodation.
Elsewhere in the southern hemisphere it's a similar position in Argentina, Chile Lesotho and South Africa where there has also been fresh snow but countries are also still in lockdown, often with the country's external border also closed.