J2Ski Snow Report 9th April 2020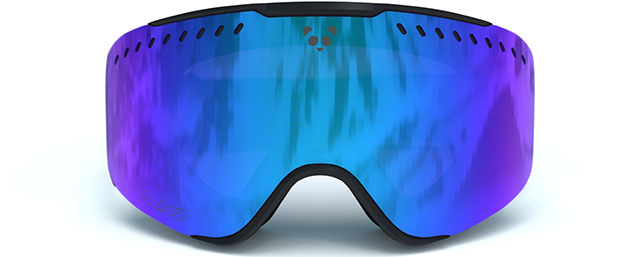 Maybe you can't go skiing, but you could win these! Win some Panda RS1 Goggles
With our last weekly report of this strangest of seasons, all of us at J2Ski wish you and yours a Happy Easter and the best of health for the weeks ahead.
Please follow your local authority's advice, stay safe and well, and look out for your neighbours! The mountains are waiting for us...
The Snow Headlines - 9th April
- Fresh snow on empty Californian and Colorado slopes.
- Most of Sweden's ski areas close, some stay open.
- Further crackdown on backcountry skiing and boarding in North America.
- Austria announces timetable to return to a more normalised lifestyle by late June.
- Ski areas in Iceland and Japan still open.
- Still open Riksgransen has 5.1 metre (17 foot) base, world's deepest.
It's still going downhill for the world's ski resorts with more areas closing due to the virus and the only real light at the end of the tunnel being China where some resorts have re-opened and are allowing people with green health certificates and wearing surgical masks back out on the slopes for the last few weeks of the season there.
This is, of course, Easter weekend so perhaps the only consolation from next week on is that the season would have been over in the majority of the world anyway.
The weather has been warming up in most areas so even without the virus, this very much feels like the end of the winter, and we'll be reverting to our monthly round-ups for the summer, until the snows return to the North.
Although Sweden finally joined the list of countries where ski areas are closed, most of them at least, on Sunday, there are still a few ski centres open in Europe. Ski areas in Iceland are still operating and a few in northern Sweden were, at time of writing, still open too. That's because it's not an outright closure order in the country, but businesses are asked to assess the risks, and a few have decided they think they can continue to operate safely.
There are a few other signs of hope for later in the year too. Earlier this week Austria became the first country outside of China to put together a post-lockdown recovery timetable which, if it proceeds to plan, will see some loosening of restrictions as early as next week, and bars and restaurants starting to re-open next month, then 'large scale events like sports matches' from June. Exactly where ski areas fit into this schedule isn't quite clear, but the country does have more late spring and summer glacier areas than any other.
In the wider world of skiing, there were reports of fresh snowfall dusting Australian ski slopes two months to the day before the season is due to begin there, virus permitting, in early June.
Japan, where the northern island of Hokkaido declared a state of emergency in February due to the virus, but kept ski areas open, then declared the emergency over late last month after cases dropped, is now seeing a surge in cases further south on the main island of Honshu. The season had ended anyway at quite a lot of Japanese ski areas, but several dozen stay open into May and so far they're still operating.

A little Spring snow for Japanese mountains...
Re-publication :- our Snow Report Summary, being the text above this line, is free to re-publish, but must be clearly credited to www.J2ski.com with text including "J2Ski Snow Report" linked to this page - thank you.
EUROPEAN ALPS
Austria
It has been warm and sunny in Austria over recent days and looks set to stay like that for the week ahead too. Temperatures have been getting into the high teens in the valleys, so spring has definitely sprung, but up on the country's glaciers it is still below freezing and images posted by ski centres show pristine, empty slopes, covered in fresh snow (well, maybe a week old but still looking pretty fresh!).
Austria has become the first country to publish a schedule for a return to normality over the coming months if the pandemic there does not worsen. They think restaurants will re-open next month and that large sports events should be taking place again from June.
There are normally four or five Austrian glacier ski areas open in late spring, so these could now be among the first in Europe to re-open if things go to plan.
France
French ski resorts are experiencing similar weather to Austria, with full sunshine, warm valleys but still low temperatures above around 2000 metres. If these were normal times it would be the end of the season for many French ski areas this Easter Sunday or Monday anyway, although for some high altitude stations there were a further 1-3 weeks of skiing in the plans. Instead, the focus is on the need for a very tight lockdown with no one being allowed on to the slopes at all, even for a walk, with fines likely for those who do.
Three French resorts,
Tignes
, Les 2 Alpes and Val d'Isere hope to open for summer skiing from June if conditions improve enough for that to happen.
Italy
Italy has seen perfect weather over the first half of this week, with mostly clear, sunny skies, warm temperatures in the valleys, still sub-zero up high above about 2,000 metres – the Easter week norm really.
With the country on lock-down for a month now there's no one getting out to enjoy it and the only hope really is that summer glacier areas like Cervinia and Passo Stelvio are able to open in June or July if considered safe to operate again by then. More unsettled weather is forecast for the Easter weekend with snow up high (potentially heaviest in the Dolomites), rain down low.
Switzerland
Swiss resorts too have seen warm, sunny weather in the valleys, with temperatures reaching 15-20 degrees Celcius under clear sunny skies down below 1000 metres. Up high though temps have stayed just below freezing so the high slopes, including glacier runs, are in great shape for whenever they can be accessed again (
Zermatt
is, of course, normally open year-round so the slopes should re-open there once normality returns).
Scandinavia
Sweden, the last major ski nation where ski areas were still open, finally decided to change its virus medical advice late last week, leading to most of the country's areas that were still operating (quite a few had closed as the season was over for them anyway), deciding to close on Sunday.
Like Norway a fortnight earlier, there had not been a blanket ban, more a request to consider the implications of staying open and the likely impact on local medical facilities if there was a big virus outbreak among visiting skiers.
Not all Swedish areas have decided to close, at least not at the time of writing. World-famous spring-skiing centre Riksgransen, which has been posting the deepest base of the 500 or so areas in China, Japan and Europe that were still open over the past few weeks at 5.1 metres, reckons it can operate safely and is staying open for now, along with several other northern centres. Riksgransen has its own medical team, says the number of guests has dropped dramatically with cancellations so thinks it can cope with any outbreak.
Pyrenees
Even if we didn't have the virus to contend with, the season would be winding down fast in the Pyrenees now. The past week has been mostly warm to very warm, with the temperature rarely getting below zero even high on the slopes, and rain reported rather than snowfall. The biggest hit from the Spanish mountain this past week has come from one Philipp Klein Herrero who had to cancel a skiing holiday because of the coronavirus pandemic and instead created a stop-motion animation of ski touring in his small
Barcelona
flat. The video has gone viral and you can find it on J2Ski's Facebook page at
https://www.facebook.com/J2Ski
Scotland
There was fresh snow on Scottish hills at the end of last week, but it did shoot up to well into double figures above freezing at the start of this week, at least down in the valleys, which can't have been good for snow cover. In fact webcam images, in the absence of any live measuring and reporting, reveal snowless grassy slopes at
The Lecht
in the East, although cover is still deep at
Glencoe
and
Nevis Range
in the West, which got the brunt of the winter snowstorms.
Eastern Europe
It was a snowy end to a snowy week in Bulgaria last week with some of the best snowfalls of the season right down to resort level. Resorts remain closed here too of course. Now though temperatures are shooing up across the region anyway and there's a fast thaw underway.
North America
Canada
There has been some fresh snowfall for Western Canadian slopes, although the message is increasingly "stay away" to ski tourers as the battle against the spread of the virus intensifies.
Conditions remain generally good and there are still hopes (even if they're diminishing) that resorts like sunshine at
Banff
and the Blackcomb Glacier at Whistler could still re-open in late May or June if considered safe to do so by then. It has been drier in the East but has also stayed around the freezing point or below, and some snow is expected here through the remainder of this week.
USA
Not a great week for US skiing, there was fresh snow in the west last weekend (it has been mostly warmer still) but against that most of the on-going news has centred on stopping people going out backcountry skiing, further redundancies and furloughing of year-round employees now on top of the mass redundancies of season workers three weeks ago, and resort collecting-drives for goggles for ski medics to wear.
Last weekend and next would have marked the end of the regular season for many US resorts in any case, but the season has obviously ended badly. Things continue to get worse with the virus in the US, as in many parts of the world, with no end in sight. If things do start to improve in six to eight weeks and restrictions begin to be relaxed in late-May or June there are around half-a-dozen US areas that could re-open some terrain for late spring or summer skiing, as a gesture at least, but of course, it's far too early to know yet if that might happen.
Stay Home, Stay Safe, and we'll be back in May...