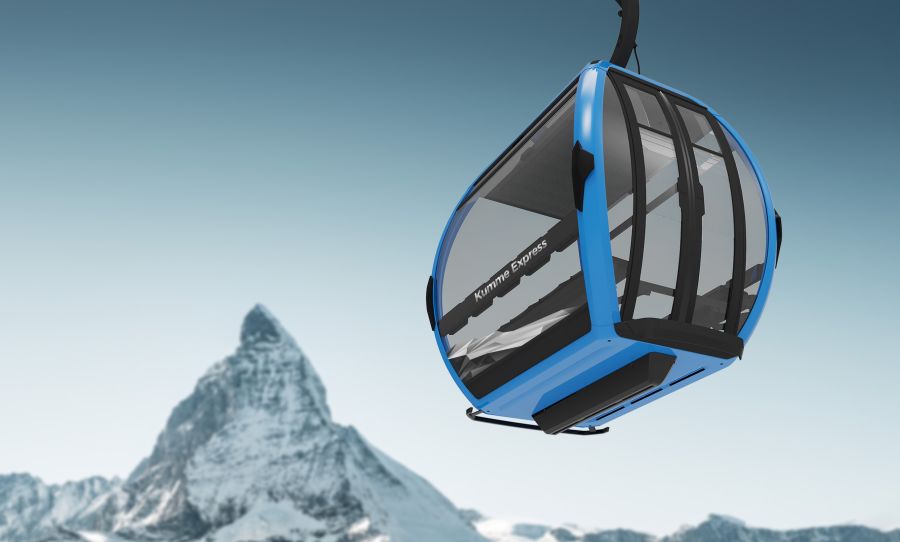 Despite the current near-global lockdown due to the coronavirus pandemic, and the heavy toll this is causing travel and leisure businesses worldwide, Zermatt's lift company (Zermatt Bergbahnen AG (ZBAG) say they are focussed on the time "when this is all over".
Despite the difficult starting position, the Board of Directors has therefore decided to make the major investments of around 60 million Swiss francs over the next two years as planned. Additional financing provided by Swiss banks has helped this decision.
"As soon as the weather conditions allow and no further official decisions relating to the coronavirus prevent construction work from taking place, ZBAG will commence the task of building the new Kumme gondola lift and continue work on the Matterhorn glacier ride II 3S cableway project," a company statement today announces.
The Matterhorn glacier ride II gondola link between Testa Grigia and the Klein Matterhorn, is a multi-year construction project, whilst the new Kumme gondola lift will go into operation at the beginning of the 2020/21 winter season. The new lift will have 56 ten-seater cabins carrying 1500 passengers an hour along the 3.2-kilometre route from Tufternkehr to the Unterrothorn via an intermediary station at Wyss Gufer.
"With our investments and the resumption of construction work we mean to underscore our leading role in and around the
Zermatt
-Matterhorn resort and demonstrate that we can meet even this challenge head on together. We want to indicate to our service partners and visitors and to the local economy that we believe in the future and despite the difficult conditions remain willing to invest in modern facilities and services," the company statement concludes.
Zermatt's approach, which is the same as that announced by Cortina and other resorts in Europe, to crack on with projects, is very different to those of the big multi-resort operating companies in North America who have cancelled most of the continent's previously announced 2020 summer lift construction projects.