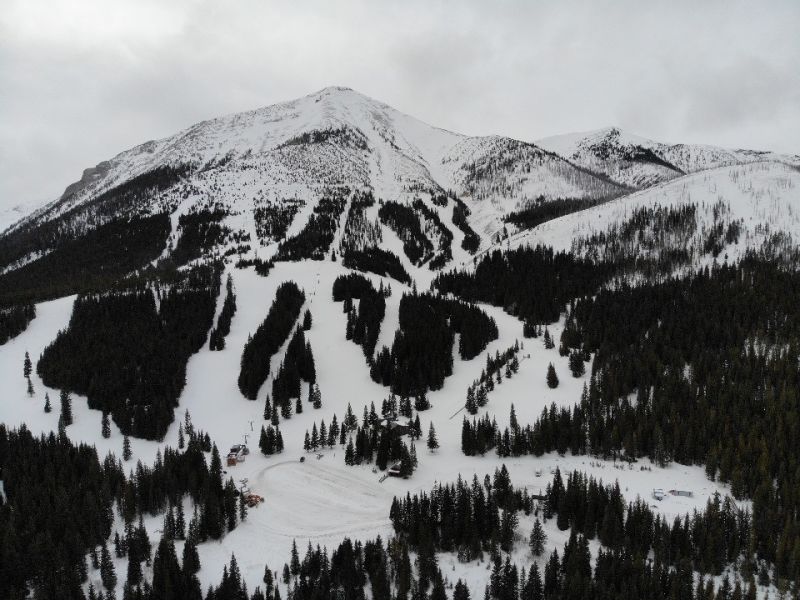 The last ski area open in North America closed on Tuesday as the battle to slow the spread of the coronavirus pandemic gathered momentum in the US.
The last ski area to be open in Canada, Hudson Bay Resort in BC, closed Sunday and
49 Degrees North
, not so far away by the vast scales of the North American Continent, in Washington State just south of the US border, closed on Tuesday.
Both, like many ski areas that stayed open until recently in North America, Scotland and Finland – and are still open in Sweden and Japan – had been arguing they had put social-distancing and other anti-virus-spread measures in places and that skiing was a healthy activity.
But both eventually conceded they had to close on advice from regional government and health bodies.
Another area, Teton Pass in Montana (pictured above), opens Friday to Sunday and at the end of last weekend had said they planned to re-open tomorrow (Friday 27th March) for the weekend, but announced late yesterday that they wouldn't be doing.
For most North American resorts this will mean the 2019-20 season is over, and many have said so officially now, but some have said they would like to re-open in late May or June if the situation improves as fast as it has in China, where the lockdown lasted just under two months and ski areas are now re-opening.
Killington in Vermont and
Breckenridge
in Colorado as well as Whistler in Canada are among areas that may re-open depending on how things go.
In the meantime Canada and the US are now seeing a similar issue to Europe with an increase in the number of people going out ski touring. This is having a mixed response with the same arguments against it, on the grounds that it's irresponsible due to the risk of injury when all medical resources should be focused on fighting the virus.
Some resorts are stressing their slopes cannot or should not be used for touring and the state of Vermont has now made an official advisory against active recreation in the mountains under any circumstances and Colorado last night issued a "stay at home" order meaning outdoor recreation of all kinds is not allowed there either. Some other states and ski areas so far seem happy for it to continue and are even actively encouraging it though.