J2Ski Snow Report 20th February 2020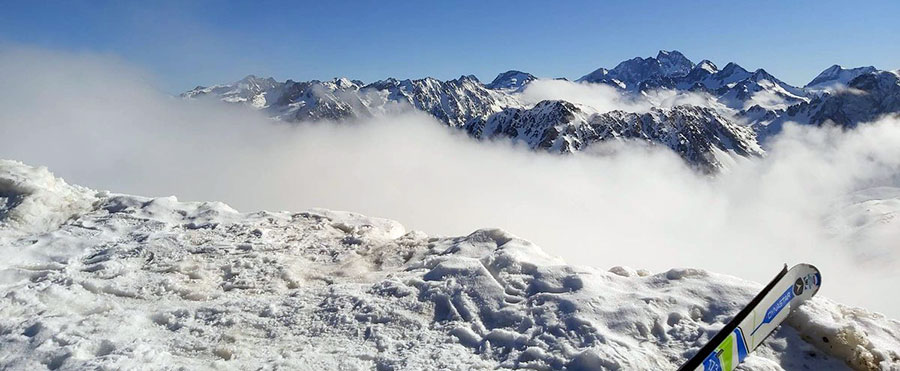 The view from Cauterets, French Pyrenees, picture (c) Iain @ Skipedia
Snow then sun for the Alps, a real mix elsewhere.
The Snow Headlines - 20th February
- Deepest base in the Alps reaches 4.5 metres - biggest so far this season.
- Heavy snowfall again in the Rockies - Jackson Hole passes 10 metres for the season.
- Heavy snow in Scotland, but strong winds close lifts.
- More big snowfalls in Western Norway.
It's been a quieter week in the Alps, in terms of fresh snowfall, than the previous three, but it has kept snowing if only a few centimetres/inches for most resorts over the past few days.
That is, until now with the sun shining across much of western Europe (and likely to continue into next week), with temperatures getting warmer through the weekend before cooling again next week. Snow should be arriving Monday/Tuesday-ish.
Snowfall has been heavier in northern Europe with storm Dennis bringing big accumulations to some Scottish areas, although the accompanying gales have closed lifts and restricted access. Scandinavian ski areas have also seen some of the biggest snowfalls of the past week.
Elsewhere some fresh snow reported in Bulgaria and a little in parts of the Pyrenees although it remains predominantly dry and sunny there.
Over in North America, most areas have had some fresh snow in the last few days, with the heaviest again in the Rockies and the Pacific Northwest where the deepest base in the world, at over 5 metres, continues to grow ... although the Alps can now boast a 4.5 metre base in Switzerland so it may yet catch up.
In the Alpine Forecast
Mild in The Alps until the middle of next week, with a return to cold - and likely snow - now on the cards for the northern Alps at least, although the forecasts are very uncertain at present.

Norway's getting the goods this week...
Re-publication :- our Snow Report Summary, being the text above this line, is free to re-publish, but must be clearly credited to www.J2ski.com with text including "J2Ski Snow Report" linked to this page - thank you.
EUROPEAN ALPS
Austria
Austrian ski slopes have had a little fresh snow to start this week and for most of the country's main international destinations, resort conditions are looking good. The
Arlberg
region, home to
Lech
and St Anton, reports every lift turning, every run open and snow depths of around 1-3 metres.
The best conditions, as temperatures rise above freezing through the weekend, are likely to be up on the country's glaciers, most of which report the snow lying over 3 metres (10 feet) deep. Probably more 'spring-like' in the sunshine elsewhere, but colder weather is expected early next week with the possibility of more (so far light looking) snow from Tuesday in the longer-term forecast.
France
There was fresh snowfall across much of the French Alps this week on Monday and Wednesday. Quantities weren't great, generally just a few centimetres, although some - including
Chamonix
- got 10cm in 24 hours; enough to refresh the slopes in the middle of the busy schools half-term main week.
Generally, the picture continues to look good for almost all major destination resorts across the country. Bases are good, as deep as 3.3 metres (11 feet) at
La Plagne
, but pretty good in most of the French Alps with snow cover down to the valley.
Italy
There's been little change in conditions in Italy, which has tended to largely miss out on most of the February snowfalls further north. There was some report of a little snowfall in the
Piedmont
region, and indeed a few centimetres here and there across a wider area on Tuesday-Wednesday, but mostly it has stayed dry and the week ahead is looking like wall-to-wall sunshine, at least to the start of next week, as is the case of much of western Europe.
Again a similar picture to its neighbours in that most Italian areas have decent snow depths from earlier falls, and everything still open, but little fresh off-piste to be found; a good dump would be very welcome now. But there's nothing like that in the forecast at present.
Switzerland
Andermatt
continues to post the deepest base in Europe at 45cm to 450cm, and those stats illustrate the stark difference between lower and higher altitude snow depths this winter so far. Andermatt also reports similar conditions to most of Switzerland's other leading resorts that is (1) some light fresh snow earlier in the week (2) everything open (3) great conditions (4) full sun now!
Scandinavia
Ski centres in Norway once again posted the biggest snowfalls in Europe over the last seven days.
Voss
on the West Coast reported 1.2m (four feet) of snowfall and Roldal 1.5 metres (five feet). The latter now says its snow depth has reached 3.7 metres so it is heading towards being the deepest in Europe if things continue in this vein much longer – and forecasts for the week ahead are that they will.
Elsewhere there's been plenty more snowfall across much of Scandinavia's ski slopes. Resorts like
Levi
and
Ruka
up in Lapland report every slope open and longer opening hours as the daylight hours rapidly get longer now up there.
Pyrenees
A story about a small low French Pyrenees ski resort using a helicopter to patch up snow cover has gone viral in news feeds around the world, but really the overall picture in the Pyrenees, despite not much snow for the past week, is good, at least for the main destination resorts in Andorra and indeed French and Spain, as they're fully open with decent bases from heavy snowfalls in December and January.
Small, low centres are indeed suffering as those heavy snowstorms earlier this winter were rain showers at lower elevations and it has been too warm for snow-making too. Against that gloomy picture, several resorts in the French Pyrenees were posting pictures of light fresh natural snow cover and snow guns blasting in a temperature dip this week in a bid to counter the bad news story of the helicoptered-in snow.
Scotland
Scottish ski areas, especially
Glencoe
and
Nevis Range
in the West, have actually had some of the heaviest snowfall in Europe over the past week. The problem has been that Storm Dennis has made it too windy for lifts to open for most of that time so skiers couldn't access it. That improved from mid-week though and around 50 runs were open across the country on Wednesday, though almost half of them at Glencoe, which is almost fully open when accessible. Centres further east (
The Lecht
and
Glenshee
) have been less impacted by the strong winds but have less snow.
There's more heavy snow forecast but also, unfortunately, more gales which at present look likely to close slopes again at the weekend.
Eastern Europe
There are not many parts of Europe where it is expected to snow over the final days of this week, but Bulgarian slopes (along with ski areas in Europe's far north) are due to benefit. The past few days have been dry and sunny but there was some snow earlier in the week as well and whilst the ongoing problem of little snow at lower elevations continues, upper runs at least (and in some cases entire ski areas) are looking good at most areas in the region.
North America
Canada
Canadian ski areas are in good shape across the country now as snowfalls in Quebec over the past few weeks have finally got that region back on track, with most areas now fully open and the kind of low temperatures that are the norm here in February after the unusually warm first few months of winter.
Over in Alberta and Eastern BC, that's not been a problem; it got very cold, as usual in mid-winter and the snow has been dumping down as usual.
Fernie
opened more terrain this week, some for the first time this season, after more big falls.
Some snow on the Pacific Coast too, although not so much as recent weeks. But resorts like Whistler, now fully open, are probably happier that it has been cold with freezing temperatures right down to its base.
USA
A similar picture to its northerly neighbour with some good snowfalls in the Rockies, the Northwest and in the East over the last few days. Starting with the Pacific Northwest, the snow here continues to be the deepest in the world at present (as it often is) with Alpental in Washington State reporting another 50cm or so more snow in the past few days and its base up at 5.2 metres – over 17 feet.
Similar snowfall, if not quite such a deep base, for resorts in Colorado and Utah and on the east, nearer 20-30cm (8-12 inch) falls have kept things fresh on the (fully open) slopes of states like Maine and Vermont.
Thanks for reading, until next week...