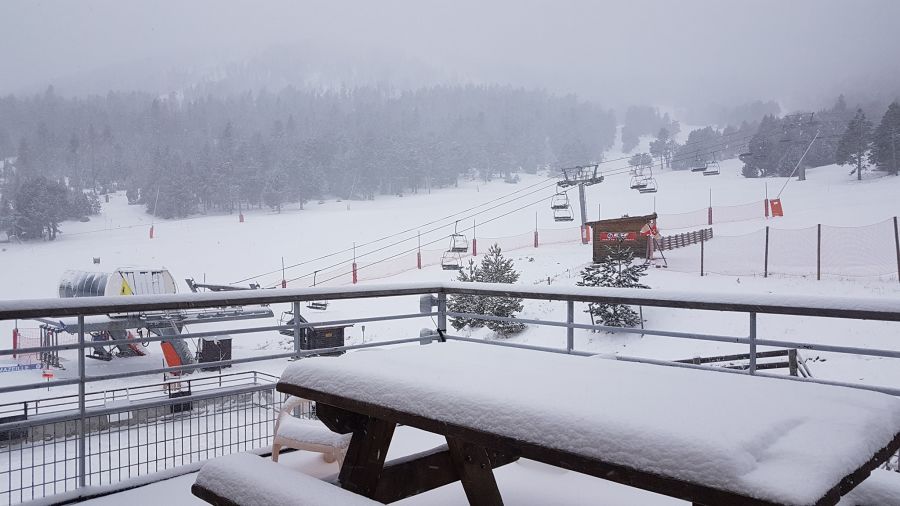 Very heavy snowfall is being forecast for ski areas in the Pyrenees over the next few days.
Unusually the numbers – as much as 115cm (nearly four feet) over 48 hours and as much as 85cm (nearly three feet) in 24 hours are being forecast the day before the snow I due to arrive – rather than a week or more away when forecasting models do sometimes give big number possibility extremes, before these diminishing as the forecast day gets nearer.
The biggest snowfalls are forecast on the Spanish side of the mountains with Vallter set to get the biggest amounts others 60-80cm. In Andorra 40-90cm accumulations are likely. On the French side the predictions are for up to 70cm at les Angles. Most of the resorts in the region currently only have 20-50cm of snow lying after a fairly dry winter to date so the snow should transform conditions.
The snowfall – which has already started falling with some areas reporting 10-30cm overnight – is being accompanied by strong winds of typically 40-60kph. Formigueres in the French Pyrenees is pictured above this morning.
A number of resorts in the region, including Vallter, are closed today as a precautionary measure whilst they see how the snowfall plays out in reality. In France
Cambre d'Aze
, another area expecting big falls, is currently closed until lunchtime tomorrow (Wednesday).
There have not been any snowfalls on this scale in Europe this winter so far, if the snow does arrive as predicted.
Although the amounts in the Pyrenees are not expected to be as big, last winter parts of Austria and Germany saw massive snowfalls leading to ski area being evacuated due to avalanche danger and the winter before parts of the French, Italian and Swiss Alps saw skiers ion some resorts like Val d'Isere and
Val Thorens
advised to stay indoors due to snow danger and
Zermatt
cut off for a time. This winter has so far been very different in those areas.