GB Snowsport athlete Mani Cooper will make history tomorrow (Saturday) in Lausanne when she becomes the first ever female GB athlete to compete in Nordic Combined (Ski Jumping and Cross Country skiing) discipline at an Olympic event.
The Kettering-born athlete has been competing in Ski Jumping and Nordic Combined events since the age of 12. Tomorrow she represents Team GB for the first time at Lausanne 2020 Youth Olympic Games.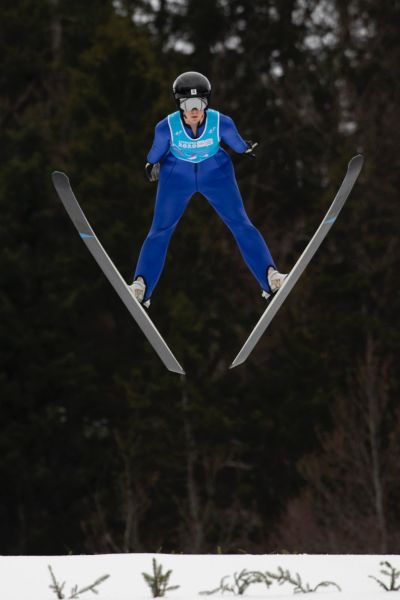 Family relocated to Innsbruck
Cooper, 16, discovered Ski Jumping after watching the Bergisel Four Hills Ski Jumping 2012 Tournament in
Innsbruck
. Even after her father showed her countless videos of ski jumpers crashing, Mani was determined to compete in the sport.
Mani's family relocated to Innsbruck and her career began at 'SV Innsbruck Bergisel´ shortly after that 2012 event. Cooper was invited to join the regional Tyrolian Ski Federation (TSV) squad and started competing in the Nordic Combined Events. She has previously taken part in the Austrian National Championships.
Difficult practice conditions

Following practice today on the 90m jump, in less than ideal conditions, Cooper posted three 60m+ jumps. She also completed a practice run of the two kilometre cross country training course.
Speaking post-practice Mani today said:
It was great to be out there in my team kit, even it was testing conditions. My first jump was OK, but the second was a way early. The cross country was hard work but it was great to be here and get out practicing.


First-ever female GB athlete competing in the Ski Jump
On being in Lausanne and being the first ever Great British female Ski Jumper at any Olympic Games, Cooper said:
"It is an honour and a privilege to be here and of course to be the first-ever female athlete competing in the Ski Jump as part of the Nordic Combined discipline an Olympic event for Team GB."

"I hope I am the first of many and I hope I can inspire as many younger female athletes to take up Nordic Combined and Ski Jumping."
Words of encouragement from Eddie Edwards
Earlier on in the day Mani had received a video of support from the most celebrated British Ski jumper in Eddie 'The Eagle' Edwards.
Commenting on the video Mani said:
"If I'm honest I was hiding the tears when I saw the video. It is amazing to be recognised by Eddie and really cool that he has taken the time to make the video."

Mani will be competing tomorrow in the Ski Jump from 0830-0900 GMT and in the cross country from 1300 GMT. Fans can watch all the action from Lausanne 2020 at olympicchannel.com and its mobile apps.