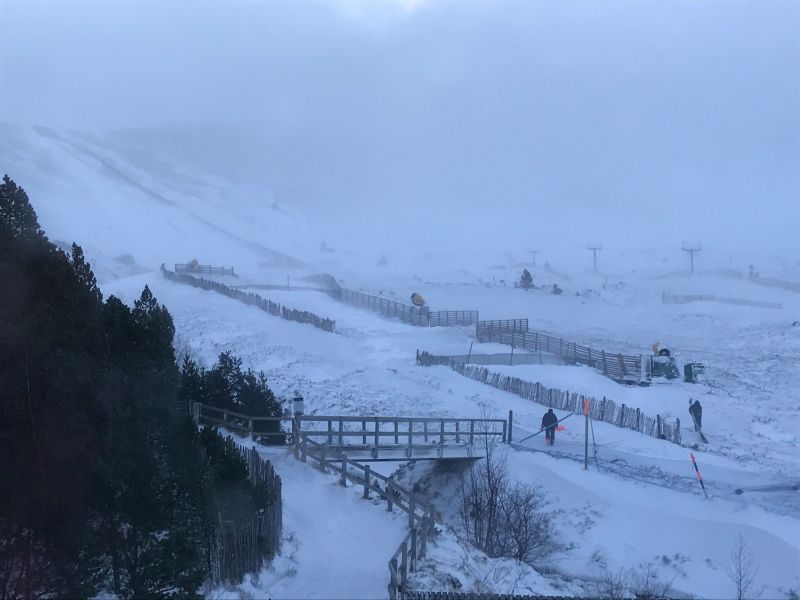 Scottish mountains are white once more after an alarmingly warm, wet and windy month which saw the five Highland ski centres rely on their special all-weather snowmaking systems to create limited snow-covered terrain, mostly for beginners, on what would have otherwise been bare grass and heather.
The past 72 hours has seen plenty of snow hill falling however and several centres have said they hope to be able to be able to open more terrain from Friday, so long as the snow keeps falling and not too much of it gets blown back off the slopes.
The issue they're currently facing is gale force winds, gusting at up to 75mph, which has been closing them on and off this week, with
Glencoe
, Cairngorm and
Nevis Range
all closed today. Further east
Glenshee
and
The Lecht
are open with the winds less strong, although so far they do not appear to have had so much snowfall as the more westerly areas.
Both Glencoe and Cairngorm have noted snow build-up mid-mountain with each saying upper slopes have been 'scoured' by the gales.
"No let up in this run of high Southerly winds and more heavy snow showers are forecast over the next few days. We are starting to get drift build up, along the fence lines, but a lot of the upper mountain is quite scoured," a statement from Cairngorm (pictured above this morning) said yesterday.