J2Ski Snow Report 2nd January 2020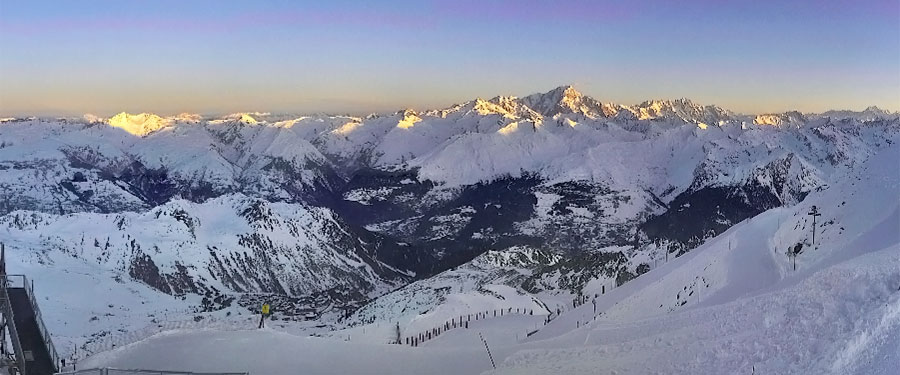 Mont Blanc, viewed from Les Arcs, France this morning.
Happy New Year! There's snow in America, sunshine in Europe...
The Snow Headlines - 2nd January
- Sunny skies in the Alps after snowfall gives excellent New Year's skiing for most.
- Heavy snowfall in Western North America - over a metre more in parts of Colorado.
- Improving picture in Eastern Europe - colder temps and first snow of season in Romania.
- Resorts in France and Italy post 4-metre base depths for first time this season.
- Several avalanche deaths, unusually, on open pistes.
- Scotland sees all-time high temperatures for late December - not good for skiing.
- Snowfall at last in Japan - but some way to go before skiing normality returns.
It has been a pretty good Christmas and New Year for much of the Alps following snowy weather in the run-up to December 25th. Sunshine has been dominant this week giving skiers glorious days on the slopes.
Unfortunately, the recent mix of heavy snow, wind and warm temperatures have led to unstable snowpacks and several avalanches have crossed pistes in Italy and Switzerland in the past week. Off-piste Avalanche Risk Levels are typically at 3-4 (Considerable to High).
The Pyrenees have not really seen any fresh snow this week and instead rather warm temperatures and sunny skies but centres are fully open for New Year week. It is also looking good in the Dolomites and up in Scandinavia.
In Eastern Europe, it has turned colder and snowier so conditions continue to improve in Bulgaria with the snow being pushed lower and ski areas in Romania excited to have finally received their first snowfalls of 2019-20.
In Scotland, it's a less exciting picture with warm weather bringing wet and windy conditions forcing centres back to small areas made with all-weather snowmaking machines.
In North America, there have been more big snowfalls in the west of the country with some areas in the Rockies reporting more than a metre (three feet) of snowfall, and there are similar volumes expected through the first week of January too. It's less of a banner season, so far, further east but there has been some fresh snow here too.
Over In Japan, there has been some snowfall in the north but temperatures are still hovering around zero so there's been rain too. It's looking like it should gradually improve over the coming week but snowfall totals are currently about half the average (or less) for the start of January.
In the Alpine Forecast
The current clear weather looks set to continue for another week, albeit with colder temperatures in the East this weekend, with less settled conditions from the 2nd week of January.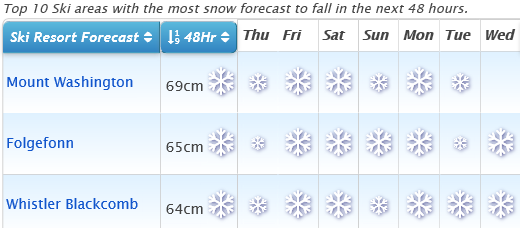 Snow coming for Scandinavia and USA...
Re-publication :- our Snow Report Summary, being the text above this line, is free to re-publish, but must be clearly credited to www.J2ski.com with text including "J2Ski Snow Report" linked to this page - thank you.
EUROPEAN ALPS
Austria
It has been a sunny week on Austrian ski slopes with great skiing for those lucky enough to have been on the slopes there over New Year.
There's been little fresh snowfall reported, just a few inches here and there, but there is now a front moving in which should deposit 15-30cm of fresh snow to refresh slope cover at the end of this week and into the weekend. Most of the country's big ski areas are almost fully open, with the
Arlberg
region (St Anton and
Lech
) reporting more than 250km of its slopes now open, the Skiwelt (Including Soll and
Westendorf
) more than 200km.
France
It has been a good week to be on French ski slopes with mostly sunny conditions (although there was some fresh snow to end last week at Val d'Isere), temperatures hovering a little below zero and pretty much every slope open and every lift running.
The only real complaint anyone has had has been that with such good conditions on the groomed runs there's a lot of people on the slopes and forming queues for key lifts. It traditionally gets much quieter as of next week though after the New Year holiday.
France has also leapt to the top of the 'deepest base in the world' table with
Val Thorens
apparently re-measuring its depths and publishing stats of 384-412cm for the start of the new decade.
Italy
There's very little change in the stats from Italy's ski areas as after a snowy period up to Christmas it has been largely dry and sunny over the past week across the country from the western Alps to the eastern Dolomites.
Base depths remain pretty good – as deep as 3 metres (10 feet) at resorts like Cervinia and
Madesimo
and even 4 metres at
Passo Tonale
. Most slopes were open for New Year and long lift queues were reported in some areas.
The week ahead looks to be staying largely cold and sunny although with some light snow expected at the weekend, heaviest on Sunday at most areas – but probably still not that heavy.
Switzerland
Swiss resorts, like much of the rest of the Alps, have had a great few weeks after the pre-Xmas snowfall, with mostly sunny conditions, but cool temperatures and almost every run in the country open.
There was a little fresh snow (10-30cm) for a few resorts in the west of the country to end last week but mostly it has been wall to wall sun and should continue like that for the next day or so before things get a little snowier to end the week with 10-30cm more in the forecast mirroring the week previous.
Andermatt has now posted a 4m base depth, the first in the country to hit the four-metre mark this winter.
Scandinavia
It's looking pretty good up in Scandinavia too. The last day of 2019 saw accumulations of up to 25cm in 24 hours in Western Norway and parts of Sweden.
The majority of the region's bigger resorts are fully open (or in the case of the biggest, Sweden's Are, about three-quarters open), with cold temperatures and decent snow depths. The start of 2020 here looks to be more of the same – cold and frequently snowy!
Pyrenees
It has been a mostly dry week in the Pyrenees with no fresh snow to report and indeed temperatures have been creeping up above freezing, particularly down in the valleys, since Christmas, with either clear sunny skies or light cloud.
This isn't much of a problem so far as although slopes are now hard-packed and there's little off-piste powder to be found, the good snowfalls of November and earlier In December mean most areas have decent base depths and indeed most in Andorra are 100% open for the busy New Year week.
Scotland
Alas, the weather has not been kind to Scottish ski areas since Christmas with the forecast low temperatures a week ago failing to happen and instead we saw record high temperatures in the far north of Scotland with temperatures well into double digits above zero. So the past few days has seen centres only really able to open small areas for beginners and snow play using flake ice 'snow' from their all-weather snowmaking machines.
Glenshee does have some longer trails still open however. It currently looks like temperatures should be dropping again and it is possible some of the precipitation forecast may fall as hill snow but sadly it might also be rain if it doesn't get colder.
Eastern Europe
It is an improving picture in Eastern Europe where a few weeks ago only a few higher altitude areas were open.
Romania saw good snowfalls around Christmas Day. In Bulgaria,
Borovets
was finally able to open some terrain at Christmas and declared it was fully open for New Year.
The snowfall has stopped but it has been bitterly cold so snow-making systems have been operating on max.
North America
Canada
It was a fairly dry week in Canada after all the snowfall over the Christmas period. A storm system in the East led to some ski area closures although unfortunately, that was more freezing rain than too much snow.
Another major storm system is now moving into the west of the country which is expected to deposit large amounts of powder on Alberta and BC ski areas. It's here that conditions have been the best in the country so far this season. Whistler, which has had a poor start, has at least had some snow (and is forecast to get much more this week) and now has about a third of its trails open compared to only 10% just before Christmas.
USA
It has been another very snowy week in Western North America with some resorts in Colorado posting over a metre of snowfall in the past seven days.
Silverton Mountain has moved to the top of the "deepest snow in the country" table with a 2.5-metre base depth. It's continuing to snow hard into the first week of the New Year too. Further East it's not so good, at least in the Midwest where unseasonably warm temperatures have led to resort closures. A better picture in New England and the wider East Coast where there's been some fresh snowfall to top up cover there.