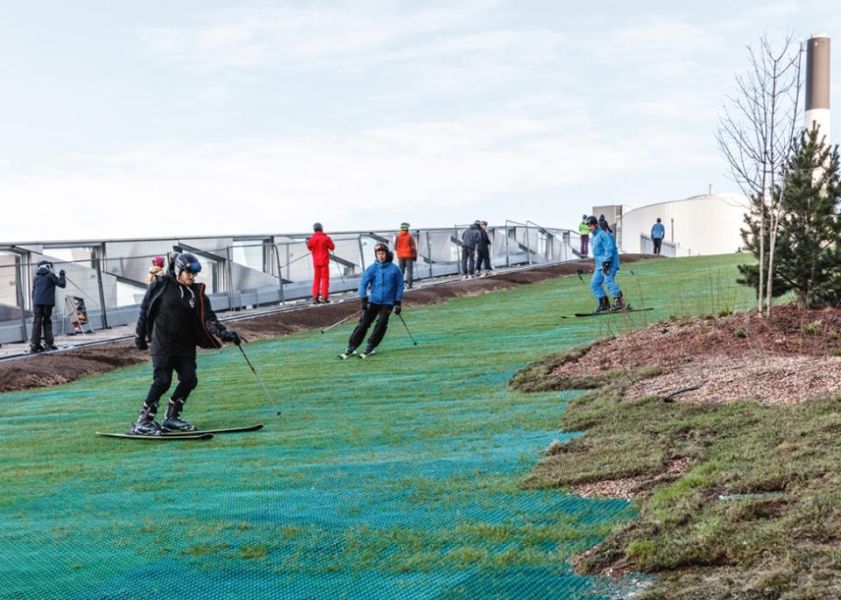 A ski slope down the roof of a 'heat-to-energy' power plant in Copenhagen is due to finally open next week.
The power-plant-dry-ski-slope is the brainchild of the BIG architectural firm that has built a reputation for innovative design on flagship projects worldwide.
The slope project was first announced around seven years ago and the artificial ski slope was installed about a year ago, but the complex, now named 'Copenhill' has only operated for occasional 'test days' through the past year rather than fully opening.
Now it plans a big opening weekend on 4-6 October, Friday-Sunday next week.
Danish media reported that this was due to health and safety legislation which prevents a public assembly on top of a boiler. Unfortunately no one had applied for exemption for the ski slope and it has taken some time to get the necessary permissions, but these now appear to be in place.
The ski slope is believed to be around 350 metres long, making it one of Europe's longest to date. It uses a surface material manufactured by Italian company Neveplast.
The slope's operators have been keen to try to create a natural environment on the power plant roof with trees and shrubs growing – reported to be no mean feat. Unusually the plan appears to include grass growing through the plastic slope material.
Copenhill sits at the heart of an outdoor activities area with a lake beneath the power plant and the world's largest climbing wall due to open there next week.