After more than three years' work, the Grande Motte cable car in
Tignes
is opening its new panoramic roof terrace and 360 degree views.
Designed in Switzerland by Garaventa AG, it will open for summer this weekend. In addition to the capacity of the two cabins, which can each accommodate 100 people and carry the equivalent of 1,000 people per hour in each direction, the new roof terrace can carry twenty people at a time.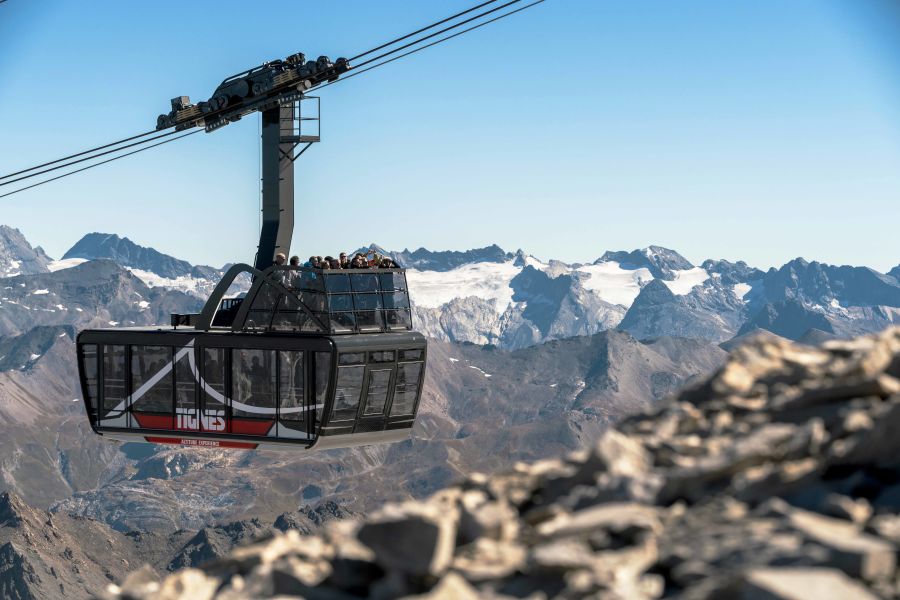 From June 22nd, twenty passengers will be able to enjoy a round trip ride on the rooftop of the new Grande Motte gondola.
It takes no more than five minutes for the cable car to arrive at the summit at 3456m. It's a great opportunity for both skiers and non-skiers to enjoy a breath of fresh air at the gateway to the Vanoise National Park.
The lift gives passengers a unique 360-degree view of one of the most beautiful panoramas in the French Alps, with views of
Mont Blanc
, the Cime de Bellecôte and the Aiguille de la Grande Sassière (3747m).
The Grande Motte glacier is open from June 22 to August 30 for pedestrians and until August 04 for skiers. Prices are detailed below
SKIERS
- Adult day pass: 35€
- Child day pass: 28€
Ski area open from 7.15am to 1.00pm
Last lift down at 1.30pm
PEDESTRIANS
- Adult return trip: 20€ + 10€ for the panoramic roof
- Child return trip: 16€ + 10€ for the panoramic roof