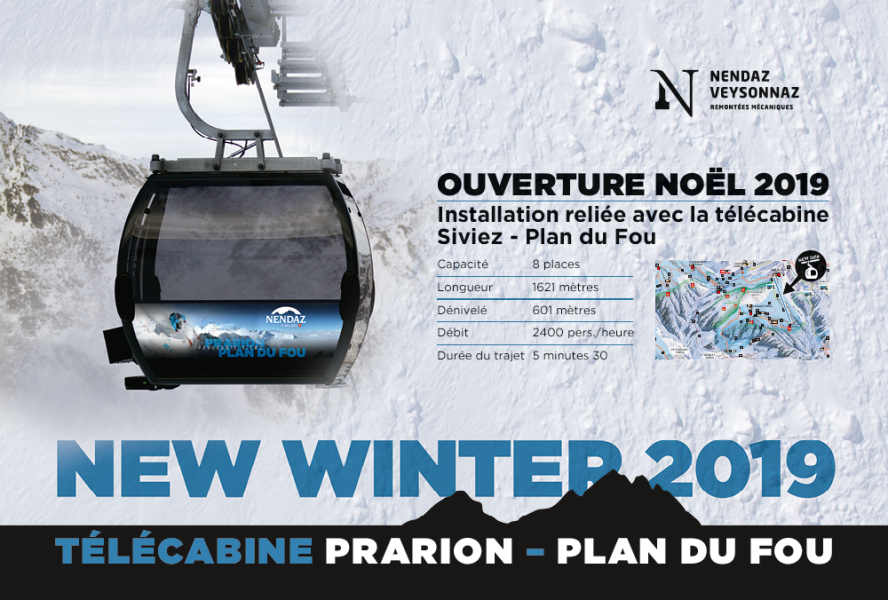 The Nendaz ski area within the Swiss 4 Valleys ski region has announced a major lift upgrade is underway this summer ahead of next winter.
A new gondola with eight-passenger cabins is being installed to connect Prarion to Plan du Fou to replace the Fontaines ski lift and the old Plan du Fou cable car. The latter will be demolished but the T Bar lift will continue to operate.
The new lift will triple uplift on the route from 800 people/hour to 2400 people/hour,
"So the queues are over!" a lift company statement predicts.
The new lift's base station will be adjacent to the Prarion-Tracouet chairlift and will allow boarding of both facilities at the same level.
The new gondola's upper station will be fully connected to the
Siviez
-Plan du Fou Gondola and users will apparently have the opportunity to transit from Prarion to Siviez without leaving the gondola.
However skiers will obviously be able to get out at the Plan du Fou and ski on the slopes of both sides of the mountain.
The link between Haute-
Nendaz
and Siviez will now be possible for pedestrians without going by the road and using only cable facilities of the ski area.
At the same time there will be an expansion of the snowmaking system with artificial snow making added at the Greppon-Blanc sector (Combatseline-Thyon).
The two projects will be carried out this summer and the should be completed ready for the start of next winter, the 2019-2020 season.
The total investment represents around CHF 25 million, the largest chunk of a total of 60 million the lift company has now invested in upgrades since 2016.