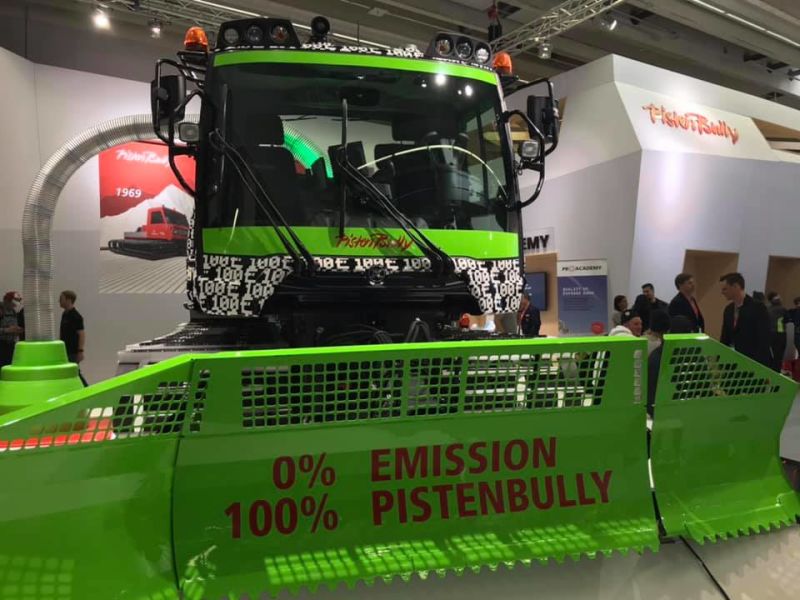 One of the world's leading manufacturers of snow grooming tractors has unveiled its first 100% electric groomer at the Interalpin trade show currently taking place at Innsbruck in Austria.
The new PistenBully 100 E from the German-based manufacturer Kässbohrer, contains a battery with an energy capacity of 126 kWh with a rated voltage of 400V. It can be 75% charged within 5 hours, and 100% after 6.5 hours. This provides an average driving time of 2.5 to 3 hours the company says – not really enough for a regular night shift but a promising first step.
Previously the groomers responsible for the lowest CO2 emissions were electric/diesel transmission hybrid vehicles. The rival Italian company Prinoth also made a very low emission groomer for use from grooming inside indoor snow centres.
However most of the many thousands of grooming tractors that work on ski slopes each night in the season are diesel powered, and have continued to emit CO2 emissions even as resorts have switched energy supplies for their buildings, lifts and snowmaking to green electricity.
As yet it is unclear whether the PistenBully 100 E is a prototype or in production however the company says it has completed trails on snow successfully.
"An extensive number of tests have been carried out during the study, because only well-engineered technology meets the high-quality demands of Kässbohrer Geländefahrzeug AG," a company spokesperson said, adding, "it has highly promising prospects!"