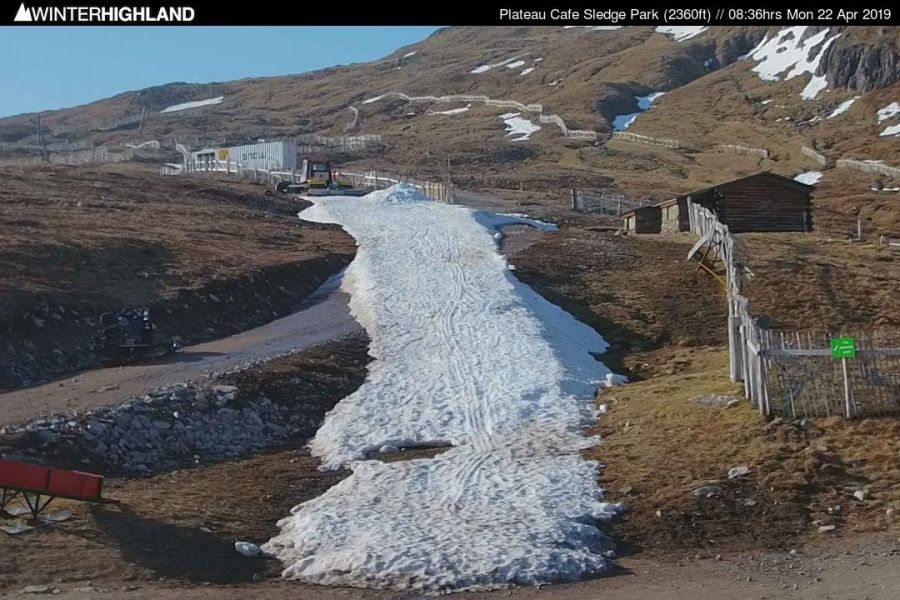 Today (Bank Holiday Monday April 22nd 2019) appears to be the final day of the 18/19 Scottish ski season.
Glencoe ski area on the country's west coast has been the only centre operating snowsports for the past week and had previously said that it would close today due to a lack of skiers rather than a lack of snow. It is pictured above this morning.
However this morning it has reported that after record April temperatures there's not enough now to provide a full connection between lifts and ski runs and said that skiers would need to do some hiking to reach downhill stretches of snow remaining.
2018-19 has been a challenging season for Scottish ski areas with very limited periods of natural snowfall followed by record warm temperatures in February and this month which have led the snow cover to thaw away each time after only a few weeks of operations.
Glenshee had the most difficult season in terms of days open, only managing to open for snowsports for 24 days in total compared to an average of around 80.
Cairngorm had a challenging season with its funicular railway ruled out of action due to safety concerns, its owners spent around £1m on snowmaking, including on a snow factory all-weather snowmaking unit but technical problems have prevented that from working in recent months.
The Lecht
and Glencloe also invested in Snow factory machines which allowed them to open some terrain for beginners and sledging from the start of December which may have "saved the season" for them, although questions have been raised about the cost of operating these units compared to the income they generate.