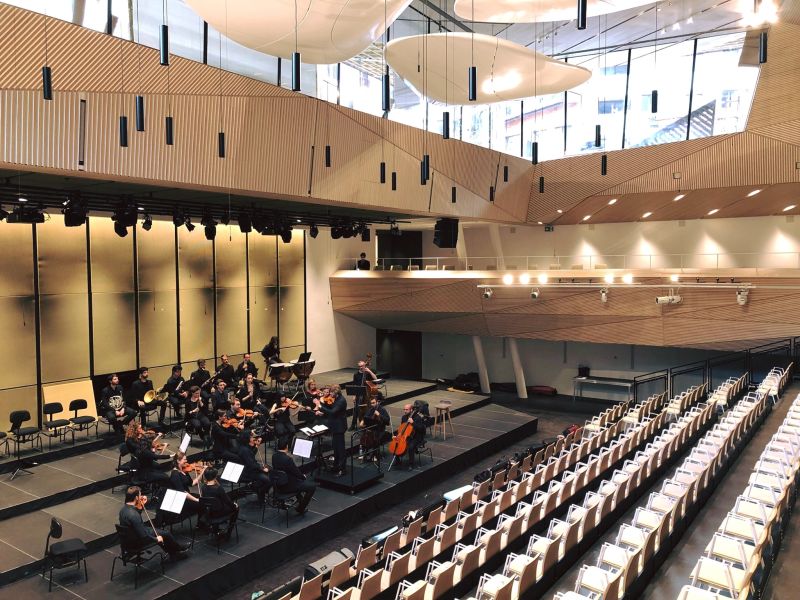 The rebirth of the Swiss resort of Andermatt into a world-class mountain destination of the 21st century is set to continue this summer with the opening of a new concert hall.
Designed by London-based Studio Seilern Architects and located next to the resort's new Radisson Blu Hotel Reussen which opened this season, the new 700-seat facility will allow
Andermatt
to join a very select group of ski resorts with this type of important cultural attraction alongside its celebrated sports facilities.
The opening concert serves as a prelude to the hall's ambitious Opening Season, which continues in the autumn with a satellite of Lucerne Festival with three concerts, featuring among others theChamber Orchestra of Europe.
The new hall's programme is devised by Andermatt Music, an operation managed by a trio of young British producers – Maximilian Fane, Roger Granville and Frankie Parham, who together cofounded Florence's annual New Generation Festival which showcases young music talent from around the world.
The Andermatt Concert Hall features an exceptionally flexible stage capable of incorporating a 75-piece orchestra. The acoustics and theatre design are respectively by Kahle Acoustics and dUCKS scéno – the same teams behind the Philharmonie de Paris.
Samih Sawiris, Chairman of Andermatt Swiss Alps, said, "All my life I have loved classical music. One of my fondest memories goes back to my student days in Berlin – where I lived 100 metres from the Philharmonie and sat in the back of hundreds of concerts by the Berliner Philharmoniker and Herbert von Karajan. Lately I have been concerned that, more than ever, this great art form needs encouragement. Our fantastic new concert hall, which adds enormous value to Andermatt as a destination, will hopefully make a real contribution to music in Europe and bring pleasure to visitors and local people alike."