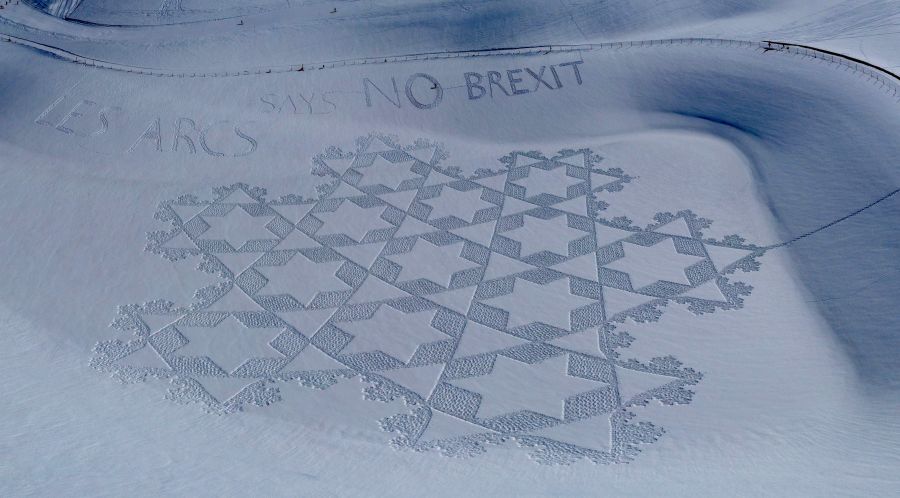 French ski resort Les Arcs, one of the most popular with British skiers, have made their feelings known on the subject of Britain leaving the EU this week by spelling out 'Les Arcs says no Brexit' in giant letters in the snow. The work was done by Simon Beck, who is one of the world's most famous 'snow artists'.
The snow art message is part of a wider initiative by a number of French resorts to highlight their disapproval of Brexit.
Bourg Saint Maurice, the entry point to many of the major French ski resorts and the Eurostar terminus, has decided to stage an anti-Brexit demonstration this Saturday 6th April with the support of Val d'Isère,
Les Arcs
,
Tignes
,
Villaroger
and Sainte-Foy.
The ski resorts of the Haute Tarentaise want to send a strong message to both the UK and the rest of Europe, with 6th April the date of the last Eurostar of the season back to London.
The demonstration will start at 7am on Saturday 6th April in front of the Bourg Saint Maurice train station. The participants will welcome Eurostar passengers departing for London in good spirit, with music and even breakfast ahead of the train's departure for London at 9.34am.
Michel Giraudy, Mayor of Bourg Saint Maurice Les Arcs and Marc Bauer, Mayor of Val d'Isère, said:
«We are Europeans! It seems unimaginable for our parents who built Europe to build a new barrier between France and Great Britain. It is incomprehensible for our children born in Europe, who travel without a passport, to face new constraints. And it is unacceptable for the British people living in Haute Tarentaise, and of course for the 500 000 British people who visit our region each winter, to disrupt their holidays in France.
"The British are at home here, they have always loved the Alps. They are conquerors of many peaks including the Matterhorn and the Meije in the 19th century, and ski pioneers from the beginning of the 20th century.
"Today the British people are so close to us thanks to the Eurostar serving Bourg Saint Maurice from London every weekend in the winter season. If the Brexit is confirmed, they would have to rebuild a border control in Bourg Saint Maurice, in the heart of the Alps. Those who have imagined and built the Channel Tunnel must think that it is a «fake news», but it is not. It is the opposite of how we should be living together in Europe."