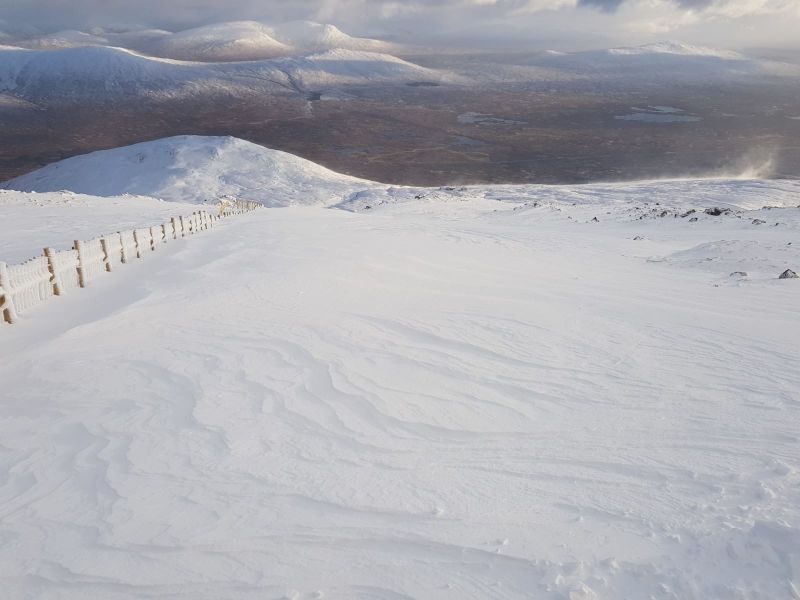 Scottish ski areas are starting to re-open full ski runs and some off piste terrain following 10 days of cold weather and regular snow showers.
The five Highland centres had had to close all but beginner runs following the February thaw but bases have been gradually rebuilding since the start of this month. Scotland often has its best snow conditions in the spring.
The snow has been heaviest on the west so far and it is
Glencoe
(pictured top this weekend) and
Nevis Range
that have been able to open runs so far, the other three centres saying they're getting there but need more snow.
Ironically though both areas have been largely stormbound this weekend with very strong winds.
"Blizzard conditions today prevented any skiing other than for a lucky few who got one run to the car park before the wind went ballistic. The great news though is images from the webcams this evening show all the gullies and runs have now filled in for the first time this season. Tomorrow should be a day of fresh tracks across the whole mountain and the weather is looking good - SW wind (20 to 30mph) and light snow showers.
Turning stormy again on Tuesday with blizzard conditions so get up tomorrow if you can," a Glencoe spokesperson said this evening.
As indicated above, the week ahead looks set to bring more cold weather, snow and some very windy days.
Forecasts suggest up to 50cm (20 inches) of snow may fall by the weekend which would appear to make it likely more ski areas will be able to open more runs.
Scottish ski areas have had a problematic 2018-19 ski season so far with inadequate snow to open more than small beginner areas until late January.
From then on the five centres were able to open more and more runs, peaking at 60 across the country about a week into February before the warmest temperatures for the month in Britain rapidly thawed away most of the snow, leaving the centres back to bare slopes by the end of last month.
Three centres – Glencoe, Cairngorm and The Lecht – had however invested in all-weather snowmaking machines known as SnowFactories from Italian snowmaking company TechnoAlpin in the autumn so have been able to at least create beginner slopes at their bases all season long with these.