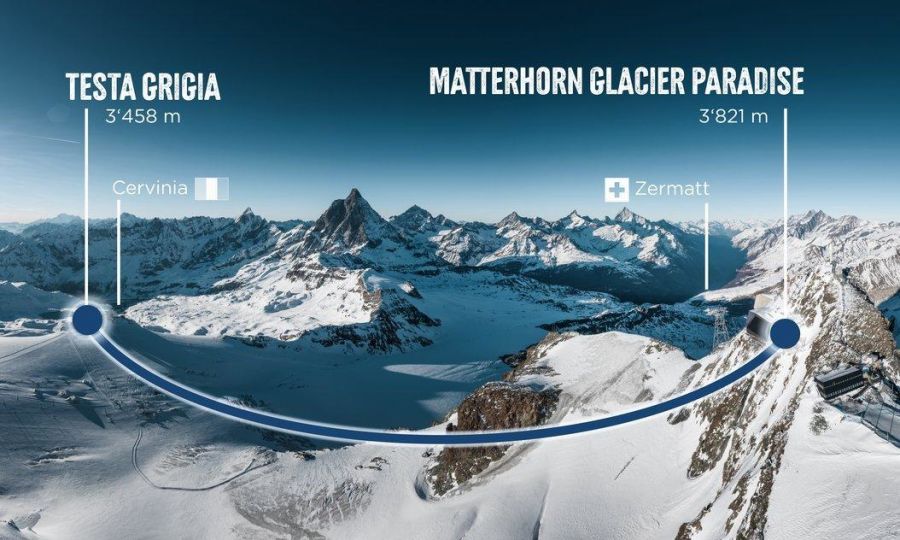 Zermatt's lift company has announced work will commence on a second 3S giant gondola lift above the resort this April.
The first 3S lift, which opened last Autumn and is the world's highest, connects ski lifts with the Klein Matterhorn, the ski area's highest point at 3821 metres. The new lift, due for completion by 2021 will complete an 'Alpine crossing' by connecting the Klein Matterhorn to Testa Grigia above Cervinia on the Italian side.
Zermatt
's Lift company had been keen to carry on with the project as soon as the first lift was completed, partly because they had a lot of construction infrastructure in place on the Klein Matterhorn which would need to be removed then reinstated at a later date if there was a delay.
However a body called The Swiss Foundation for Landscape Conservation had objected to a number of parts of the new development and this was threatening to prevent work beginning this spring during the next construction window.
Zermatt reports that the lift company has now reached an agreement with the Foundation however which, subject to final technical approvals, should allow for the construction of the second 3S lift to begin in April. The lift company has agreed to remove a lift installed to supply construction materials as well as an established cross-border draglift serving the summer ski area as part of the agreement, along with maintaining high environmental standards in the construction and operation of the new lift and the ski area.
3S lifts are carried on three cables for speed and stability and have a number of large, walk-in cabins that can each hold 20+ people. They can also be used by wheelchair users and babies in buggies.
The new 'Matterhorn Glacier Ride' 3S lift that opened in the autumn runs along aside the existing cable car above Zermatt to increase capacity on the route to the resort's year-round glacier ski slopes.
When completed the 'Alpine Crossing' will allow travellers on multi-stop tours of Europe who are arriving in Zermatt or Cervinia to travel over the border via the Klein Matterhorn and continue their journey on the other side.