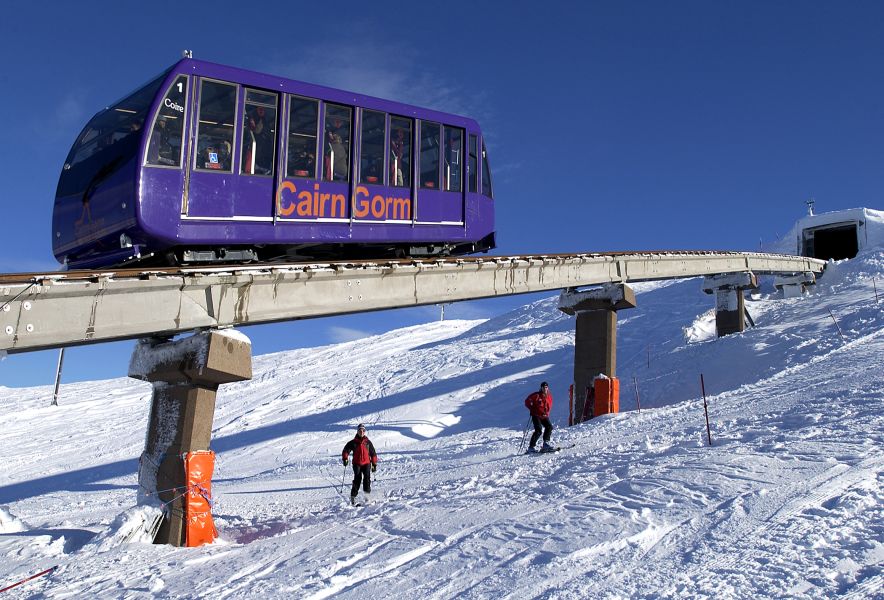 The CairnGorm funicular railway, which is the main lift at Aviemore ski area in Scotland, has been shut down "as a safety precaution" whilst further investigations are carried out into new concerns raised in a recent routine inspection, the resorts owners, the state body Highlands & Islands Enterprise have said.
The concerns relate to concrete structures supporting the track which are reported to have developed cracks. According to a report in the local Strathspey Herald newspapers the cracks were first identified in 2016 and have since got worse.
"Engineers recommended a reduced service be implemented until this is investigated fully and any remedial work carried out. They further recommended a number of operation limiting procedures including temperature, windspeed and the load on the train," a statement from Highlands and Islands Enterprise reads.
The organisation says it has commissioned specialist engineers to carry out a detailed structural assessment of the area of concern but that the findings of the detailed investigations are unlikely to be known until November, making it appear unlikely that remedial work can be completed before the ski season.
"Our priority is to get a clear picture of any faults with the funicular in order to develop a course of action that addresses these concerns," Said Ewan Kearney, Chief Operating Officer at CairnGorm Mountain, adding, "At this stage, we are unable to provide a detailed timeline for the re-opening of the funicular and will issue further updates as we are able to do so."
"We are treating this as extremely urgent and doing all we can to address the problem and have the funicular returned to full service as quickly as possible. In the meantime, safety must come first and we fully respect CML's decision to act on the precautionary advice of the inspectors," said Susan Smith, HIE's head of business development.
Cairngorm has faced a number of issues in recent years and has seen its skier numbers decline whilst other Scottish areas have seen growth. One move by the centre's owners/operators that proved particularly unpopular was the closure of the Coire na Ciste section of the ski area which was popularly regarded as offering some of the area's best terrain and the closure of which dramatically cut the skiing available. A multi-year campaign to have the lifts reinstated was further set back when the old lifts were demolished without warning last year when the operators had appeared to be in negotiations about their future with local interest groups.