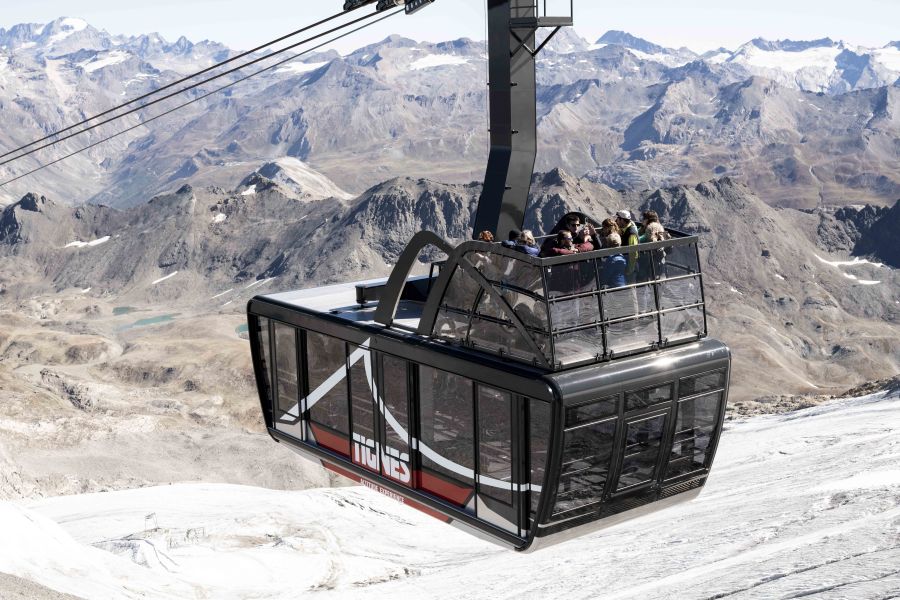 Tignes has just unveiled the new cabins for its Grande Motte glacier cable car lift, which have been replaced as part of a €17m upgrade project on the 43 year old lift which climbs from 3034 metres to 3456 metres in five minutes.

The new cabins, which have a capacity of 100 people inside, also have the novelty of an 'open top' area outside which can carry another 20 people. Summer skiing ended early in early August this year in order to allow work crews access to the lift before the weather began to deteriorate at this high altitude.
The idea does not seem to be a "there's more room up top" concept to carry more people per ascent, but party of the new novelty value of the lift and the wider area, which
Tignes
is promoting as 'Alpine Elements'.
Several year-round non-ski attractions including a high altitude viewing platform will be unveiled as part of the overall project next Spring. A major clean up of the glacier is also underway.
In any case the lift's rooftop space will not be used in autumn and winter, only summer.
The 'open top' cable car cabins, designed by Garaventa in Switzerland, are the biggest and highest of their type so far but not the first – a similar cable cabin design with roof top carriage was unveiled at Austria's Dachstein glacier a few years ago.
Tignes glacier was also due to begin its 18-19 summer ski season this weekend but has postponed doing so due to inadequate snow cover.