New Sheffield Ski Centre – More Details Unveiled
Started by J2SkiNews
in Ski News

29-Jun-2018

- 1 Reply
Login
To Create or Answer a Topic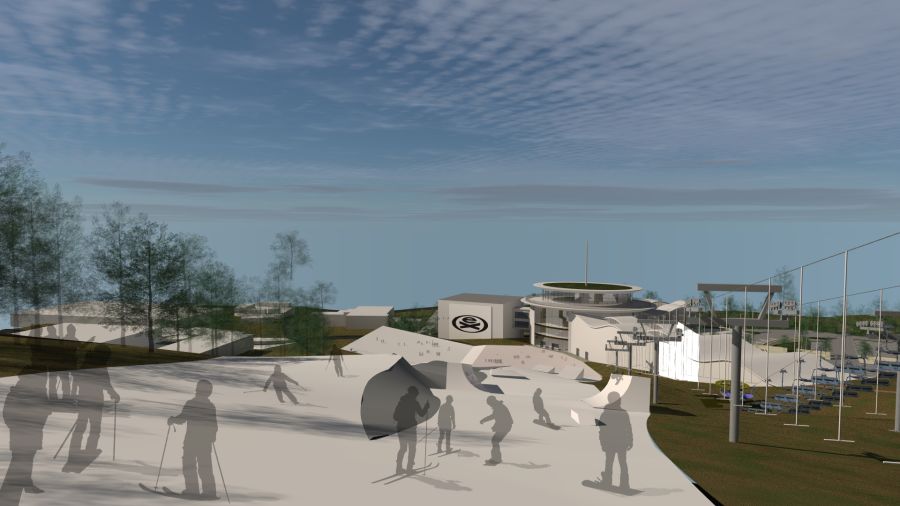 A more detailed impression of what the planned new dry ski slope complex at Sheffield may look like have been unveiled at a presentation to local business leaders by the city council and the development's private backers, Extreme Destinations.
Sheffield formerly had one of the largest dry ski slopes in Europe and was one of the first to create freestyle dry slope features. As a result several of Britain and the world's best freestyle skiers and boarders began their skiing lives here, most notably James 'Woodsy' Woods.
However after several attempts at remodelling the complex the Sheffield Ski Village was destroyed by an arson attack over six years ago. The local ski club is still going strong however, currently travelling to train at the indoor snow centre at Castleford near Leeds.
Last November the council announced plans to redevelop the site after Extreme Destinations were identified as the preferred bidder. There had been concerns that the planned redevelopment focused on attractions like mountain biking and zip wiring and before Extreme's involvement mentions of snowsports were conspicuously absent, however the new plans do show several freestyle ski runs and a lift in a complexes with wider ranging outdoor activities.
The site covers just under 50 acres and the phased redevelopment has a price tag of just over £22m with, its believed, the ski slopes part of the first stage.
"These plans show the huge potential of the former ski village site as a major destination and large visitor attraction. It shows how EXTREME can carry out a phased delivery plan which brings the ski village back into use alongside many other outdoor pursuits. And it also shows how the rest of the site can be developed with the potential for lodges, hotels and other accommodation," commented councillor Mazher Iqbal who is cabinet member for business and investment at Sheffield City Council.
The Council say they will announce plans for the wider area's redevelopment later this year, and issues needing to be addressed include issues such as widespread fly-tipping on the site; the fact that there have been more than 50 more arson attacks since the original fire and that 'new age travelers' are now established on a part of the site.
It could be a fantastic site ..its ideally positioned and the terrain is good......and I live in 3 miles away ...One proposal a few years ago was to cover it and make it real snow which would be incredible...
The UK needs something like this ..the current indoor sites are ok but short ..Sheffield even had a chairlift and proper runs...
Topic last updated on 30-June-2018 at 10:20