WIN Skis or a Snowboard by taking part in the SCGB Snowsports Survey!
Started by Admin
in Ski Deals and Competitions

01-May-2018

- 4 Replies
Login
To Create or Answer a Topic
Take part in the Ski Club of Great Britain survey for the chance to WIN a pair of SALOMON XDR80 Ti skis or a SALOMON SICKSTICK snowboard worth over £500 each!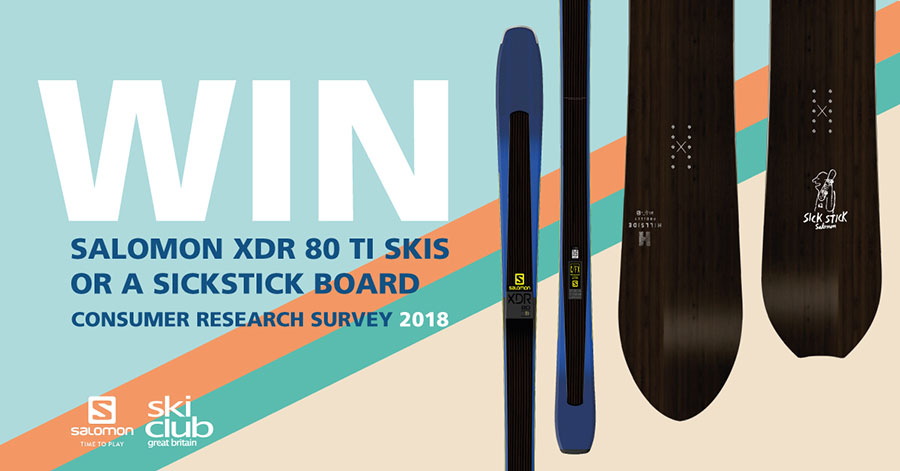 Our friends at the Ski Club of Great Britain want to find out more about what today's skiers and snowboarders are looking at from their snowsports holidays and are running this survey in collaboration with their partners.
We would like to invite you to take part in this survey with the chance to WIN
SALOMON XDR80 Ti
skis or a
SALOMON SICKSTICK
snowboard!
All you have to do is fill in the questionnaire before the 23rd of May – it should take no more than 5-15 minutes and all your answers will remain anonymous.
To complete the survey, and enter the competition, go here :-
http://surveys.spikeinsight.co.uk/s3/J2Ski18
Good luck and thanks for your help!
The Admin Man
Just bumping this! Just 3 more days to go; complete the Ski Club's survey to be in with a chance of winning Salomon Skis (or a Snowboard)...
The Admin Man
Thanks for that ....you'd better make sure i win lol
daved wrote:Thanks for that ....you'd better make sure i win lol
You've already won our admiration Dave... but no prizes for that today! Good luck with the skis though.
The Admin Man
Topic last updated on 23-May-2018 at 10:25