Spring Skiing Events and Activities in Les Arcs
Started by Admin
in France

22-Mar-2018
Login
To Create or Answer a Topic
PR from Les Arcs...
SPRING SKIING AND SLACKLINING IN LES ARCS
Spring is in the air in the mountain villages of Les Arcs, which boasts 425km of runs up to 3250m as part
of the
Paradiski
area.
Many mountain resorts celebrate the arrival of Spring with a packed schedule of events comprising
concerts, games, entertainment and parties on the slopes. But only Les Arcs has the Winter Festislack.
An amazing festival celebrating Slacklinng!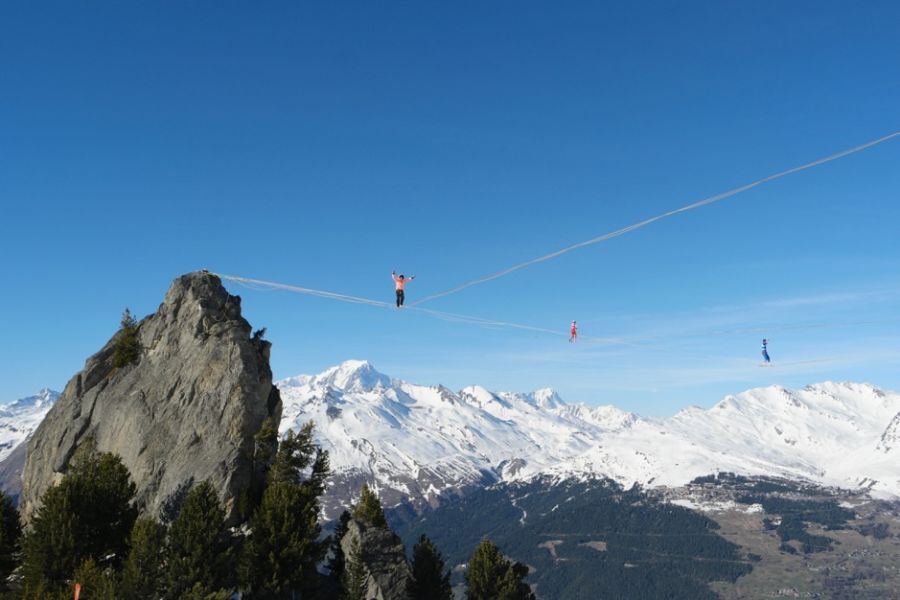 But what is Slacklining?
The High Line
The Slackline, a piece of webbing usually between 2-5cm wide, is attached between two points or in the case of Les Arcs, two peaks at altitude and then daredevils walk across them. Members of the public can watch the Slackliners and marvel at the skill and balance of these high- flying athletes. This spectacle takes place during the Easter holidays, 6-8 April, at the top of Mont Blanc chairlift, in Les Deux Têtes - Arc 1600 and showcases the very best Slackliners from around the globe.
The Trick Line
- Sunday 8 April, 14-18.00 hrs
Tricklining will be showcased in Miravidi place - Arc 1800- here Slackliners will perform dynamic tricks and jumps, similar to those performed on a trampoline.
Get fit, get on a Slackline
- Sunday 8 April, 14-18.00 hrs
The benefits of Slacklining include improved balance and a strengthened core. Members of the public wanting to have a go should head to Les Deux Têtes in Arc 1600, where a tuition area will get wanna-be 'Slackers' up and on a line - close to the ground! There is also the chance to learn Acroyoga.
More Spring Activities
For those that don't have a head for heights there are many other activities taking place across the villages of Les Arcs this Spring including:
Mondays: The great toboggan run
Tuesdays: Waterslide and big air bag
24-31 March - British Celebration Week
A week of activities to acknowledge the Brits at altitude with a guest appearance from Olympian and X Games the British Snowboarding legend Jenny Jones.
30 March-2 April - Festigloo
An electro music Festival with 9 live DJs performing every afternoon, from 11-16.00 hrs in front of the Igloo village – Arc 2000
4-5 April - X speed ski race
Marvel at the skiers and boarders as they depart from the Bulle Cafe.
5 April - Electronic Peak Festival
The inaugural electronic music festival will take place in the resort of Arc 1800 at the Bernard Taillefer centre and features celebrity DJs including Teki Latex and Piu Piu.
6-8 April - John Doe Session
Riders are invited to try the banked slalom course and to participate in the freestyle sessions at the Apocalypse Snowpark in Arc 1600.
19 April - The Ride'n Golf
Skiing golfers can enjoy a round of nine holes in snow.
28 April - Last Tracks
Get a free lift pass if you ski in your best 80s gear!
#Best Season Ever
This is without doubt one of the best winter seasons in decades and this Spring will be epic as a result. These are the current snow levels in the villages of Les Arc and mother nature just keeps on giving.
Depth of snow on the slopes
Top of L'Aiguille Rouge: 3.85 metres
Arc 2000: 3.13 metres
Arc 1800: 1.50 metres
Arc 1600: 1.50 metres
The Admin Man