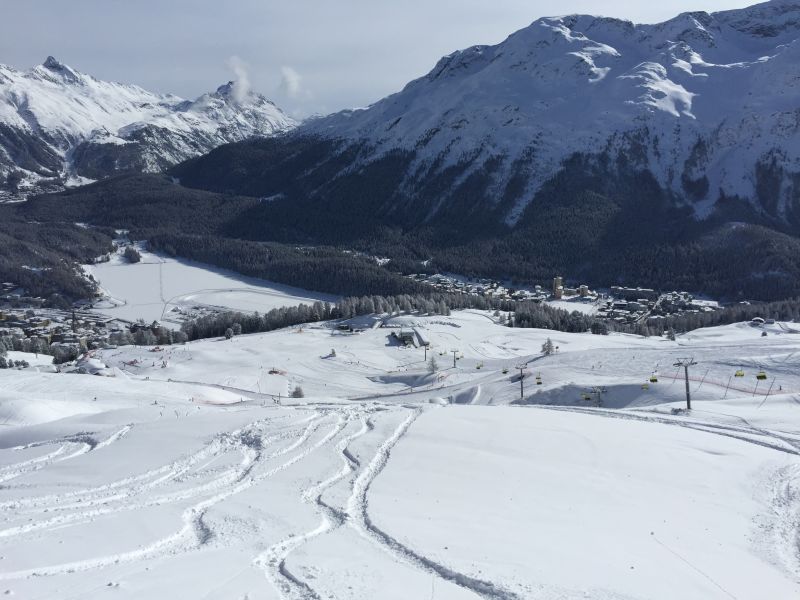 Many people have this idea that St Moritz is a super expensive playground for the rich, with streets full of Lambroghini's and Bentley's, designer shops and Prada clad ladies, private Learjet's flying into the tiny private airport, swanky bars and restaurants…… and they'd be right!
However, having come across Club Med a few years ago, I decided that this was the affordable way to see St Moritz for myself, and this January 2018 I returned for the third time in 8 years because, well quite frankly, the skiing is magnificent.
So for those of you that don't know much about Club Med, it's a French company that provides reasonably sized decent standard accommodation across the Alps in a selection of resorts, gourmet cuisine (the food is actually very good), lunch in private restaurants on the slopes, an all inclusive food and drinks package so you don't need to buy anything extra (other than a morning coffee or afternoon beer on the mountain), and throws in your lift pass for the area along with lessons or guiding should you choose to take them – all for what I believe is good value for money when you throw in flights and transfers as well.
I travelled with my girlfriend on only her second ever ski trip (the first last March wasn't a great success in terms of lessons she took), my best mate and his wife who is a nervous skier, and a regular skiing friend whose partner doesn't ski at all so he has to join up with a group. We chose SWISS flights out of Heathrow at 8.05am flying into Zurich, which meant after waiting an hour for 2 other flights from Moscow and Tel Aviv to join the executive coach transfer (they even provided us with the FC Luzern team bus), we arrived in resort at 4pm before dark. I have done the trip later in the day with the midday BA flight, but it means a late evening arrival so this was more relaxing. It's a 3.5 hour transfer to St Moritz via
Chur
on the Motorway and then across the beautiful JulenPass.
SWISS allow you to take a 23kg checked in bag, 10kg of hand luggage, and a ski bag all in with the flight cost: worth its weight in gold these days.
Club Med basically means you have a comfortable base to stay in, somewhere to eat breakfast and dinner, and they also have spa facilities including sauna, steam room, swimming pool and massage, as well as a gym and table tennis rooms. Up the mountain they have restaurants only open to their clients – this means pre booking a time and restaurant the evening before whereupon you are issued with a voucher, and lunch slots are at a premium for the best times! You must be at lunch for this allotted time however, which means a little planning in terms of where to be on the mountain.
Food has always been good on my visits - a large selection over breakfast of cereal, bread, fruit, cooked breakfast, eggs, ham and cheese and even cake for our European friends. Up the mountain, lunch is a buffet affair with a good choice of salad, usually a pasta dish or a stew with potato or rice, vegetables and pudding if you dare squeeze that in as well. Coffee, tea, soft drinks, draft beer and bottles of wine are also available during lunch times. But sittings are time restricted so you need to be ready to leave when the next one starts – works for me as all I want is to get back on the snow again to be honest.
During the day, the hotel also provides a buffet lunch 12-2 for non skiers, and the bar is open all day. I have found that our European friends tend to be in the bar showered and changed by the time I get back into the boot room after last lift, which is good news as it means even quieter slopes in the afternoon! The only down side I guess is that if you have paid for your all inclusive drinks, then you really need to take advantage and have your apres in the hotel bar. We managed at least one large beer up the mountain each day before skiing off – not as badly priced as you might think at between 5 and 7 CHF, although morning coffee wasn't so good at 5-6 CHF in many huts and cafes. The AI bar includes pretty much everything other than champagne and premium spirits – the local beer was perfectly good.
Dinner was always served from 730pm on my previous visits, however this time you could eat from 630pm which means less of a rush at the start – the Germans still like to be first in to claim their favourite seats! The Roi Soleil in St Moritz has 2 restaurants – a main buffet with cooking stations for the evening specials, and a smaller more intimate Italian affair. You can walk between the 2 and select food from either.
Evening entertainment still reminds me of Jeux Sans Frontiers from my youth – I could almost hear Stuart Hall in my ears laughing uncontrollably at the Belgians having a dance off…… Not my bag after dinner when they hold "entertainment" which consists of lots of comedy style shouting by a host into a microphone encouraging people to dance, sing or generally join in with what was going on on the stage; often the "animation team" performing some cheesy dance routine. Amazing how the Europeans love this sort of thing, fun to watch for a while I guess.
In terms of the value, you really cannot fault it, especially when you look at alternative ways of staying in St Moritz. I don't think I would use Club Med in other resorts such as 3 Valleys or Val d'Isere for example as you can book cheap packages there. I have used it in Cervinia, mainly because of access to
Zermatt
on the included lift pass!
Ok, enough of Club Med. More of St Moritz……
It's a pretty town overlooking a frozen lake in winter. The streets are lined with expensive wine bars, hotels, designer shops, etc. I have been into the town before but being All Inc I had no need to eat or drink out, but its worth a wander for sure.
The ski area is split into 2 key areas: Corviglia directly above the Town and lake with local lift access, and Corvatsch a few miles west across the valley, overlooking another frozen lake with good free ski bus links and a black you can take and ski back into town on. I am going to cover the areas separately as they are in fact different mountains and have a very different feel to each other. The total ski area claims 350km, probably over-egged but even so they 2 areas provide a wealth of excellent pistes all with decent efficient lifts. Corviglia had new lifts installed not too many years ago, there is the odd 2 man open chair but they run well. Corvatsch has had investment in the past couple of years with some new higher speed chairs which have made a difference.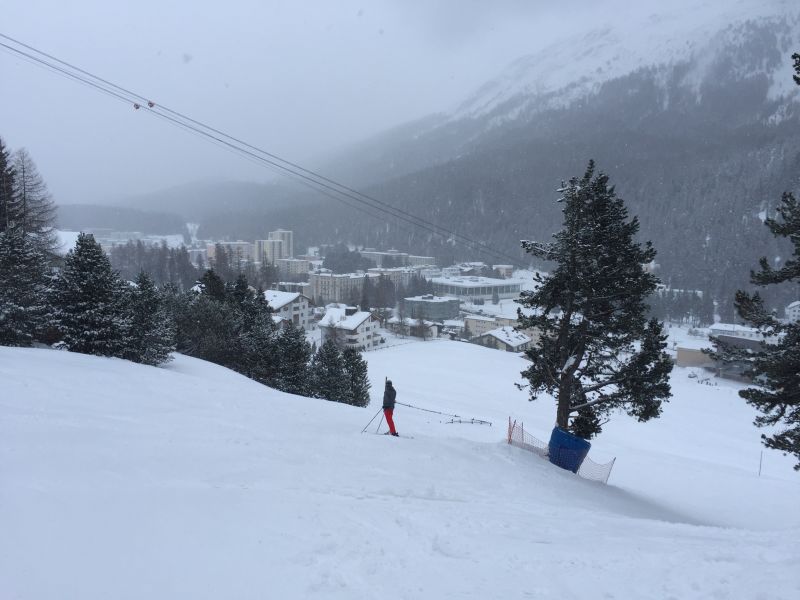 Corviglia
Access from St Moritz town (Dorf) is via the funicular railway that runs up to Chanterella (lowest part you can ski to and where you can bob off and take the chair higher up) or contiunue up the funicular to the main Corviglia area; something of a junction between the open sunny pistes on the front of this area, and the bowl behind known as Marguns.
The Club Med is in St Moritz Bad and the nearest base lift is Signal. The town is at roughly 1800m so its high altitude skiing, and always I have been able to ski off back into town at the end of the day. This January, as in many places, snowfall had been exceptional and the town was covered in snow with walls of a meter high along many roads. Signal is basically a cable car up to mid station in the heart of the main slopes on the face of Corviglia, served by 3 chair lifts up to 2660m under the main Piz Nair peak. There are 6 or 7 reds on here, a couple of blues which basically link between the reds apart from the run off from Signal back to town, and then the big cable car up to Piz Nair itself at 3055m.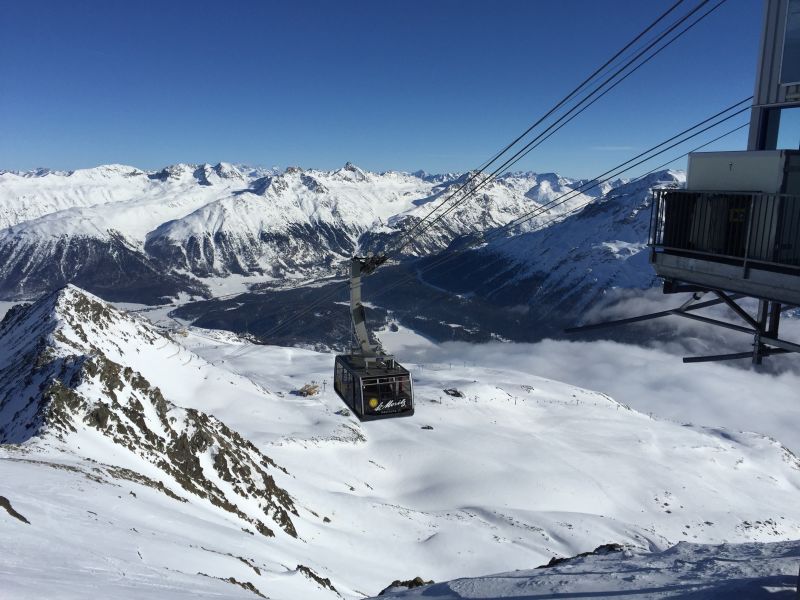 From there you ski down the back into a gulley where there is another fast chair serving 2 fast reds and a lovely black, all of which link into the Marguns area, where you can access 5 lifts in various directions all serving a selection of mainly red runs, a few blues and a couple of blacks. The skiing on the whole mountain is perfect intermediate terrain: lots of wide empty perfectly groomed pistes, the odd steeper challenge on some reds and the blacks, and a host of off piste when conditions allow (which thankfully they did). And believe me when I say empty pistes, I mean empty pistes…..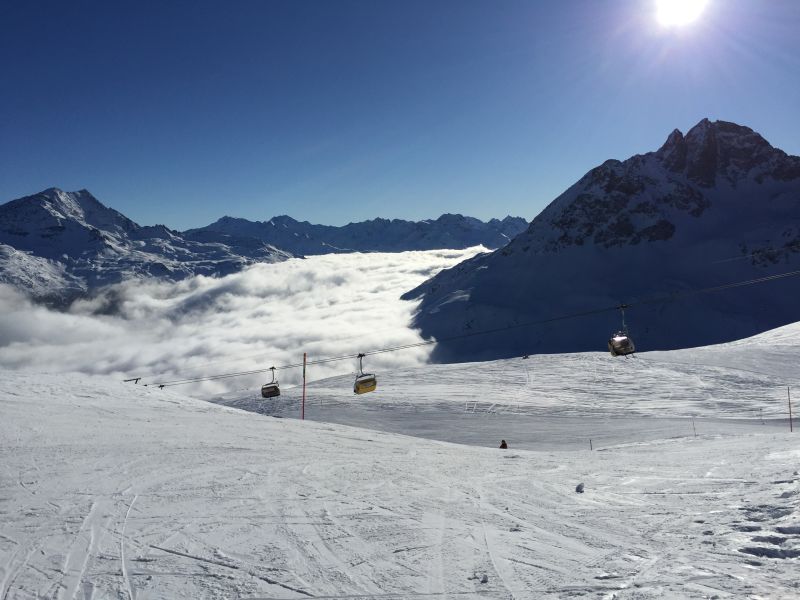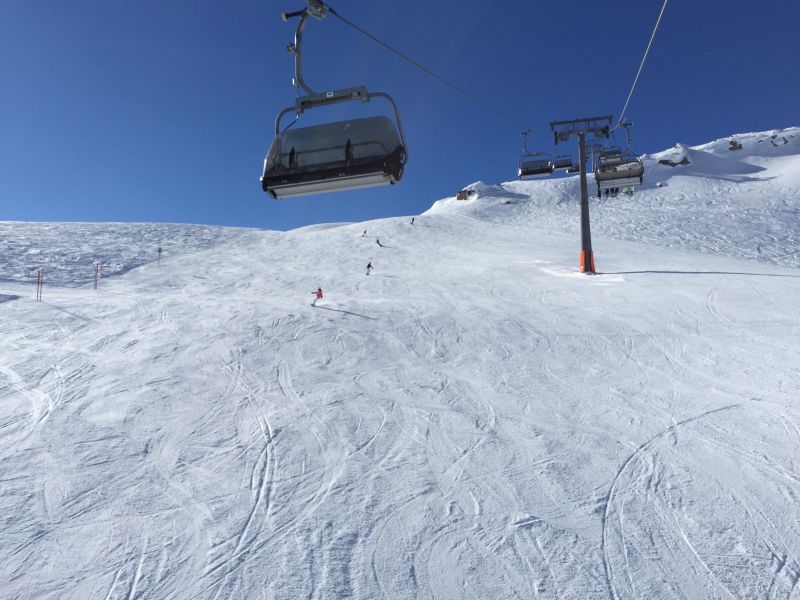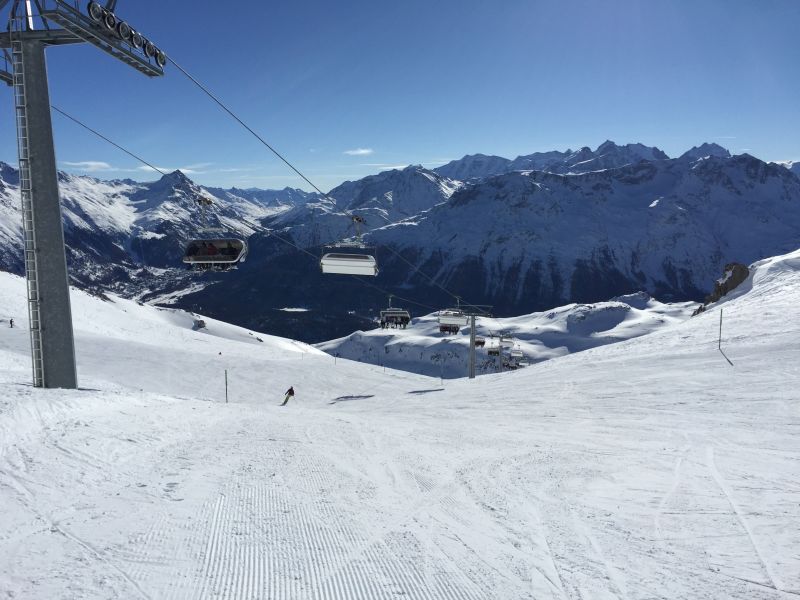 You can find beautiful on piste cruising on Corviglia, served by a good enough selection of queue free (with the exception of a good weather weekend day when the locals come out) lifts, along with the odd stiffer challenge and a good variety of off piste. And I have to say it once again…....its SO quiet! Theres plenty of places to refuel if you need with good quality cafes restaurants and huts dotted around, and the over riding factor is the breathtaking views along the valley over the lakes. It was is quite the perfect setting……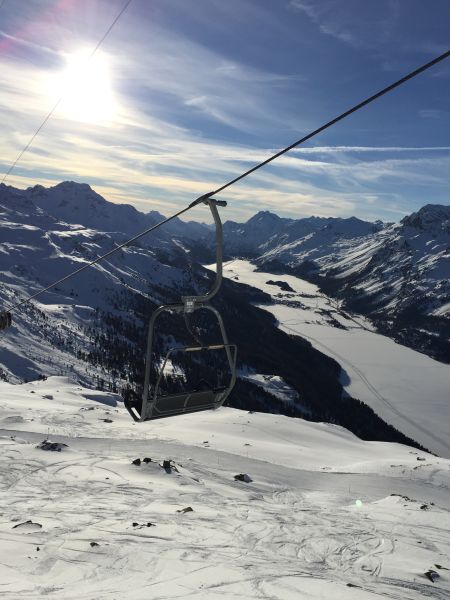 At the end of the day, you can either take the sedate funicular down from Corviglia or lower down at Chantarella into town, where a good free ski bus service serves all areas, ski off or take the gondola from Marguns down into the village of
Celerina
(this is a wonderful long red) where you can again catch buses back into town, or ski off under the Signal cable car at the other end of the area, which we did every day as its close to the Club Med hotel in Bad.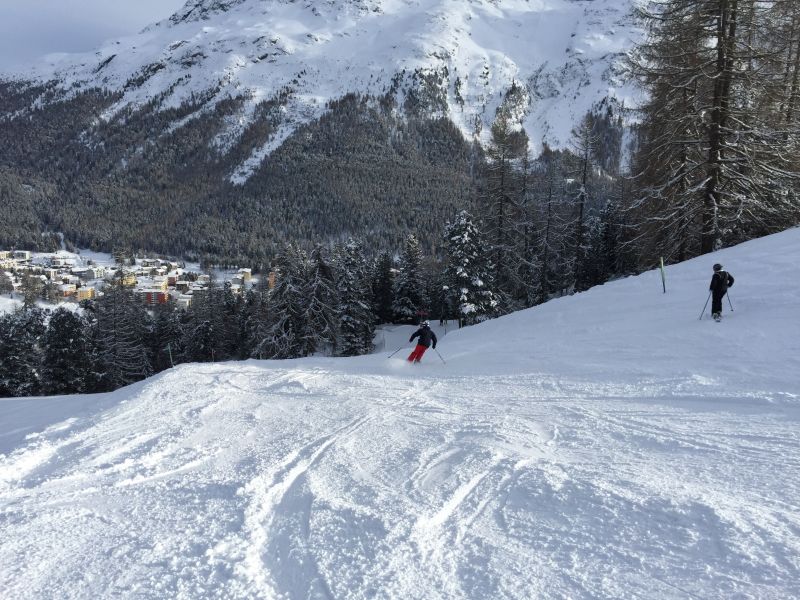 Corvatsch
Just a few miles away, with slopes across the valley from Corviglia, close to the villages of
Silvaplana
and Surlej, you will find access to Corvatsch Mountain. From Surlej at 1870m, ride up the big Cable Car to mid station Murtel at 2702m where there are pistes in different directions. You can ski a fabulous long red down to Alp Surlej, passing the exceptional Alpette Hut on the way down. Here ride the fast chair back up to mid station or continue down through the trees to valley level again. Alternatively take the second stage of the cable car to the highest skiable point at Corvatsch, 3303m. From here there is a superb red which makes you feel like you are skiing off the edge of the planet, until you come off the glacier and head into a bowl behind Murtel. You can pick up a new 4 man chair to ride back up to mid station, passing the board park here. There is a short but in places steep fast black that runs down to Stüvetta Giand'Alva, the options here being a long T bar back up to mid station or a slow 2 man chair with a single long red cruise back into the area at Giand'Alva. At the top here, the nearest point to St Moritz itself, you will find the long and wonderful black named Hahnensee which brings you back into St Moritz Bad…..a worthy way to finish a days skiing with some cracking views.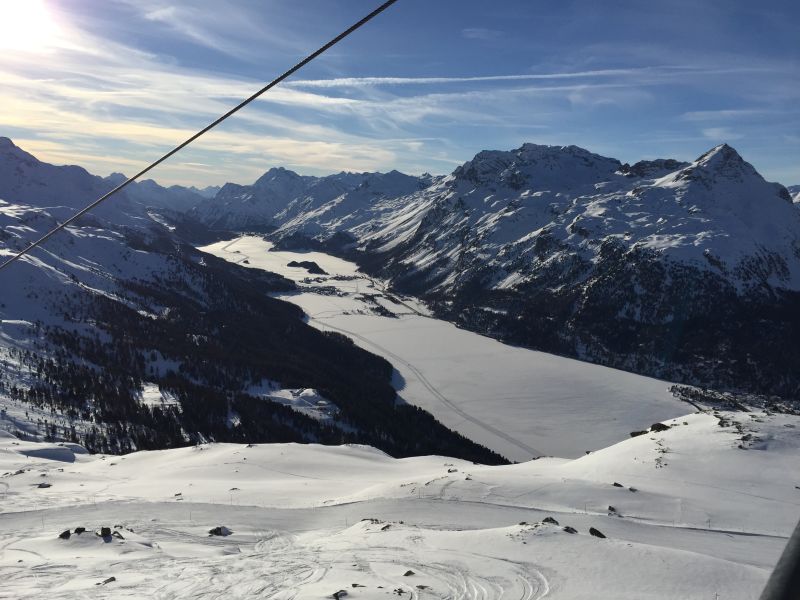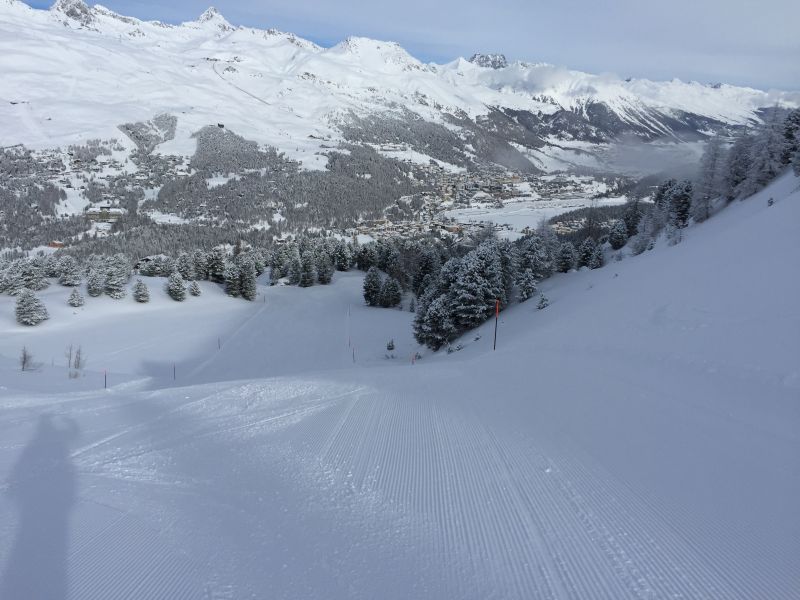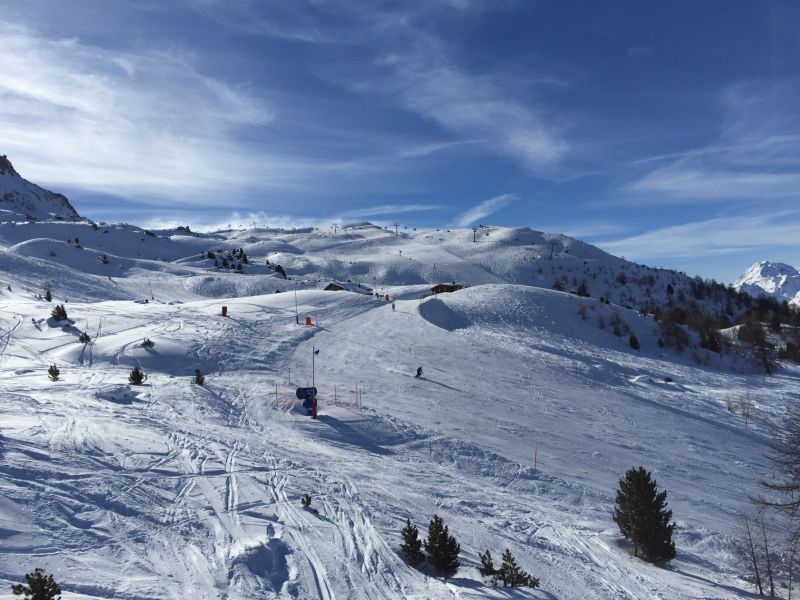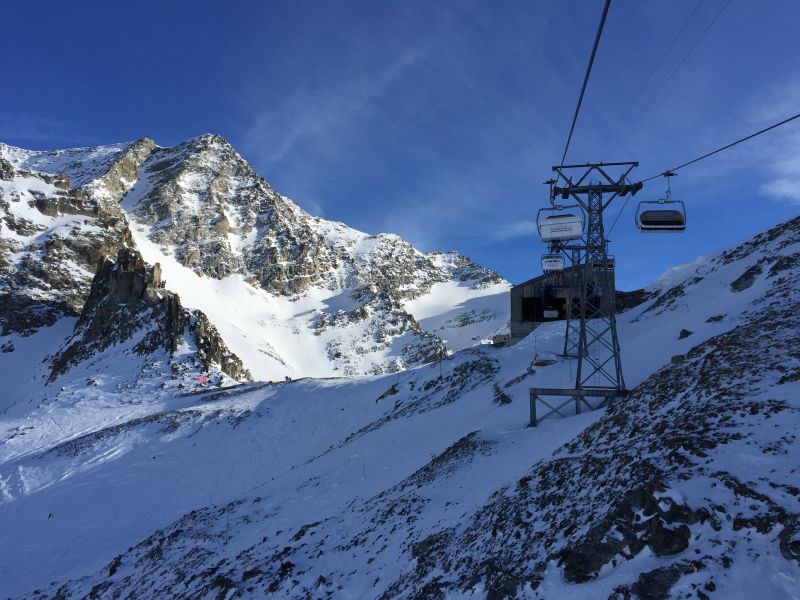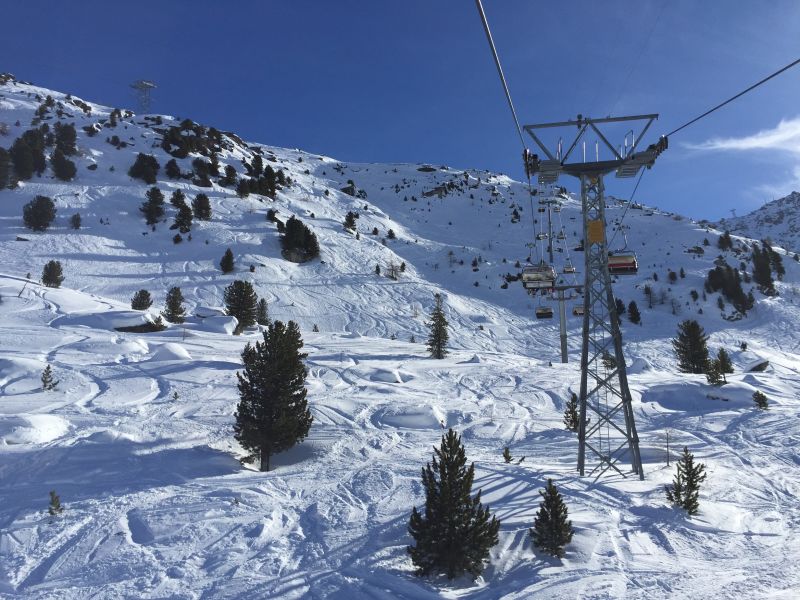 When you ski the long red down from mid station to Alp Surlej, there is a new fast chair running up to Curtinella – this opens up the Furtschellas sector where there are a number of lovely sweeping roller coaster type reds and the odd blue, with masses of off piste to have a go at. There are a couple of T Bars to link you back to Corvatsch sector serving more beautiful sweeping reds, and the amusingly named Crap Mellan chair over the far side under the only black on this sector which you can literally race down at full pelt. Down below mid station at 2312m is another wonderful winding run to the base station at Furtschellas which I highly recommend.
The layout of Corvatsch is totally different from Corviglia and therefore gives the feel of 2 totally different ski domains, Corvatsch they refer to locally as the "sport mountain" and skiing here is more technical compared to the open cruising on Corviglia. We found it best to alternate days between each sector, but you can always ski off Corvatsch on the Hahnensee black and go straight up the Signal Cable Car if you want a morning in one and the afternoon in the other: Perfect.
Having now skied here 3 times, I don't have a desire to return too soon, but having said that the place does offer so many of the attractions that tick my boxes:
Beautiful scenery
High snow sure slopes
Modern efficient lifts
Good extent of piste skiing
Uncrowded slopes
I will finish by saying that if you think you can't afford to ski in St Moritz, think again as the Club Med package makes it affordable. The skiing is truly superb, the pistes are genuinely quiet, and the views magnificent. I would say the mountains have a lot to offer skiers of all ability from beginners, intermediates with lovely cruise terrain, and advanced skiers with some challenges off piste as well as some fast runs on piste.