Yep, here we go again...
another
major snow storm is about to bring big snows to a significant part of the European Alps over the next few days.
Expected to bring heaviest snow to the northern/western Alps (northern French Alps, Swiss Alps) it is a big one, and just about the entire Alpine region should see at least some snow.
Tuesday (tomorrow) and Wednesday look like bringing the goods, with as much as 1 metre of fresh for an area covering the
Chamonix
Valley, the Aravis, Grand Massif etc., the Valais (
Verbier
and
Zermatt
) and surrounds. To the South and East of that area should see falls between 20cm and 50cm.
However
(you knew this was coming...) - strong winds will accompany the snow, particularly on Wednesday we think, so lift and road closures should be expected.
After a lull on Thursday, it all looks like kicking off again on Friday with more snow expected from then into the weekend. This second band of snow should see less wind but may well cause a few transfer day issues - though with much less traffic than the Xmas/New Year changeover.
If you're not aware, you can get a quick overview of which days it's going to snow (and where) from our country snow pages like
French Snow Reports
where you can see a table as below that you can sort by 48-hour (and 7-day) snowfall totals.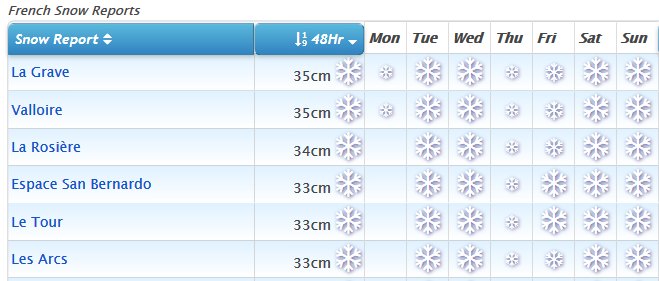 As always, the detail will change... but if it's anything like the last 2 storms then the 48-hour quantities may well ramp-up when the forecasts update through the course of today.

Anyone heading out for next week, might be in for some fun...