Time for our first avalanche warning of the winter! It's been a long wait for new snow, but it's coming... just take a little care and rein in the powder frenzy!
With snow now pushing into The Alps from the East, it's going to bring with it a significant avalanche risk to parts of Austria. Fresh snow is going to be falling onto old, compacted, transformed and even polished surfaces in places so there are likely to be wide areas where the new snow is not going to bond to the existing base.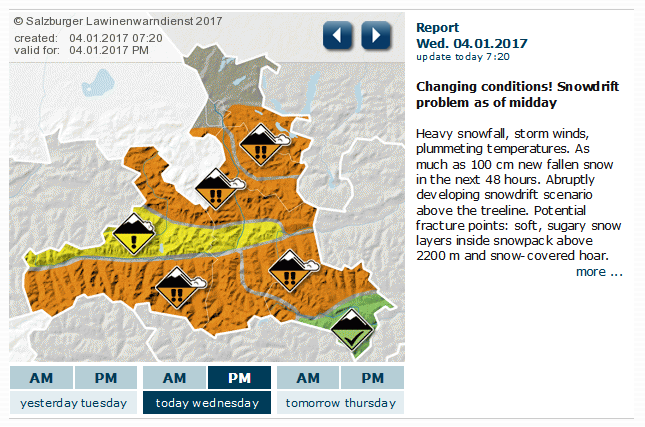 Image courtesy of www.lawine.salzburg.at
Salzburg Avalanche Warning Service wrote:
Avalanche Danger

This morning the danger is still unchanged, danger level is generally LOW (1), above 2000 m despite initial snow transport still MODERATE (2). This afternoon the storm will sharply intensify, the danger of slab avalanches quickly rise to CONSIDERABLE (3). Snowdrift masses will accumulate in all aspects above the treeline, easily triggered and next to impossible to recognize, the weight of even one sole person is sufficient in steep terrain. Spread, frequency and depth of the drifts will increase significantly this evening and tonight. During the night, the first naturally-triggered avalanches are possible in deeply drifted zones, e.g. east and south-facing gullies.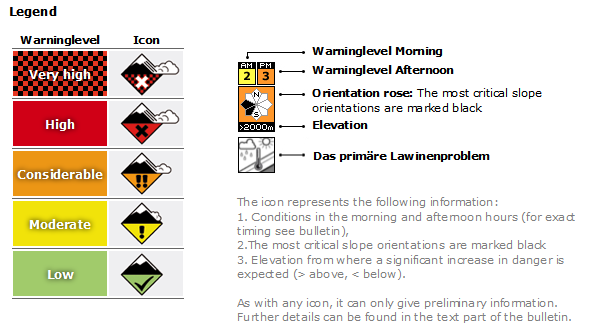 For the full report visit (and bookmark!)
www.lawine.salzburg.at
Stay safe people!