Just a quick heads-up on conditions here...
Have now skied three days under a mix of skies (mostly blue!) and in temperatures a little above average for the time of year.
On the Pistes - excellent for Spring
Despite the warmth, the pistes are holding up very well and most of the time you're skiing on maybe a cm of wet snow lying on the packed base - so the feel's actually pretty good.
A few of the lowest, South-facing, runs have been closed, and there are some sketchy patches on the final sections of some home runs but most of the pistes look like this...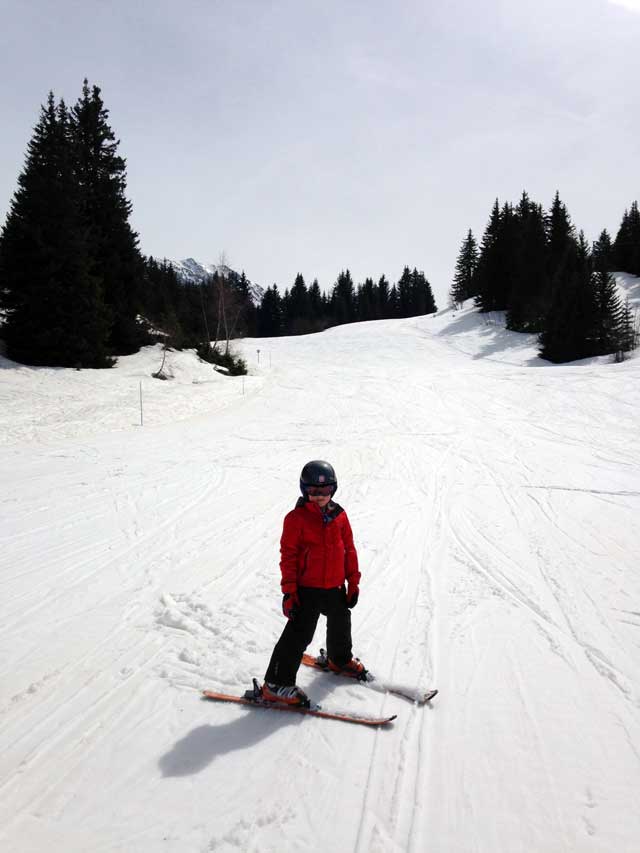 Cabeau (blue), above Col de la Croix Fry, about 1600m altitude, 7th April 2014
And, yes, there's pretty much nobody here!

The previous couple of days we spent at La Balme; this goes up to 2600m with largely North-facing pitches. Above 2000m it's still pretty much normal, packed snow but softening where the sun hits it. The long run down from Bergerie (1800m) is fully covered all the way to the car park, with great skiing but the odd pebble on some of the Red variations (Roualle) and a few patches of heavy slushy bumps toward the bottom.
The piste-bashers have been busy farming snow late into each evening and they're doing a great job at keeping the pistes topped up.
With reference to another discussion we had on here; the "Saharan Sand" layer is much in evidence with lots of streaky, brown snow in places.
Off Piste - extreme care!
Cover is still good above 2000m but there are plenty of purges, with some very big slides from snow-laden North-facing slopes in the afternoon, and plenty of signs of instability around. No powder now, so really not worth the effort/risk.
The picture below is of a large slide from the (closed) Lapiaz Black onto the top section of the Fernuy Red; this is probably around 1700m - plenty of snow but now a bit less on the upper slopes!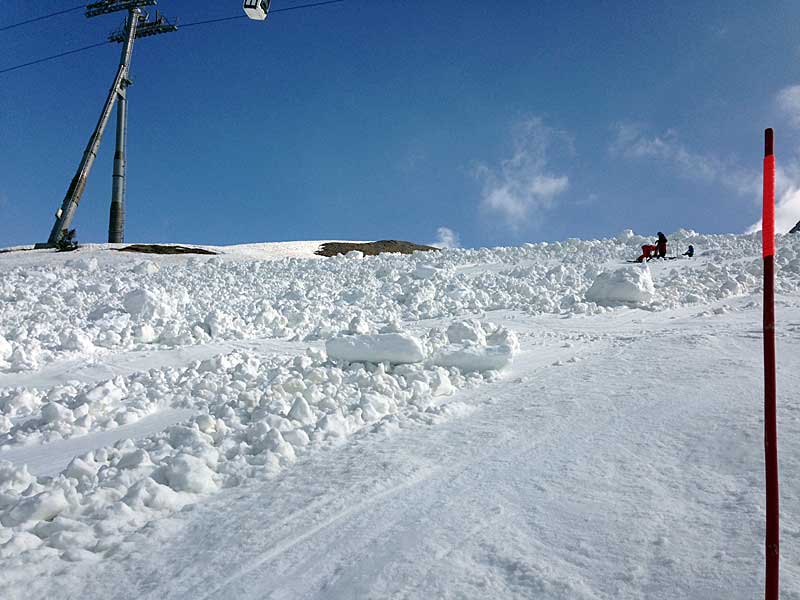 South-facing (off piste) slopes are turning to grass up to about 1600m.
The Outlook
After hitting 18C in the town yesterday afternoon, it's raining and 5C this morning so we're hoping there might just be some freshies at the top this afternoon.
Temperature is forecast to drop a little for the next couple of days, and thereafter, so there's still going to be good conditions through Easter.
An unexpected pleasure
The good weather has brought some lovely cars into the mountains... seeing (hearing!) a pristine red Lambo Miura come down the valley from the Col des Aravis, past our chalet and then howl and thunder its way up the far side toward Croix Fry rounded off the day very nicely...