Ski in Leukerbad
Ski Resorts near Leukerbad
Leukerbad Ski Hire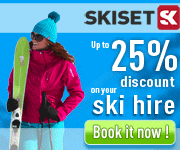 Save up to 45% on Ski Hire in Leukerbad
Leukerbad Snow Report
Search for Ski Chalets and Apartments in Leukerbad
Search Hotels near Leukerbad
Airport Transfers to Leukerbad
Airports near Leukerbad
Skiing at Leukerbad
Leukerbad Opinions

Leukerbad - Ski Resort and Snow Summary
Skiing in Leukerbad
Leukerbad - Ski Resort in Swiss Alps - 52km of Piste (1410m to 2850m)
It doesn't matter whether you're sports mad, a wellness fan, in search of peace and quiet, or more family-oriented. The largest thermal spa and wellness resort in the Alps offers a wide range of relaxation options and activity programs amidst the fascinating Valais mountains at approx. 1,400 metres above sea level.
Leukerbad
Sponsored Links
Leukerbad Ski Facts
Leukerbad Ski Facts
Expert Skiers
Intermediate Skiers
Snowboarding
Snow
Apres-Ski
7
Black Pistes (23km)
8
Red Pistes (24km)
5
Blue Pistes (6km)
52km
Downhill Pistes
30km
Cross Country Pistes
11
Ski Lifts
1440m
Max Vertical
2850m
Highest Lift
1410m
Lowest Piste
1410m
Resort Altitude
Leukerbad
The Swiss ski resort of Leukerbad has direct access to 52km of downhill skiing, with 18 individual pistes, served by 11 ski lifts.
With pistes above 2500 metres, skiing and snowboarding is assured throughout the season.
Snowmaking :- Leukerbad is able to augment natural snow, on 10km of ski runs, with 5 Snow Cannons.
Ski Lift Capacity :- The 11 Ski Lifts of Leukerbad are able to uplift 12,000 skiers / snowboarders per hour.
There are two Airports within two hours drive, so ski weekends, snowboard breaks and short ski holidays to Leukerbad are perfectly feasible. Sion Airport is just one hours drive away, in good driving conditions, so you can be on the piste quickly.
Skiing in Leukerbad
There are two drag lifts by the village so most skiers and boarders past beginner level take the cable car across the valley up to the bigger ski area above with 50 km of slopes of all levels of difficulty (but mostly reds and blacks), including some World Cup training runs. Six drag lifts a chair and a cable car connect the skiing areas of Torrent and Albinen. From the top at 2610m there are spectacular views over the Alps with their 4.000m peaks.
The heart of the ski area is the Rinderhutte, above the treeline at 2340m in the centre of a giant powder field, where seven lifts arrive or depart, including the top of the main cable car up from resort. Most of the ski lifts from here are drags. Experts should carry on up lifts F to the top where they'll find a succession of black trails (Numbers 3, 4 and then as you hit the treeline, hopefully not literally, 5) that can take them quickly down the full 1,200 metre vertical to resort. Intermediates can do the same thing over a longer, less steep route, from the top of lift F - taking red runs 7, 11 and 12 in succession.
There are plenty of off piste and tree skiing opportunities around Leukerbad's slopes. The best route up to get maximum vertical is to take the cable car up to Rinderhutte, then drags F and H in succession to reach the top ridge. From there, after a little hike, it's possible to make a variety of top to bottom descents, starting with the open powder field before dropping down in to the trees above the resort. To find your way, hire a guide.
Leukerbad operates a 18km high altitude cross country loipe at Gemmipass at 2350m, served by its own cable car separate to the downhill ski area.
There are three different access points to the main slopes, a cable car and a gondola at separate departure points. Ask the ski bus driver to take you to the best on the day.
In December 2008 a new detachable six-seater chairlift was be introduced on the Torrent as a replacement for the two existing ski lifts. What's more, we shall be making a couple of adjustments to the slopes which will result in a brand new blue piste.
Snowboarding in Leukerbad
Fun Park with 3 kickers, 4 rails, a box and various other obstacles in natural terrain.
Leukerbad Aprés Ski
After an active day on the ski runs you can lie back in the outdoor pool and relax in the warm thermal water and let the snow flakes dance all around you: this is the perfect way of experiencing winter in Leukerbad!
Leukerbad Snow Reports by e-mail
For a Free 7-Day Snow Forecast for Leukerbad, including a Snow Report with current skiing conditions, just sign-up to our Ski Chat Forum and set Leukerbad as a favourite ski resort in your Profile.
Leukerbad in brief
Leukerbad Ski Resort is:
Ok for Expert Skiers.
Very good for Intermediate Skiers.
Ok for Beginners.
Good for Snowboarding.

Leukerbad Snow Forecast
Snow Forecast for Leukerbad
Leukerbad Piste Map
Full Page Piste Map of Leukerbad
Map of Leukerbad
Full Page Map of Leukerbad
See More from Leukerbad and Ski Resorts in Switzerland