Ski in St. Anton am Arlberg
Arlberg Ski Resorts
Ski Resorts near St. Anton am Arlberg
St. Anton am Arlberg Ski Hire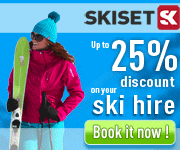 Save up to 45% on Ski Hire in St. Anton am Arlberg
St. Anton am Arlberg Snow Report
Search for Ski Chalets and Apartments in St. Anton am Arlberg
St. Anton am Arlberg Ski Accommodation
Search Hotels near St. Anton am Arlberg
Airport Transfers to St. Anton am Arlberg
St. Anton am Arlberg Transfers
Airports near St. Anton am Arlberg
Skiing at St. Anton am Arlberg
St. Anton am Arlberg Opinions

St. Anton am Arlberg - Ski Resort and Snow Summary
Skiing in St. Anton am Arlberg
St. Anton am Arlberg - Ski Resort in Arlberg, Austrian Alps - 260km of Piste (1300m to 2810m)
St Anton is unique amongst ski resorts in holding three legendary reputations simultaneously. First there is its world class skiing, second there is the resort's reputation for the most hedonistic nightlife in any ski resort in the world, and third there is St Anton's status as a key pioneering resort in Alpine skiing. Marketed as the cradle of Alpine skiing, one of the first ski clubs in the Alps, the Arlberg Ski Club, was established here in 1901. Suitably St Anton hosted the World Alpine Skiing Championships a century later in 2001. Especially popular with expert and advanced skiers (It quotes 180km of additional 'off piste' terrain).
St. Anton am Arlberg
Sponsored Links
St. Anton am Arlberg Ski Facts
St. Anton am Arlberg Ski Facts

| | |
| --- | --- |
| | Expert Skiers |
| | Intermediate Skiers |
| | Beginners |
| | Snowboarding |
| | Snow |
| | Apres-Ski |
| 260km | Downhill Pistes |
| 40km | Cross Country Pistes |
| 41 | Ski Lifts |
| 1510m | Max Vertical |
| 2810m | Highest Lift |
| 1300m | Lowest Piste |
| 1300m | Resort Altitude |
St. Anton am Arlberg
The Austrian ski resort of St. Anton am Arlberg is part of the Arlberg ski area with access to 248 individual pistes. In addition to the skiing in St. Anton am Arlberg itself (260km of pisted ski runs), the appropriate ski Lift Pass will allow you to ski or snowboard in the other Arlberg ski resorts of Lech, St Christoph am Arlberg, Stuben and Zürs.
With pistes above 2500 metres, skiing and snowboarding is assured throughout the season.
Snowmaking :- St. Anton am Arlberg is able to augment natural snow, on 102km of ski runs, with 602 Snow Cannons.
Ski Lift Capacity :- The 41 Ski Lifts of St. Anton am Arlberg are able to uplift 87,000 skiers / snowboarders per hour.
There are five Airports within two hours drive, so ski weekends, snowboard breaks and short ski holidays to St. Anton am Arlberg are perfectly feasible. Innsbruck Airport and St. Gallen-Altenrhein Airport are just one hours drive away, in good driving conditions, so you can be on the piste quickly.
Skiing in St. Anton am Arlberg
The Arlberg ski area is legendary in skiing circles. It is the place where, in the early years of the twentieth century, Austrian skiing pioneer Hannes Schneider perfected the modern downhill skiing technique most of us use today. His fame in his own life time was such that the Japanese imported him to teach them technique and modern ski construction and thousands came to learn at his ski school. Some early epic silent movies of mountain drama were shot here also, helping to spread Schneider's fame to a greater audience and turn skiing from a 'crank sport' to the worldwide leisure pursuit it is today. One mustn't forget that the art of piste grooming was begun here too! Back in 1949 a couple of a blokes with a roller began the process that so many resorts, particularly in North America, have since elevated to a mechanical art form. But enough history!
The soaring mountain panorama above St Anton is dominated by the Valluga, the highest point at 2811m (9222 feet) and accessed by the Galzig and Valluga cable cars from the edge of the village. The biggest vertical served by a single cable car system is 1500 metres (almost 5000 feet). The Arlberg Ski Pass today gives the holder the use of over 80 ski lifts in the Region which together access the runs of St Anton and its neighbours of St Christoph, Stuben, Klösterle and the exclusive resorts of Lech and Zürs (not quite lift-linked to St Anton, a bus trip is required). The area is indeed vast and truly the 'skiers paradise' that many resorts claim but few actually deliver!
There is skiing to suit absolutely everybody, and beginners, who have nursery slopes right next to the village and some gentler blues on the Gampen above (reached by a chair lift, so no falling off T bars), should not be put off. On the other hand most ski centres have something to offer beginners, but few can offer advanced and expert skiers the limitless opportunities of the Arlberg. Intermediates are totally spoilt for choice. The sunny Rendl ski area reached by a gondola from the outskirts of the village accesses this area of almost exclusively red grade trails (medium difficult trails which do not exceed a lateral or vertical steepness of 40%).
For those for whom 40% is not enough take a look at the trail map and look at all the white space between the marked runs, these are the unmarked trails you may access with a guide. There is even a hair raising descent (not on the map and not to be undertaken without a guide) from the Valluga peak itself. Below that fast reds and tricky blacks fan out in all directions. For experts on piste highlights include the Mattun and Schindlergrat (both famed for their bumps/moguls) and Stuben trails; off-piste the highlights are unlimited. If you want to know just how fast you are going, check out the speed skiing timer on the Rendl.
The season is divided up in to various themed months and weeks. The annual Kandahar World Cup race, which was probably the earliest ski race to be established, in 1928, at the instigation of Hannes Schneider and British ski tourism pioneer Sir Arnold Lunn, takes place in Jan/Feb. January also sees powder snow weeks, February Arlberg Ski Club Weeks and March and April have sun and snow weeks. A regular free ski bus runs between St Anton and St Jakob. Buses to other villages on the Arlberg pass do operate but have to be paid for in addition to your lift ticket. Over 50 snow making machines cover about 30 km (18 miles) of the key trails.
Snowboarding in St. Anton am Arlberg
Given St Anton's reputation it's strange that 'boarding hasn't caught on as quickly as you might expect here. There are certainly plenty of 'boarders today but, perhaps because they can't out-do the existing hedonistic talents of St Anton's skiers, their presence isn't as obvious as in other resorts. As with skiers the main attractions for serious boarders are the endless powder routes, but there is also a fun park on the Rendl and further snowboard parks in Lech (bus trip).
St. Anton am Arlberg Aprés Ski
One doesn't want to over use the word 'legendary' but the Krazy Kangaruh bar on the slopes directly above the resort again falls in to that category and has spawned many other Krazy... bars in top ski resorts around the Alps. Today the Kangaruh is challenged and some say beaten by the equally packed-out Mooserwirt. Both are the meeting points for the returning exuberant skiers and 'boarders at the end of the day. In other words the point where vast amounts of human energy and excitement all meet directly after the experience has occurred. Usually mixed with a little alcohol the result is the famous ski jumps from the verandah. No one wants it to stop there, and fortunately it doesn't have to, as the resort is choc full of lively bars and discothèques that are usually buzzing right through until 3am closing.
Of course it is possible to have a quieter evening in a sophisticated cocktail bar such as Platz'l Après or the St Antoner Hof's bar.
St. Anton am Arlberg Snow Reports by e-mail
For a Free 7-Day Snow Forecast for St. Anton am Arlberg, including a Snow Report with current skiing conditions, just sign-up to our Ski Chat Forum and set St. Anton am Arlberg as a favourite ski resort in your Profile.
St. Anton am Arlberg in brief
St. Anton am Arlberg Ski Resort is:
Excellent for Expert Skiers.
Very good for Intermediate Skiers.
Very good for Beginners.
Very good for Snowboarding.
Opened : November 30, 2012
Closed : April 21, 2012
Opening Subject To Snow Conditions.

St. Anton am Arlberg Snow Forecast
Snow Forecast for St. Anton am Arlberg
St. Anton am Arlberg Piste Map
Full Page Piste Map of St. Anton am Arlberg
Map of St. Anton am Arlberg
Full Page Map of St. Anton am Arlberg
See More from St. Anton am Arlberg and Ski Resorts in Austria