Ski in Obergurgl-Hochgurgl
Ski Resorts near Obergurgl-Hochgurgl
Obergurgl-Hochgurgl Ski Hire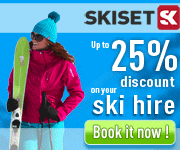 Save up to 45% on Ski Hire in Obergurgl-Hochgurgl
Obergurgl-Hochgurgl Snow Report
Search for Ski Chalets and Apartments in Obergurgl-Hochgurgl
Obergurgl-Hochgurgl Ski Accommodation
Search Hotels near Obergurgl-Hochgurgl
Airport Transfers to Obergurgl-Hochgurgl
Airports near Obergurgl-Hochgurgl
Skiing at Obergurgl-Hochgurgl
Obergurgl-Hochgurgl Opinions
You can discuss skiing and snowboarding in Obergurgl-Hochgurgl in our Austria Ski Forum.

Obergurgl-Hochgurgl - Ski Resort and Snow Summary
Skiing in Obergurgl-Hochgurgl
Obergurgl-Hochgurgl - Ski Resort in Austrian Alps - 110km of Piste (1930m to 3080m)
A small traditional old and picturesque Tyrolean village with a long skiing tradition and a long season It's main off-shoot is a group of up-market hotels at Hochgurgl ( 2150m ). An eight-seater gondola connects the ski areas of Hochgurgl and Obergurgl.
Obergurgl-Hochgurgl
Sponsored Links
Obergurgl-Hochgurgl Ski Facts
Obergurgl-Hochgurgl Ski Facts
Expert Skiers
Intermediate Skiers
Beginners
Snowboarding
Snow
Apres-Ski
5
Black Pistes (20km)
14
Red Pistes (55km)
16
Blue Pistes (35km)
4
Green Pistes
110km
Downhill Pistes
12km
Cross Country Pistes
24
Ski Lifts
1150m
Max Vertical
3080m
Highest Lift
1930m
Lowest Piste
1930m
Resort Altitude
Obergurgl-Hochgurgl
The Austrian ski resort of Obergurgl-Hochgurgl has direct access to 110km of downhill skiing, with 39 individual pistes, served by 24 ski lifts.
The ski resort itself is above 1500m, so skiing or boarding back to the resort is usually possible. With pistes above 2500 metres, skiing and snowboarding is assured throughout the season.
Snowmaking :- Obergurgl-Hochgurgl is able to augment natural snow, on 110km of ski runs, with 68 Snow Cannons.
Ski Lift Capacity :- The 24 Ski Lifts of Obergurgl-Hochgurgl are able to uplift 37,000 skiers / snowboarders per hour.
There is an airport within two hours drive, so ski weekends, snowboard breaks and short ski holidays to Obergurgl-Hochgurgl are perfectly feasible.
Skiing in Obergurgl-Hochgurgl
The Gurgls' ski area is divided in to two sectors of similar size. The full vertical is skiable above Pill and Hochgurgl and doorstep skiing is possible from Obergurgl. Until recently the two areas were linked only by the ski bus but for the 97/98 season an 8 seater, the Top Express Gurgl' gondola was installed to carry skiers and boarders in both directions between the two areas. The 9 minute journey over 3.6km (2.25 miles) offers spectacular scenic views to users.
There is skiing for all ability levels in both sectors. Beginners may practice technique on the Gaisberg or Mahdstuhl lifts whilst more experienced skiers will find the majority of runs at Festkogl above Obergurgl to their liking or the Schermerspitze run above Hochgurgl which has two steep sections for added fun. Make sure you make it to the top from where there are stunning views over the Dolomites deep in to Italy, with the Northern Alps stacking up behind you.
Opportunities for experts include the steep black Hohe Mut run or the Ferwalltal descents above Obergurgl (particularly good in the morning). Above Hochgurgl there are the challenging moguls of the Top-Wurmkogl II slope . But many serious skiers will want to take a guided tour, of which at least 20 run daily, into the huge off-piste paradise. There are over 250 3000m plus peaks in the Ötztal Alps, the largest glaciated area in the eastern Alps, and 50 of them are around Obergurgl.
Lift lines are unheard of around the Gurgls' lifts, thanks to a capacity of nearly 40,000 skiers per hour but, at the most, only a quarter of that number ever hit the slopes at once. Many also hit the nine legendary ski huts of Obergurgl -Hochgurgl.
There are two ski schools, at Obergurg and at Hochgurgl, by far the larger being in Obergurgl. Cross country tuition is offered, along with all the other disciplines and there are three tracks to try out around the valley, of 2 km, 3km and 7km in length.
Snowboarding in Obergurgl-Hochgurgl
Although not a top 'boarder destination, all of the slopes in Obergurgl -Hochgurgl are open to 'boarders. This can now be accessed by a high speed quad lift straight from the centre of Obergurgl. Indeed Obergurgl -Hochgurgl's rails and lifts (the majority chairs or gondolas) make free riding easy.
Obergurgl-Hochgurgl Aprés Ski
Although Obergurgl doesn't have a reputation as a hedonist's destination, there are five night spots, discothèques and five Tirolean bars hiding behind the image of placid tranquility for which the Gurgls are famous.
Three of the mountain restaurants remain open at night and trips up to them are a popular evening event, as is the weekly night skiing. Straight after the lifts close many people stay in Toni's Almhütte at Hochgurgl and after the restaurants wind down it's on to the African Bar for a jungle bop.
Unusual in the high Austrian Tyrol - Josl's Country Saloon with its Wild West feel will momentarily transport visitors from the North American West back to their roots. If you prefer to stick to Tyrolean try the Krumpns Stadl.
The Piccard Saal sometimes stages concerts and folklore evenings and there are lectures and slide shows at the Conference Centre. Over three weekends in mid-November there's the popular live music on a 1000 square metre performance area.
Obergurgl-Hochgurgl Snow Reports by e-mail
For a Free 7-Day Snow Forecast for Obergurgl-Hochgurgl, including a Snow Report with current skiing conditions, just sign-up to our Ski Chat Forum and set Obergurgl-Hochgurgl as a favourite ski resort in your Profile.
Obergurgl-Hochgurgl in brief
Obergurgl-Hochgurgl Ski Resort is:
Very good for Expert Skiers.
Excellent for Intermediate Skiers.
Very good for Beginners.
Good for Snowboarding.
Opened : November 12, 2012
Closed : May 3, 2013
Opening Subject To Snow Conditions.

Obergurgl-Hochgurgl Snow Forecast
Snow Forecast for Obergurgl-Hochgurgl
Obergurgl-Hochgurgl Piste Map
Full Page Piste Map of Obergurgl-Hochgurgl
Map of Obergurgl-Hochgurgl
Full Page Map of Obergurgl-Hochgurgl
See More from Obergurgl-Hochgurgl and Ski Resorts in Austria