Ski Schools and Group Lessons in Selva Gardena, Italy
Selva Gardena Ski Schools
Ski Instructors, Ski Schools and Mountain Guides in the Italian Ski Resort of Selva Gardena.
The following links to Ski Schools and Instructors in Selva Gardena are provided for information, and the sites linked are not endorsed or guaranteed by J2Ski.
Ski Schools and Snowboard Training - Selva Gardena
Ski and Snowboard School of Selva Val Gardena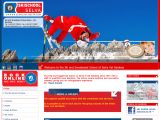 The first and biggest ski school in Selva di Val Gardena since 1937 with a staff of qualified local teachers. The school where tradition and innovation intersect giving you an unforgettable experience.