Ski in Val d'Isère
Espace Killy Ski Resorts
Ski Resorts near Val d'Isère
Val d'Isère Ski Hire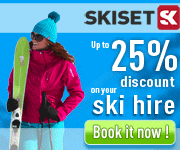 Save up to 45% on Ski Hire in Val d'Isère
Val d'Isère Snow Report
Search for Ski Chalets and Apartments in Val d'Isere
Search Hotels near Val d'Isère
Airport Transfers to Val d'Isère
Airports near Val d'Isère
Skiing at Val d'Isère
Val d'Isère Opinions

Val d'Isère - Ski Resort and Snow Summary
Skiing in Val d'Isère
Val d'Isère - Ski Resort in Espace Killy, French Alps - 150km of Piste (1550m to 3450m)
Val D'Isère ranks alongside St Moritz, Stowe and Cortina in the famous names of skiing category and is one of the very few in the world to stage World Cup, World Chamionship and Olympic competitions.. However it is also in the world top ten for 'ski area size' as well as name-fame, sharing the huge Espace Killy with neighbouring Tignes. Add to that world class lift infrastructure and a vast array of apres ski activity and you have the archetypal world-class resort. 'Val' is very popular with the British, and has spawned purpose-built developments at out-of-town La Daille (1785m) , which boasts an ultra-modern funnicular, and le Fornet (1930m). Most of the men's downhill events were staged here for the '92 Albertville Olympics and the European leg of the World Cup season generally starts here in the first half of December.
Val d'Isère
Sponsored Links
Val d'Isère Ski Facts
Val d'Isère Ski Facts
Expert Skiers
Intermediate Skiers
Beginners
Snowboarding
Snow
Apres-Ski
25
Black Pistes
46
Red Pistes
61
Blue Pistes
22
Green Pistes
150km
Downhill Pistes
44km
Cross Country Pistes
50
Ski Lifts
1900m
Max Vertical
3450m
Highest Lift
1850m
Resort Altitude
1550m
Lowest Piste
Val d'Isère
The French ski resort of Val d'Isère is part of the Espace Killy ski area with access to 300km of downhill skiing, with 308 individual pistes, served by 90 ski lifts. In addition to the skiing in Val d'Isère itself (150km of pisted ski runs), the appropriate ski Lift Pass will allow you to ski or snowboard in the other Espace Killy ski resort of Tignes.
The ski resort itself is above 1500m, so skiing or boarding back to the resort is usually possible. With pistes above 2500 metres, skiing and snowboarding is assured throughout the season.
Snowmaking :- Val d'Isère is able to augment natural snow, on 30km of ski runs, with 300 Snow Cannons.
Ski Lift Capacity :- The 50 Ski Lifts of Val d'Isère are able to uplift 64,480 skiers / snowboarders per hour.
There is an airport within two hours drive, so ski weekends, snowboard breaks and short ski holidays to Val d'Isère are perfectly feasible.
Skiing in Val d'Isère
The Espace Killy, the name of the ski region which Val d'Isère shares with Tignes, is huge, part of over 10,000 hectares of snow fields. As you would expect, this means there is something to attract all levels of skier, which in itself is of particular interest to serious skiers, who are usually the ones who run out of options on a week's ski holiday first. Not so at Val, which must make the world top 10 choice of any expert skier. This is the venue chosen by the International Ski Federation to stage the first European downhill race in the annual World Cup each December, using the OK trail.
Choose the Solaise bumps run above the resort or the Olympic Men's Downhill from Bellevarde (a good first choice as it gets the sun early and accessed by the high speed underground 'Funival' funicular). Later on take off in to the powder fields (remember a Guide...). Otherwise the descents from the Pissaillas glacier or the Tour de Charvet basin runs are equally recommended.
Intermediate level skiers are equally spoiled, if not more so, with numerous long, fast, wide trails heading off in all directions through the six skiing sectors of the Espace Killy.
Beginners again have all they need to progress rapidly, including free lifts in the resort's nursery slopes area and a choice of over 500 ski school instructors to help them on their way. Novices only risk is of being daunted by the huge terrain around them. First steps up the mountain are normally taken on the Solaise plateau, immediately above the resort.
The lift system has been designed so that it's possible to move around the Espace Killy without having to drop back in to the resort, so study that map carefully!
Snowboarding in Val d'Isère
As you would expect from a 'with it' resort, snowboarding and Val d'Isère have been friends for a long time. There's a lot to satisfy boarders of all levels in the Espace Killy where kids as young as 14 and 15 can be seen happily turning 360s in the terrain park.
The Snowpark is one of the world's largest at 35,000 square metres and include two boardercross courses, a half pipe, quarter pipes, bumps, big air, tables and all with music. There's even a chalet for repairs.
Boarders looking to improve their technique have a huge choice of public and independent tuition options, including the Billabong Snowboard School which specialises in off-piste. Year round boarding is possible on the neighbouring glacier at Tignes with summer 'boarding on Val's own glacier in mid-summer.
You can even go to the trampolining school, on a snowboard, in the summer.
Val d'Isère Aprés Ski
Val d'Isère has a 50 / 50 split of clientele between domestic and international, but half of the international market is British, making a sizeable impact on the après ski atmosphere at establishments such as Dick's T Bar with its lasers and videos and pubs like the Pacific Bar and the 'Karaoke-friendly' La Foret. The other major night spot is Le Graal.
Cultural events are staged throughout the season, including concerts at the resort's church whilst festivals are ataged at the Centre Henri Oreiller. The 'red train' a series of over 20 shuttle buses circling the various key sections of Val d'Isère runs until midnight.
Val d'Isère Snow Reports by e-mail
For a Free 7-Day Snow Forecast for Val d'Isère, including a Snow Report with current skiing conditions, just sign-up to our Ski Chat Forum and set Val d'Isère as a favourite ski resort in your Profile.
Val d'Isère in brief
Val d'Isère Ski Resort is:
Excellent for Expert Skiers.
Excellent for Intermediate Skiers.
Good for Beginners.
Excellent for Snowboarding.
Opened : December 1, 2012
Closed : May 3, 2013
Opening Subject To Snow Conditions.

Val d'Isère Snow Forecast
Snow Forecast for Val d'Isère
Val d'Isère Piste Map
Full Page Piste Map of Val d'Isère
Map of Val d'Isère
Full Page Map of Val d'Isère
See More from Val d'Isère and Ski Resorts in France