The Warren Smith Ski Academy have just sent out the results and conclusions gained from their "Ski Technique Lab Tour" that they completed recently.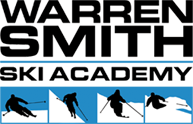 We thought this was good stuff - some easy-to-understand ways to assess and develop your flexibility and symmetry - so we're posting it in full. Enjoy...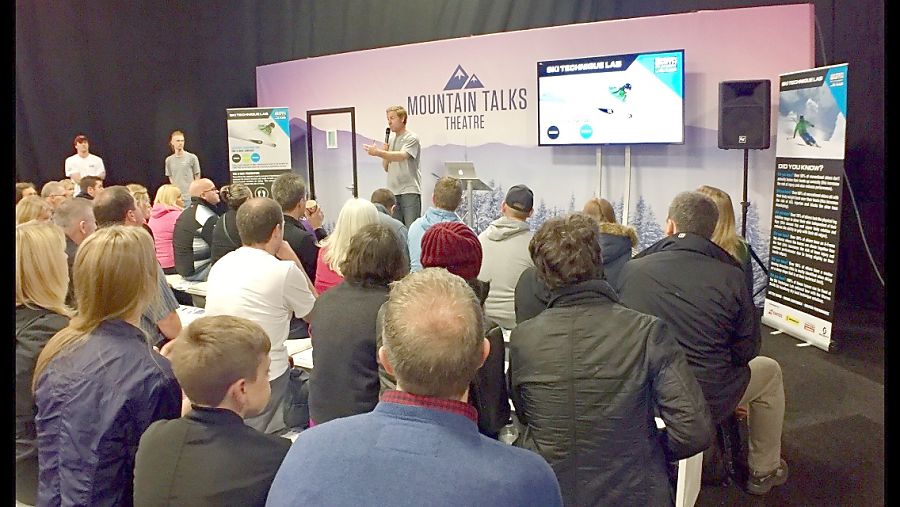 SKI TECHNIQUE LAB - OFFICIAL UK TOUR & TEST SCORES
October was a busy month here at the Academy. The team have been delivering our Ski Technique Lab talks up and down the country from as far north as Fort William in Scotland to Bristol in the south west of England. The tour finished at this year's Telegraph Ski & Snowboard Show at Battersea Park London with a daily presentation at the events Mountain Talks Theatre. This was followed by the chance to participate in our Biomechanics Lab Tests back on our Academy stand.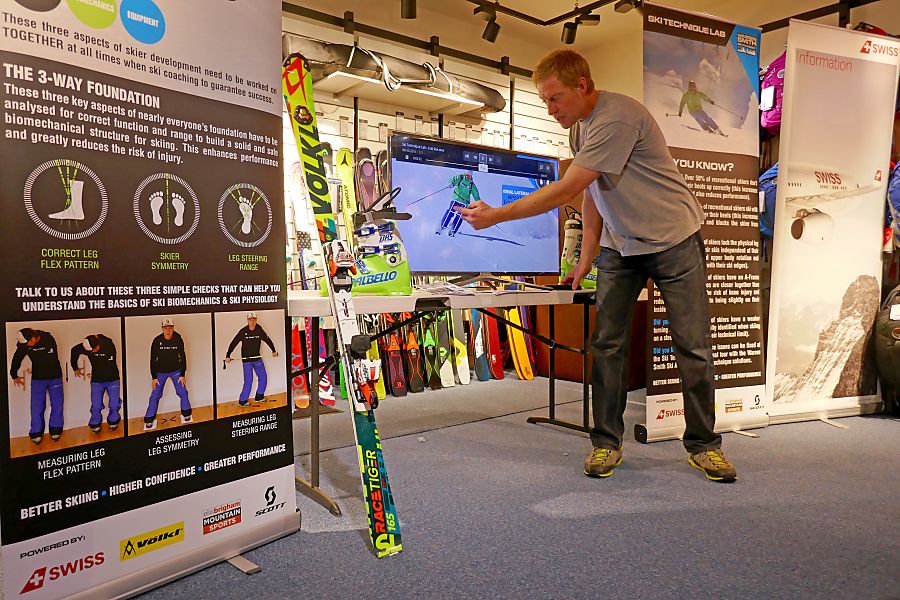 OUR FINDINGS
It's no secret that we have been running these tests on our Academy courses for over 12 years. Anyone who has attended will be all too familiar with the 3 way foundation tests. It was these tests that we used with over 1000 people during the tour and by seeing it on a much larger scale we were staggered to see the results that presented themselves.
The number of skiers who are skiing with severe physical limitations (range and stability) and inadequate equipment for their level was incredibly disturbing. By discovering these problems and coming up with some simple ways to rectify them we believe we have opened up a new chapter in how ski coaching will move into the future.
In the 12 years of running these test's we've recognised that certain movements are absolutely fundamental to executing sound and safe ski technique, therefore allowing performance enhancement. Without this freedom of movement, which should be aided by well fitted and correctly selected equipment, skiers experience blocks and therefore make incorrect and unsafe movements to compensate for the lack of range or stability where needed.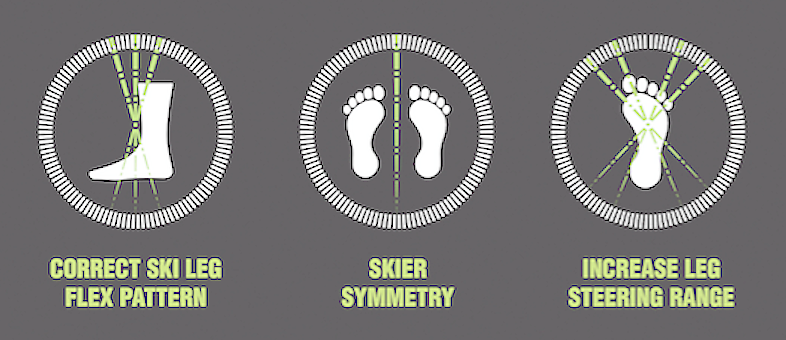 THE 3 WAY FOUNDATION TESTS
The 3 way foundation tests highlight each crucial range of movement and the potential blocks and instabilities they may hold.
[We've split the tests out into separate threads for easy access and discussion]
TEST 1: ANKLE FLEX DROP TEST
TEST 2: THE 10 SECOND TEST (SYMMETRY CONTROL)
TEST 3: LEG STEERING RANGE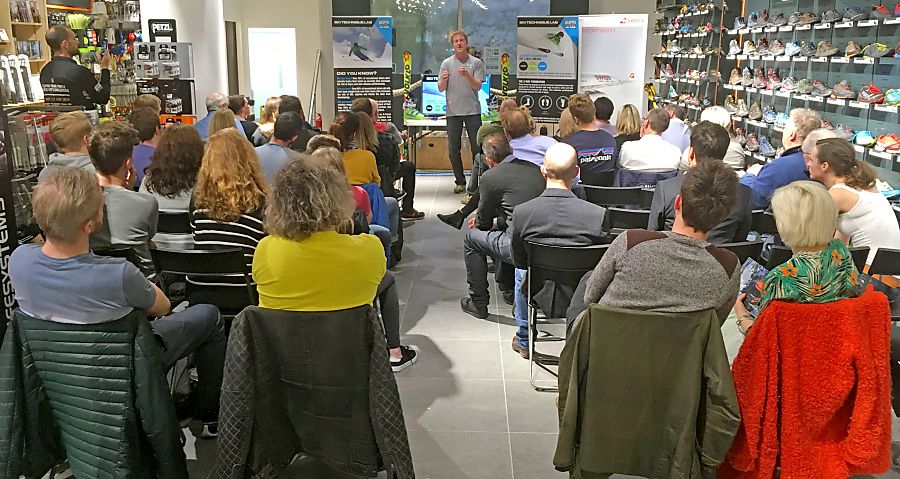 IN SUMMARY
We'd like to take this opportunity to thank everyone who attended either our Ski Technique Lab tour at Ellis Brigham Mountain Sports stores around the country or the Telegraph Ski & Snowboard show and urge you to send in your lab test scores from the below sheet along with some other vital pieces of information so we can begin creating our individual skier profiles for the Academy database.
This information will help create the first skier database of its kind and help both coach and skier develop improvement and performance.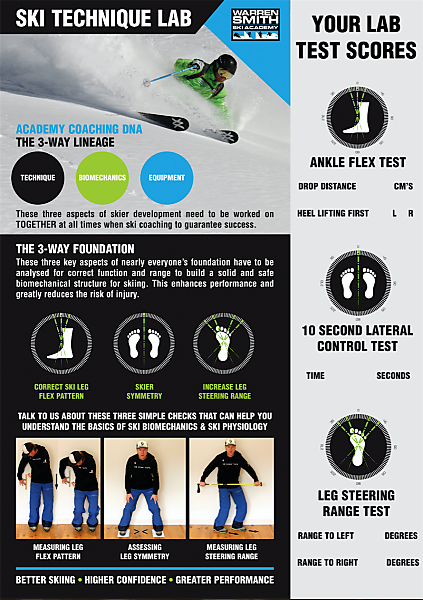 Simply write to the team with the subject heading of Academy Skier Profiles and fill the message body with the following info.
Ankle Flex Drop Test - (Range in cm, which heel lifted first)
10 Sec Lateral Control Test - (10 seconds achieved or less?)
Leg Steering Range Test - Turning right Degs? Turning left Degs?
First Name
Last Name
Date of Birth
Height
Weight (kg)
Academy skier level (add link)
Email address
Video footage for your skiing (clip or youtube link)
OVERALL RESULTS
ANKLE FLEX DROP TEST
- 95% of people had a difference between left and right
- 11cm was the average drop test over 1000+ skiers
- The range needed was between 15cm and 20cm
- 15% of skiers reached the 15cm to 20cm range
10 SECOND TEST (LATERAL CONTROL)
- 6 people out of 1000+ manage the test with no lateral leg shake
- 70% of people needed 3 attempts just to engage the muscles
- 30% of people managed it first time but with leg shake
LEG STEERING RANGE TEST
- The average range was 45 degrees
- The needed range was 70 degrees
- 90% of skiers showed a 20 degree difference between left and right
- 5% of skiers achieved 70 degrees in each direction
Thank you once again reading our news. Our Autumn program in Cervinia -
Zermatt
is now underway and we are super excited about kicking off our new season of Academy courses. For more information check out our website here.
www.warrensmith-skiacademy.com