J2Ski Snow Report 10th October 2019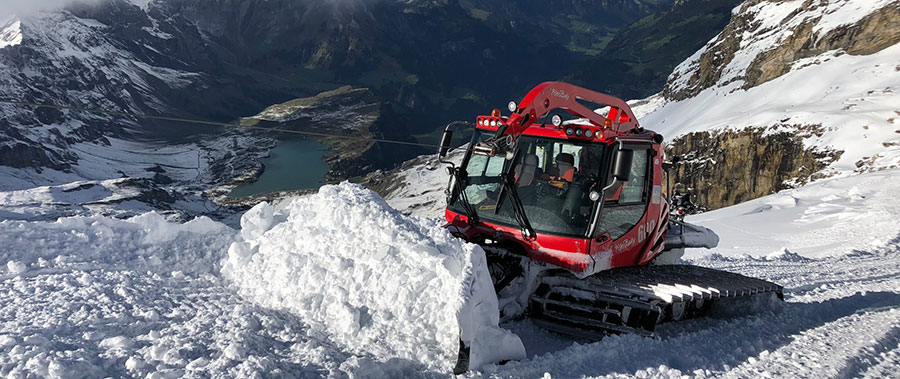 Preparing the slopes at Engelberg, opening this weekend...
Welcome to our first weekly Snow Report of the 2019/2020 ski season - yay!
The Snow Headlines - 10th October
- October starts snowy in the Alps, with up to 70cm of fresh snow reported in the first 10 days.
- First non-glacier ski area opens for 2019-20 season in northern hemisphere.
-
Engelberg
and
Kaprun
to open for glacier skiing this weekend;
Levi
too with snow farming.
- Scotland sees its first dusting of snow on the tops at Cairngorm.
- More ski areas open in the northern hemisphere than the southern for first time in five months.
- Southern hemisphere 2019 ski season winding down, only half a dozen still open.
-
Tignes
still awaiting better snow-cover.
- US areas may open this weekend thanks to forecast early snowstorm and snow-making.
This week is a genuine turning point in the annual ski calendar, the week when more ski areas are again open in the northern hemisphere than the southern. Essentially this means that winter 2019 is all but over south of the equator but that winter 2019-20 is starting to gain a hold on the 'northern' half of the planet.
It is certainly feeling ever more 'wintery' in Europe and North America with snow reported to lower elevations and more ski areas opening, including the first that are not reliant on glaciers, but using 'snow farming' instead - reusing snow saved from the previous season and spread back out on the slopes now temperatures are cooler.
More than a dozen areas are now open in Europe, with several more set to join them at the weekend and although there's nowhere currently open in North America it's looking promising for ski areas there to start opening soon with cold weather for snow-making and natural snow falling too.
In the southern hemisphere, we are down to single figures now for the number of areas open, with most of those that are still, located in New Zealand. It currently looks like after the weekend there will be one lone survivor of winter 2019 south of the equator open next week there too. Currently, just the biggest resorts in the Andes and Australia are still open alongside the New Zealand selection.
In the Alpine Forecast
It's looking like a mild autumnal weekend coming up for the Alps, followed by a dip in temperatures early next week and possibly some decent snows for the northern Alps around Tuesday.

Last Orders for New Zealand
; most ski areas have now closed for the season, but did someone order snow for the last weekend?
And there's
snow forecast for some Swiss ski areas next week
...

Re-publication :- our Snow Report Summary, being the text above this line, is free to re-publish, but must be clearly credited to www.J2ski.com with text including "J2Ski Snow Report" linked to this page - thank you.
EUROPEAN ALPS
Austria
All eight of Austria's autumn-opening glacier ski areas will be open as of the coming weekend, with the
Kitzsteinhorn
above Kaprun announcing they'll open this Saturday, starting with Schneehasenlift.
They join the already open Dachstein,
Hintertux
,
Kaunertal
, Molltal,
Pitztal
, Solden and
Stubai
glaciers which together add up to more than half of the ski areas in the northern hemisphere that are currently open! Currently most only have a few lifts and a few kilometres of runs, plus usually a terrain park, operating but the available terrain is gradually increasing with Solden, for example, opening three more runs at the weekend.
There's been fresh snow across the Austrian Alps over the past week on higher slopes, with Hintertux announcing it had a 20cm accumulation over 24 hours on Wednesday/Thursday last week. The ski day is also getting longer with year-round Hintertux announcing its lifts would switch to winter mode and run to 4pm, switching from summer mode and a 1pm closure, last weekend too.
France
The French ski season was due to start a fortnight ago on 28th September at Tignes, but for the second year in a row, the decision was made to delay opening as snow cover was not deep enough. It has snowed a couple of times since the decision was made but at time of writing the delay is still in place – although it could now be lifted at any time.
The most recent snowfall has been earlier this week with widespread snowfalls reported down to around 1600 metres across the French Alps. More snow on Wednesday led to the overnight closure of the famous Iseran pass above Val d'Isere.
The next area due to open in France is Les 2 Alpes for its traditional week-long end October/early November week of festivities and ski testing to welcome the new season and focus on its glacier.
Italy
Italy has had a choice of two areas open over the past month with Passo Stelvio still open since last May (although this is the final month of its summer season) and
Val Senales
, one of the earliest of the autumn glacier areas to open, now into the second month of its 19-20 ski season already. Both have fairly small (3-6km) areas open but both have fresh snow and good conditions.
Next to open in Italy is expected to be Cervinia in a fortnight.
Switzerland
There have been just two areas open in Switzerland for most of the past three months, Saas Fee and
Zermatt
.
There should be a third Swiss choice from this weekend with the Titlis glacier above Engelberg confirming on Wednesday that it will open (having delayed a week from the previously planned date last Saturday).
There's been fresh snow on Swiss glaciers too, although windy conditions also led to Zermatt closing its lifts earlier in the week.
Scandinavia
The 19-20 season is starting to get underway in Scandinavia thanks to a combination of glacier skiing and snow farming.
Ruka in Finland was the first ski area in the northern hemisphere that doesn't have a glacier to open for the season, last Friday morning at 9.30am. It uses snow farming (storing snow from the previous winter through the summer then spreading it back out on the slopes when the weather gets cooler) to open three runs.
A second Finnish ski area, Levi, will use the same method to open some slopes this coming weekend.
The first area to open in Sweden, Idre Fjall, plans to do so a week on Friday (18th). Meanwhile, the Galdhopiggen glacier ski area on Northern Europe's highest mountain is also open through October. It operates from spring to the end of autumn each year, although this year it had to close for seven weeks in mid-summer as it was too hot.
There have been quite a few snowfalls in recent weeks in the region to and one Norwegian area,
Haukelifjell Skisenter
, reported the snow now 40cm deep as a result, but thinks it will probably melt again before temperatures stay consistently low, they hope, and it opens next month.
Pyrenees
There was a first dusting of snow on peaks in the Pyrenees (and as far south as
Sierra Nevada
on Spain's southern coast) in the past month but no areas are expected to open before the end of next month. Last year however a heavy snowfall in late October did result in areas opening early (including Portugal's Serra de Estrella!) so if the snow does come early for a second year that could potentially happen again.
Scotland
There was a dusting of snow on Cairngorm last week allowing the most determined, having hiked up, to make a few turns, and temperatures are definitely currently cooling in Scotland but the start of winter 19-20 looks to be some way off.
Eastern Europe
There have been some 'first snowfalls of the autumn' in northeastern Europe, with the Tatra Mountains in Poland and Slovakia getting a particularly big snowfall in late September, but currently, there are no known plans for any Eastern European areas to open until the latter half of November.
North America
Canada
Things have been increasingly wintery in Canada with some ski areas in BC, including Apex, starting October with an unusually heavy 60cm snowfall and resorts like Panorama firing up the snow guns. However, it's unlikely anywhere (except perhaps a small area in Quebec if conditions stay cold enough for consistent snowmaking) to open until early November.
The three
Banff
areas and
Nakiska
towards Calgary are usually the first four in the country to open in the first week or two of the month.
USA
At time of writing there's nowhere currently open in the US but it seems that the start of winter 2019-20 could be just days away as high altitude resorts in Colorado, as well as some like
Killington
over in the east in Vermont, have been busy snow-making over the past week.
A big snowstorm is forecast to hit the west of the country, particularly the Rockies, from Thursday on, expected to bring a good fresh snow cover to the machine-made base.
Arapahoe Basin
,
Keystone
and Loveland appear to be three of the strongest contenders to open, although in past years it has been an outsider that has hopped in there first. The snowstorm will be the second big snowfall of the autumn after one just under a fortnight ago at the end of September brought up to two feet of snow to the northwest corner of the country with Montana reporting the biggest accumulations.
Southern Hemisphere
It's very much the end of winter 2019 in the southern hemisphere with only a small number of ski areas still operating as temperatures climb as spring takes hold south of the equator.
Resorts still open until at least this coming Sunday, however, include
Perisher
, Australia's biggest resort; Catedral near
Bariloche
in Argentina, South America's largest resort by lift capacity at least; and ski areas on Mt Ruapehu in New Zealand, which together claim to be that country's largest ski resort too.
For most, it has been getting warmer over the past week with any precipitation falling as rain but New Zealand has been seeing more snowfalls including a 15cm accumulation last week to freshen up the cover. Perisher also reported some light snowfall on Tuesday morning despite resort-level temperatures heading towards double figures above Celsius.
Turoa on Mt Ruapehu on New Zealand's North Island looks like it will be the last area open in the southern hemisphere as of next Monday, with one more week of the season. It reports a base of more than three metres so is looking good.
Until next week - thanks for reading!