The flights are cheap, and the snow is deep (up high)...
Started by Admin
in Ski Chatter

08-Apr-2018

- 2 Replies
Login
To Create or Answer a Topic
Although many resorts across Europe will be calling it a day this weekend, or next, and the Spring melt is well underway in the valleys - there is still abundant snow at altitude and a good number of higher-altitude resorts will be open for a while yet;
Just in France :-
-
Tignes
- open until 6th May; 2.2 metres of snow at 2,000 metres and a 3.5 metre snow pack at 3,500 metres.
-
Les Arcs
- open until 28th April; 3m of snow at 2,000 metres and over 4m of snow up top.
- Val Thorens, open until 1st May; 2.6m of snow at 2,300m and 3.6m of snow at 3,200m.
-
La Clusaz
(La Balme sector!) open until 29th April; just 15cm at village level, but 3.9m of snow at 2,500.
Just saying, but - if you can fly mid-week - easyJet can get you from the UK to Geneva from about £70 return (Bournemouth, Gatwick, Southampton or Stansted - prices checked this morning)...

We're always interested to hear of lesser-known/less-publicised resorts staying open late (sometimes just for weekends), so please reply here if you know of any!
The Admin Man
Ordino-Arcalis, Andorra will be staying open until April 30th, snow conditions permitting. If we get the snow currently forecasted according to the forecast on J2ski, 125 cm this week, that should not be a problem.
Thanks Mike - just been looking at the models for The Pyrenees and it does look like you're in for a lot of precipitation this next week.
Interesting combination of wind flows; bringing the moisture from different directions at different times, with varying air temperatures so the rain/snow line's very difficult to predict and will vary a lot - but your upper slopes should be good!
Here's how Ventusky sees the accumulated precipitation out to next Friday...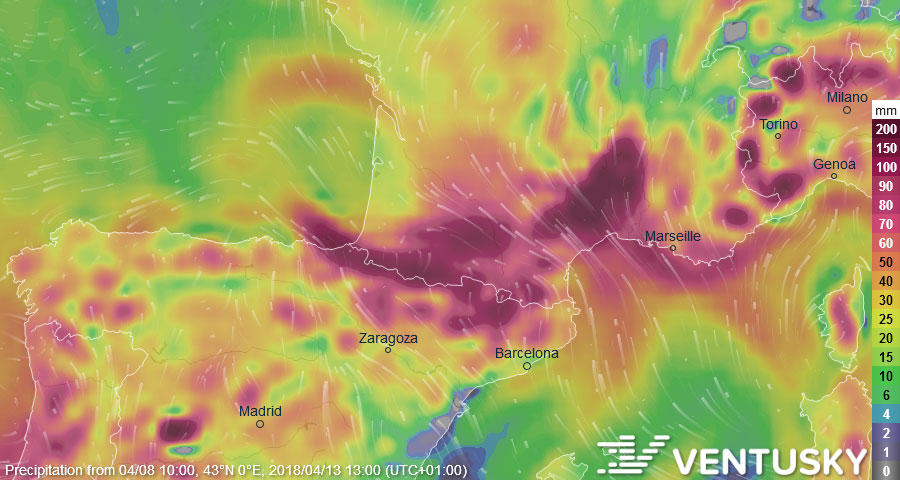 See
https://www.ventusky.com/?p=43.4;6.4;5&l=rain-ac&t=20180413/12
Snow on the mountains, and probably enough rain to cause issues lower down too.
The Admin Man
Topic last updated on 08-April-2018 at 14:25